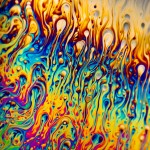 In Pt. 2 of Tie Dyed Folk we turn our focus on the changing folk music scene in the UK. Like the music emanating from the US, influences from San Francisco and Los Angeles began to creep into British folk music. In contrast to the movement in the US, legend and mystery influenced this musical change spiced with exotic sounds from the East. Fairport Convention and the Incredible String Band and performers like Anne Briggs and Donovan created an atmosphere of patchouli and flowers that flourished for a very short but magical time. This week we'll hear some of the music that changed the face of folk music in the UK forever.
LISTEN:
To subscribe via iTunes, click . | To listen using Stitcher, click .
Check out Smithsonian/Folkways 5-CD career-spanning box set dedicated to the American music icon, Leadbelly. Sing Out! fans can save 20% by entering the coupon code "SINGOUTLEAD"!
Artist / "Title" / CD / Label
Pete Seeger / "If I Had A Hammer" / Songs Of Hope And Struggle /
Smithsonian-Folkways
John Renbourn / "The Earle of Salisbury" / Sir John Alot… / Shanachie
The Incredible String Band / "Way Back in the 1960's" / 5000
Spirits or the Layers of the Onion / Elektra
Davy Graham / "Maajan (A Taste of Tangier)" / Folk Blues & Beyond… /
Fledg'ling
Fairport Convention / "Eastern Rain" / What We Did On Our Holidays /
Carthage
Anne Briggs / "Sandman's Song" / The Time Has come / Water
Chad & Jeremy / "Sidewalk Requiem Los Angeles June 5th and 6th" /
The Ark / Columbia
The Beatles / "Mother Nature's Son" / The Beatles / Apple
The Rolling Stones / "Back Street Girl" / Flowers / Abkco
Marianne Faithfull / "Scarborough Fair" / The Best Of Marianne
Faithfull / London
John Renbourn / "Transfusion" / Sir John Alot… / Shanachie
Donovan / "Fat Angel" / In Concert / EMI
Fat Mattress / "Bright New Way" / Fat Mattress One / Sequel
Shelagh McDonald / "Mirage" / Let No Man Steal Your Thyme / Castle
Tyrannosaurus Rex / "Salamanda Palaganda" / Prophets, Seekers &
Sages The Angels of the Ages / A+M
Lindisfarne / "Lady Eleanor" / Before the Fall-The John Peel
Sessions / Strange Fruit
Cat Stevens / "Katmandu" / Mona Bone Jakon / A+M
Pete Seeger / "If I Had A Hammer" / Songs of Hope and Struggle /
Smithsonian-Folkways