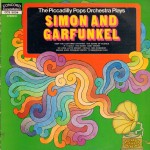 Around 1967 the recordings in the folk music sections of record stores began to have quite a different appearance. Influenced by the psychedelic movement on the West Coast new artists began to appear. Tim Buckley, Joni Mitchell and established artists like Simon & Garfunkel began to change the musical palate. The Youngbloods and other folk-rock bands shifted their focus from New York City to San Francisco and Los Angeles. In Pt. 1 of Tie Dyed Folk we'll focus on some of the artists who changed the face of American folk music after the Summer of Love.
LISTEN:
To subscribe via iTunes, click . | To listen using Stitcher, click .
Check out Smithsonian/Folkways 5-CD career-spanning box set dedicated to the American music icon, Leadbelly. Sing Out! fans can save 20% by entering the coupon code "SINGOUTLEAD"!
Artist / "Title" / CD / Label
Pete Seeger / "If I Had A Hammer" / Songs Of Hope And Struggle /
Smithsonian-Folkways
Peter Lang / "Muggy Friday" / The Thing at the Nursery Room Window /
Takoma
Pete Nelson / "Summer of Love" / The Restless boy's Club / Signature
Sounds
Joni Mitchell / "Cactus Tree" / Song To A Seagull / Reprise
Circus Maximus / "Fading Lady" / Circus Maximus with Jerry Jeff
Walker / Vanguard
Tim Buckley / "Morning Glory" / Goodbye and Hello / Elektra
Simon and Garfunkel / "Fakin' It" / Bookends / Columbia
Rosebud / "Western Wisconsin" / Rosebud / Warner Brothers-
Collector"s Choice
Peter Lang / "Adair's Song" / The Thing at the Nursery Room
Window / Takoma
Arlo Guthrie / "The Unbelievable Motorcycle Tale" / Tales of '69 /
Rising Son
Laura Nyro / "Gibsom Street" / New York Tendaberry / Columbia
Jefferson Airplane / "Embryonic Journey / Surrealistic Pillow / RCA
The Youngbloods / "Darkness, Darkness" / Elephant Mountain / RCA
Moby Grape / "8:05" / Listen My Friends! / Columbia
Pete Seeger / "If I Had A Hammer" / Songs of Hope and Struggle /
Smithsonian-Folkways