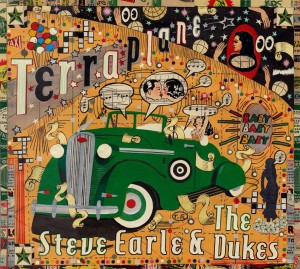 STEVE EARLE and THE DUKES
Terraplane
New West 6329
---
As a teenager in Texas, Steve Earle heard plenty of blues … though, until now, the blues had usually been less in his own music's foreground than rock, folk and country. As he writes in his new blues album's notes, "For my part, I've only ever believed two things about the blues: one, that they are very democratic, the commonest of human experience, perhaps the only thing that we all truly share, and, two, that one day, when it was time, I would make this record."
As usual with Earle's albums, Tony Fitzpatrick's detailed cover art merits scrutiny, and there's what Steve calls a state-of-me song (maybe two). Propelled by Eleanor Whitmore's lithe fiddling, buoyant "Ain't Nobody's Daddy Now" comes in the wake of his divorce from Allison Moorer. Their marriage lasted way longer than any of his many previous ones during his bygone years on the needle. Still, when unfettered "Nobody's Daddy" (think of Greg Brown's "Just by Myself") segues into the sad resignation of "Better Off Alone," we wonder if he's of two minds about the split.
Like vintage blues, Terraplane is hardly all downhearted. Goofy romance boasting a Chicago harp riff opens the disc as "Baby Baby Baby (Baby)" proclaims love for a woman standing all of "five feet ain't" down in a town called Shut My Mouth. The singer crows that he can see his beloved whenever the moon is blue. Gee, how fulfilling. Even more cheerful is "Baby's Just as Mean as Me," a fond duet with Whitmore that approaches John Prine's "In Spite of Ourselves" with Iris DeMent. Fans seeking Steve's political songs can stick with earlier albums.
So what does the CD's title signify? A Terraplane was a 1930s car made by Hudson. "Terraplane Blues" was Robert Johnson's first release in 1936. Steve's compositions on his album Terraplane show plenty of the blues' faces over the decades. Ably picked "Gamblin' Blues" has a vintage white country blues vibe. Earle's harp on "The Usual Time" channels Buster Brown's l960 hit "Fannie Mae."
As for the blues' dark side, "I'm the last word in lonesome and the king of the blues," he sings on the CD's closer. The most powerfully fearsome track, mythology-laden "The Tennessee Kid," comes early on. It's a Faustian narration of a sold soul that's way more apocalyptic than the exaggerated legend of Robert Johnson (who's referenced in the lyrics).
Robert Leroy Johnson's spirit appears way at the end of a second disc (a DVD) that only comes in Terraplane's deluxe edition. The DVD starts with interviews with Earle, producer R.S. Field and long-time engineer Ray Kennedy. Then come solo acoustic porch performances of two songs on the CD plus one (the trad-based "So Different Blues") that isn't on it. Next is a 24-bit high-res audio version of the album. For a surprise hidden track, we're treated to the package's only appearance of the song inspiring its title. Steve credibly covers Johnson's "Terraplane Blues," whose carnal metaphors that typify the blues give way to one of the blues' most basic questions: "I want to know who been drivin' my Terraplane for you since I've been gone."
— Bruce Sylvester