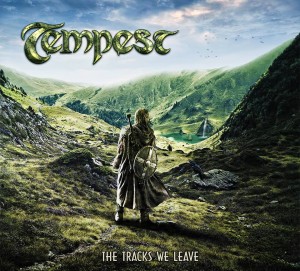 TEMPEST
The Tracks We Leave
Magna Carta 9121
---
Tempest plays Celtic music with a rock edge, but they shade their arrangements with hits of the blues, country and Cajun two-steps, Arab rhythms and a hint of psychedelia. Bandleader Lief Sorbye was born in Oslo, Norway, and he's a folklorist with a wide knowledge of Irish, Norwegian and related Northern European traditions. After landing in Oakland in the late 1980s, he put together the first version of the band and began touring and recording. The Tracks We Leave is their 11th album, and finds them in fine form. They tear through an energetic set of Irish, Scots and Norwegian traditional tunes as well as five originals by Sorbye, and his wife Patricia Reynolds.
They open with "Rantin' Rovin' Robin," a song by poet Robert Burns that was made popular more recently by the Battlefield Band. Sorbye's hearty tenor sings lead with a casual, devil-may-care spirit that's supported by Kathy Buys' high harmonies. Buys adds to the jaunty air with lilting fiddle work that plays off of Sorbye's mandolin and Josh Fossgreen's uninhibited bass guitar.
"Alle Mann Hadde Fota" is a well-known Norwegian children's song about wives who make new body parts to replace the worn out limbs of their hard working husbands. "All men have feet, my husband had none, I took some birch root and made feet for him," Sorbye sings. It's played with a subdued, almost limping tempo, which emphasizes the somber lyric. Buys plays melancholy fills while guest keyboard player Robert Berry contributes dark organ work to intensify the song's funereal mood. The title tune is a Sorbye/Reynolds original, with music adapted from traditional Norwegian melodies taken at a slow, despondent tempo. Buys and lead guitarist Greg Jones shower the melody with brilliant sparks on their solos as Sorbye delivers the uplifting lyric – a benediction that affirms life's joys, even on the longest, hardest journey – with plenty of Celtic soul.
The rest of the album is lighter and brighter, a showcase for the band's sterling musicianship. "Ganesh," another Sorbye/Reynolds tune, has a hint of ska/reggae in its cadence. It's a salute to the elephant headed Indian God who removes all obstacles. Sorbye's flute and Buys' fiddle give the melody a lively, optimistic feel.
"Rattlin' Roarin' Willie" is another song by Robert Burns. Its syncopated, tongue twisting lyric and the band's sprightly playing will have you rockin' in your seat. The five instrumental tracks include Sorbye's "September Jig," which gives Buys a chance to stretch out and includes some sharp, bluesy playing by Jones; "The Brown Coffin" is a trio of mid-tempo Scots and Irish jigs that starts acoustically, then slowly builds up to a rocking finish with Fossgreen turning in a brief, tasty bass solo and "The Leitrim Set," a trio of jigs that was put together by the traditional band Téada. Buys shows off her impressive chops as the tempo slowly approaches supersonic at the urging of drummer Adolfo Lazo. The album closes with "Surfing to Mecca," an old Tempest favorite that combines Lazo's surf propelled backbeat with Arab ornamentations supplied by Sorbye's flute and Buys' fiddle.
— j poet