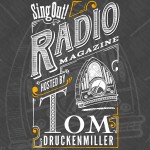 Topical songs have been a major component of American folk music for many years. This week we'll hear some of the classic songs about warfare, railroads, coal mining and unions. Music from The Almanac Singers, Big Bill Broonzy, Guy Carawan, Paul Robeson and many more.
LISTEN:
To subscribe via iTunes, click . | To listen using Stitcher, click .
Check out Smithsonian/Folkways 5-CD career-spanning box set dedicated to the American music icon, Leadbelly. Sing Out! fans can save 20% by entering the coupon code "SINGOUTLEAD"!
Artist / "Title" / CD / Label
Pete Seeger / "If I Had A Hammer" / Songs Of Hope And Struggle /
Smithsonian-Folkways
Fiddle Whamdiddle / "Miss McLeod's Reel" / Old School, Old Time /
Owl Mountain
Red Patterson's Piedmont Log Rollers / "The Battleship of Maine" /
Bloody War: Songs 1924-1939 / Tompkins Square
Mrs. Minta Morgan / "Washington the Great" / Songs and Ballads of
American History… / Rounder
The Almanac Singers / "The Sinking of the Reuben James" / Songs of
Protest / Prism Leisure
Woody Guthrie / "When the Yanks Go Marching In" / Hard Travelin'"/
Smithsonian Folkways
Pete Seeger and the Hooteneers / "John Henry" / Sing Out! Hootenanny /
Smithsonian Folkways
Leadbelly / "Linin' Track" / Classic Railroad Songs /
Smithsonian Folkways
Big Bill Broonzy / "This Train" / Classic Folk Music /
Smithsonian Folkways
Sam McGee / "Railroad Blues" / Classic Mountain Songs /
Smithsonian Folkways
Will Holt / "MTA" / Newport Folk Festival 1960 / Not Now
Fiddle Whamdiddle / "Spider Bit the Baby" / Old School, Old Time /
Owl Mountain
Kathy Mattea / "Coal Tatoo" / Coal / Thirty Tigers
John McCutcheon / "The Young Ones Don't Remember" / Gonna Rise
Again / Rounder
Guy Carawan with Candy Carawan and Friends / "The L&N Don't Stop
Here Anymore / Arbol de la Vida / Flying Fish
Peter K. Siegel & Eli Smith / "There is Power in the Union" / The
Union Makes Us Strong / Weave Room
Paul Robeson / "Joe Hill" / Classic Labor Songs / Smithsonian Folkways
Elaine Purkey / "Labor's Got Its Hands In Its Pockets" / Mountain
Music, Mountain Struggle / Marimac
Pete Seeger / "If I Had A Hammer" / Songs of Hope and Struggle /
Smithsonian-Folkways