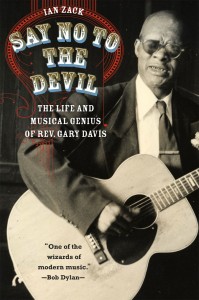 IAN ZACK
Say No To The Devil: The Live and Musical Genius of Rev. Gary Davis
University of Chicago Press
---
When someone like Bob Dylan says he's "One of the wizards of modern music," pay attention. And if you're a blues aficionado, you need to pay special attention because the Reverend is one of the kings of Piedmont Blues. Zack was very thorough in this well-researched tome, interviewing former students, fans and scrutinizing public records, to put together the bittersweet story of a blind man who grew up the son of poor Southern sharecroppers, then moved to North Carolina where he made his living as a street performer, and finally to New York, where he gained notoriety in the folk boom of the fifties and sixties. Players like Bob Weir (Grateful Dead), Stefan Grossman and Ry Cooder consider him a mentor. (There's even a great story about a shy young guitarist who couldn't bring himself to play for him. The player? Eric Clapton.) Years after his death, he continues to inspire musicians and fans, even if they don't realize it. His "Cocaine Blues," made famous by several including Jackson Browne, is known to many. Still, he's not in the Rock and Roll Hall of Fame (even though they feature BB King and Buddy Guy) and when Rolling Stone published a list of the top one hundred guitarists, Davis was not included.
This isn't a dry who-did-what-when kind of biography. It's like Zack followed him around, making note of the boy teaching himself to play the guitar, to the confident blues performer who could play on any stage. And this isn't the Disney version. Davis was a complicated man who lived in difficult times. He was revered for his unique and talented guitar style, but when it came to women, he was notorious. Waitresses at folk clubs steered clear of him. On a European tour in the sixties with Buffy Sainte-Marie, he took many occasions to touch her inappropriately. Zack dismisses it, saying that Buffy had no complaint, but it makes me wonder, did she have any other choice? It doesn't seem like the reverend thought too much of women guitarists either, saying he didn't like the playing of Sister Rosetta Tharpe, a player also well-known as a mentor for many. Most, if not all, of his students were men.
He also had a problem with alcohol, especially in later years. Still, his genius shines through. His use of unique chord voicings are legendary, using the entire neck and often sounding like a whole band. His intricate right-hand technique complimented it all. At many gigs, there'd be a young guitarist in the back, trying hard to learn what Davis was playing. If he or she lived in New York, all they had to do was pay five dollars for the privilege of learning from Davis. Sometimes lessons lasted for hours and included a meal from Annie, his second wife.
Some of the stories are amusing, like accounts of him falling asleep on stage during shared bills. Someone would elbow him and he would wake up and play brilliantly, then fall back asleep. The author muses that maybe he was capable of this because of his many years of playing on the street. You can't fall too deeply asleep for too long or someone will steal your instrument and unfortunately, that did happen to him. He took to carrying a gun, a dangerous thing for a blind man. Sometimes it helped and sometimes, some hapless soul had to quickly identify himself.
In addition to details about the man, there's a great deal about blues and how it was to live in the Jim Crow south, particularly for black folks. You'll also get a clear view of the folk revival and other artists. There's a discography as well as extensive notes to accompany every chapter. There are a few photos, too.
This should be required reading for anyone interested in the blues and especially for guitar players.
— Jamie Anderson