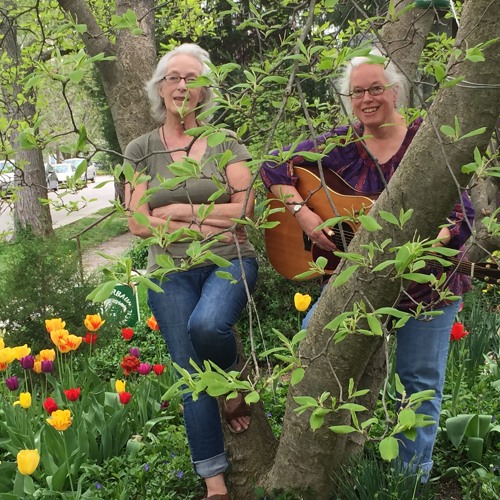 If you've been reading Sing Out!'s Facebook page or website, you know we continue to emphasize our historic focus of bringing people together through song. This week's folkfinds pick nods to Community Sings with a pick from The Helber Sisters. Family is the original community, and Vicki and Alice Helber sang together throughout the 1970s and 80s, from the time they were girls until adulthood got in the way. Reinspired by an old guitar, and joined by Vicki's daughter Alice, the Helbers have brought the band back together and have been releasing a succession of fine classic country & folk songs via their Soundcloud account. Recently they've posted a series of charming recordings from a Thanksgiving day extended family & friends jam which capture the joy of making music, with a warm and intimate setting that the ambient noises only enhance. The absolutely lovely close harmonies don't hurt either.
Q & A
What is your goal in recording and sharing music?
We sing for pleasure, because it is such a joy! We record because we want to share our love of the old time and traditional songs, and because it seems to be a pretty good way to reach out to many people all over the world.
Come up with a descriptive, original genre name for your music.
Classic traditional Folk Front porch Family Band music.
Who do you view as a likely audience for your music?
We are amazed at the different generations who love our music. We have young and old in our audiences when we perform. We would have to say that classic traditional music touches everyone, and reminds them of their roots. So many people have told us that it reminded them of their families. Mother and sisters, singing on the front porch, or around the piano. It takes them back to memories that are very dear to them, and leaves them warm and cozy.
If trapped on a desert island with only 3 songs, which would they be?
1. 'Row, Row, Row Your Boat'
2. 'Old Gospel Ship'
3. 'Nearer My God To Thee'
Ohh and 'Swing Low Sweet Chariot'
Is there an instrument you do not currently play that you'd like to learn?
We all like the sound of a mandolin, and have been learning a little on that. Janet keeps pretty busy on the guitar, trying to climb to greater heights of ability, so picking up another instrument may come when she retires.
Who is your musical hero(es), if any?
Hazel Dickens, no doubt about it. She is tops, Number 1! Along with The Carter Family, Jean Richie, Norman Blake, Utah Phillips, Joan Baez, and Bob Dylan, Johnny Cash, Doc Watson, Just to name a few.
You can hear more from The Helber Sisters on their Soundcloud page: Click Here