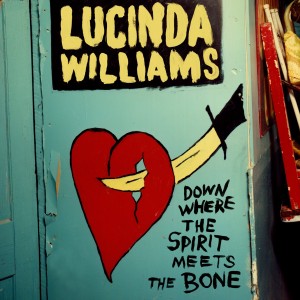 LUCINDA WILLIAMS
Down Where the Spirit Meets the Bone
Highway 20
---
After Lucinda's decades of songs of dead-end men, some fans feared that a good marriage would smooth her bone-lean writing's jagged edges. Fortunately, that didn't happen … though this two-CD, 20-song package has moments of tranquility and joy. It's a travelogue of her roots along her native South's musical highways: blues, black gospel, Memphis soul, swamp rock, a bit of country. She's called it psyche-Delta.
She's never been one to rush her artistic muse, and this is her first album in four years. Scorchers like "Protection" and "Big Mess" call to mind her Car Wheels on a Gravel Road era. Remember "Joy" from 1998: "I'm gonna go to West Memphis and look for my joy." Now on grim "West Memphis" she returns to the city as a crusader for justice long denied (like Bob Dylan on "Hurricane" and Phil Ochs on "Joe Hill"), reliving the horrifying tale of the long falsely imprisoned but now free West Memphis Three (teenaged misfits whom Natalie Maines, Eddie Vedder, Johnny Depp, Marilyn Manson and others too rallied behind). She's stood up for them before.
Quietly searing"East Side of Town" has parallels to Ochs's '60s urban-riot song "In the Heat of the Summer." Here, a scornful poverty dweller confronts a pontificating do-gooder from the safe, well-fed outside world.
She's steeped in her region's literature as well as its music. Slinky-rhythmed "Something Wicked This Way Comes" traces back to a southern gothic tale by Flannery O'Connor. During her childhood, Lucinda's father and mentor, poet Miller Williams, once took her along on a visit to O'Connor (who kept them waiting until she was ready to stop writing).
While she was recording the album, her father was slipping away with Alzheimer's disease. To honor him and bid her beloved dad farewell (he passed on January 1, 2015), she begins the set with her emotionally-ravaged-voiced interpretation of his poem "Compassion": "You do not know what wars are going on / Down where the spirit meets the bone." That's where her own music takes us: down where the spirit meets the bone.
— Bruce Sylvester