WFDU-FM's TRADITIONS Playlist for January 4, 2015
Everyone has favorites, and these are mine. I hesitate from calling this list a "best of" because we all have different opinions and I firmly believe that art has no limits to what can be achieved. The list below represents new CDs that I received and shared on the radio in 2014. There were many fine recordings issued last year, but these ten touched me in various ways above the others. I also found a number of CDs that may have had one or two great songs, but this list features recordings where each contain multiple songs that I choose to share on the radio. I list them in order based on my personal preferences and how often I shared them on the radio, or in my car, CD player at home and those that keep playing through my head.
Your mileage may differ. I encourage you to share your picks by commenting in the box below.
Here we go, starting with #10: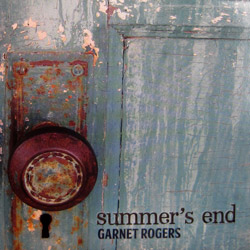 #10 Garnet Rogers  Summers End (Snow Goose) Most CDs are sent out to radio hosts with a press release – usually a page or two of information about the artist and how the recording was made, notes about the songs, and a couple of quotes from good reviews (of course they send good reviews, would you expect an artist to send samples of negative reviews? Sort of like supplying references with a resume, who gives bad ones?)  This one was different. The only item that accompanied this CD was a small scrap of yellow notepaper, a hand written message from Garnet that featured a personal greeting and one line about the recording "… hope some of this is listenable." Without reading further, I am guessing that you already know what my response to that simple statement!
Garnet's modesty cannot hide the fact that this CD maybe his strongest collection to date. He has not produced a CD since 2007, having grown tired of the physical and emotional demands that are involved in the recording process as well as being put off by the nefarious business of downloading that has overtaken the industry. Yet during that period he would continue to write sporadically as he dealt with the various issues of life, including caring for his parents who have since passed away, as well as the loss of several old friends. In 2013, he began leafing through his notebooks and pulled a group of songs that reflected the changes that were going on in life. While very personal, Garnet created an accessible collection that speaks to all of us who have dealt with similar issues in our own lives.
One of the nuggets on this recording is a song called "Old Campfires," a poem written by Garnet's grandfather and set to music by Stan Rogers when he was around 15-years-old. The feelings shared in the song harken to summers past and the memory of a simple summer in a place that we love. Likewise, "The Sweet Spot" also brings us back to our childhood days and connects us to the safety of our home and being around those we cherish. Memories of the past and the people who influenced our lives fill this beautiful recording.
For Summer's End, Garnet went acoustic – a variety of guitars from his ample collection, some fiddle, viola, cello and an old Steinway – perfect accompaniment for these songs. In addition to his original songs, Garnet does a fine and fitting job on Ewan MacColl's "My Old Man," Susan Werner's "Did Trouble Me," and his later brother's "Sailor's Rest" which appears as a bonus track. Another bonus is a biting but very humorous piece called "A Fireside Chat," a song that touches on many of the items and people that make us grumpy these days.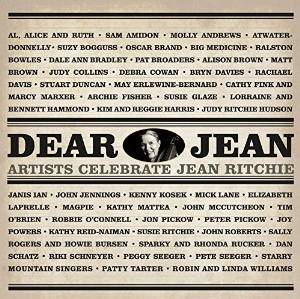 #9 Various  Artists  Dear Jean: Artists Celebrate Jean Ritchie (distributed by Compass Records) When I heard that Dan Schatz, Mick Lane and Charlie Pilzer were working on a tribute CD to Jean Ritchie, I was very excited. Dan was a producer and Mick a performer on the Grammy nominated Utah Phillips tribute CD Singing Through the Hard Times. That recording featured many members of the folk community, many names unfamiliar except to hard core folkies. The Jean Ritchie recordings feature some names that are recognizable to wider audiences such as Judy Collins, Kathy Mattea, Suzy Boggus and Robin & Linda Williams. However, there are a number of less commercial artists who appear and sometimes the difference is noticeable. However, the overall product showcases the songs that Jean wrote and delivered to an eager audience starting in the early days of the folk revival.
Jean Ritchie is a national treasure. The Ritchie family of Viper, Kentucky was a resource for folk song collectors (including Cecil Sharp) before Jean was even born. The youngest of 14 siblings, Jean had an affinity for memorizing songs and began singing at local dances and fairs as a youngster. After earning a degree in social work from the University of Kentucky in 1946, she took a job as a social worker at the Henry Street Settlement, a service agency in the rough and tough neighborhood of New York City's lower east side. Jean taught music there and also became part of the cities growing folk music scene. Alan Lomax became a friend and recorded many of Jean's songs. In 1949 she was appearing regularly on Oscar Brand's radio show as well as sharing stages with artists like Woody Guthrie and The Weavers.
In addition to sharing family songs such as "Pretty Saro," "The Cuckoo" and "Shady Grove," Jean was also writing songs that fit right next to the old traditional songs she brought with her from Kentucky. Jean had a knack for writing songs that became part of the tradition – new songs that sounded old. Her use of words, phrasing and style fit right in to the Appalachian tradition.
As I mentioned earlier, there are a few cuts that do not hold up to as well due to the difference in the type of artists who appear. However, overall, the songs and selections are a fitting tribute to Jean Ritchie, and a welcome reminder to all of the power and beauty of folk music, both traditional and in original songs that have become part of a tradition.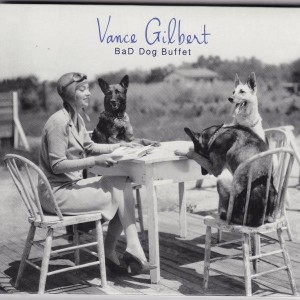 #8 Vance Gilbert   BaD Dog Buffet (Disismye Music) I discussed my thoughts about this CD in this column back in March 2014 (click here to read my original review) so I won't repeat myself.
Suffice it to say that this CD has grown on me over the course of the year. Vance Gilbert is one of the outstanding voices of the contemporary folk scene, and his songwriting skill shine bright on his latest recording. We also presented Vance at the Hurdy Gurdy this past spring, and once again he gave a memorable performance.
Vance gives everything he has to his craft, and if you have not seen him perform – find out where he is playing and go. If you have not listened to his recordings, this is a great place to start. As you will see from my playlist below, I chose 3 of the songs that highlight the humor and touching honesty that Vance shares in his original songs. I love sharing Vance's recordings on my show, he makes everyone feel good. His talent continues to impress me.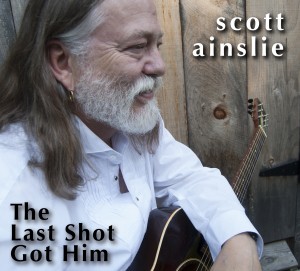 #7 Scott Ainslie  The Last Shot Got Him (Cattail Music) Since the 1980s when I first became aware of Scott Ainslie, I have been one of the legions of fans who have enjoyed the musical journey he has guided us through. Each of his CDs have been a welcome addition to the radio shows archive and his latest CD, released in October 2014, is one of his finest to date.
Inspired by a 1934 Gibson L-50 archtop guitar that he purchased from a friend in Louisiana several years ago, Scott chose songs that would likely have been played on the instrument when it was new plus an original composition that evokes the jazzy style of the era while painting the feelings Scott experienced by news reports of contemporary armed conflicts around the globe.
The Last Shot Got Him features two voices – Scott and the distinct voice of this special guitar. The album title comes from a song from Mississippi John Hurt called The First Shot Missed Him, the song that leads off this collection. Hurt's influence is strongly felt on this CD with six of the 14 selections coming from the legendary ragtime blues guitarist's repertoire. Scott does an outstanding interpretation of "Avalon Blues," the song that led to hurt being rediscovered in 1963 at the heart of the folk revival.
Scott also features a couple of Robert Johnson songs, Love in Vain and Cross Road Blues. Scott has previously transcribed the original recordings and published a book on Johnson, Robert Johnson: At The Crossroads (Hal Leonard) as well as an instructional DVD on Johnson's guitar work.
I was delighted to hear two popular standards of the era – Yip Harburg and Harold Arlen's "Over the Rainbow" from the Wizard of Oz and "When I See an Elephant Fly," a song written by Oliver Wallace and Ned Washington and originally recorded by Cliff Edwards of the Walt Disney animated classic "Dumbo."
In addition to being one of the folk/blues communities' finest singers and guitarists, Scott is an historian and educator. His latest recording combines all these facets into a thoroughly entertaining offering that showcases the power of an 80 year old guitar combined with an inspiring love and respect for our musical heritage.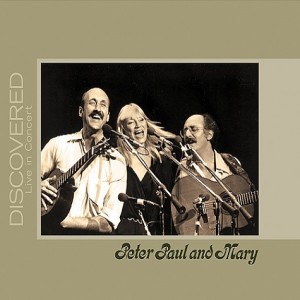 #6 Peter, Paul & Mary   Discovered: Live in Concert (Rhino) I have to admit; I wrestled with whether or not to add this CD to my list. My feelings about PPM have been mixed. They were a group that was manufactured during the height of the folk revival and their rise to the top of the pop charts separated them from what was being created by others during that time. Their concerts and PBS specials were a bit staged and filled with hokum and sugary sweet sentiment that differed from my concept of what the rest of the folk community was accomplishing. However, my personal feelings aside, the group made great recordings in the early days and more importantly – people liked them. They were the gateway for many into the world of folk music. As a child, they were also the first group that I can recall really enjoying with songs like "Lemon Tree" and "Puff the Magic Dragon," and those memories have stayed with me as my own expectations of what music should offer grew.
On this new recording, I found what made me sit up and take notice was a pleasant surprise, and a reminder of just what Peter, Paul and Mary could be. During the latter years of their existence as a trio, the group was no longer chasing to sell their songs to top 40 radio – times and tastes had changed, and so did PPM in their own way. The highlight of the concerts I saw in their latter years was their ability to share songs from artists who were relatively unknown outside of folk circles. While the interstitial offerings between songs often remained hokey, you could often see through the fluff to find the sincere passion the trio had for these songs.
While some of the songwriters they chose might already be familiar to the folk community, we have to remember that Peter, Paul & Mary played to a wider audience who would learn about these artists and hear these compositions for the first time.
It should come as no surprise that Mary Travers, who was always had my attention whenever she sang, sings lead on my two favorite cuts on this CD. Her touching interpretations of John Gorka's "Semper Fi" and Kate Wolf's "Give Yourself to Love" touched me deeply. Peter Yarrow leads a spirited version of Buddy Mondlock's "No Choice" and David Wilcox's "Show the Way."
There are no overdubs apparent on this CD. You will hear a few flubbed lines, early entrances, and the off-key vocals that can come with aging voices. While you might read my comments and wonder why I would chose a CD with flaws as one of my favorites, I think you need to listen to the CD from start to finish and you will hear an honest reflection of a trio of artists who remained passionate about the music that made them stars and continued to explore when they could easily have chosen to rest solely on their greatest hits.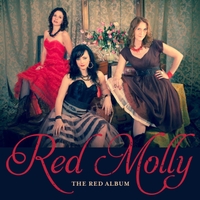 #5 Red Molly The Red Album (self) I have to say upfront, that watching this trio continue to grow and expand their audience makes me very happy. I knew each member of the original trio before they became a band, in fact the first time I heard Red Molly was at WFDU when my co-host Bill Hahn booked a "new" group and asked me if I could engineer. Imagine my surprise when I walked in the studio and discovered who made up this unique trio. It has been over 10 years since I first saw Red Molly perform, and they become one of the hottest acts on the folk circuit.
Five albums, one EP and a lineup change have shown the durability of Red Molly. They do not rest on their laurels, and their latest CD shows some new direction while maintaining the core qualities that have made them so popular. Produced by Ken Coomer (drummer for Wilco), the trio has recorded some darker material on this new CD but it feels like a natural progression.
The songwriting talents of Molly Venter, who joined the group in 2010 when original member Carolann Solebello left to pursue a solo career and spend time with her family, shines through with several songs on this new recording. I particular enjoyed "Willow Tree," a song she co-wrote with Ebsen Pariser, her partner in a side project called Goodnight Moonshine. Molly's gorgeous vocals added a new dimension to the trio, and she blended in perfectly with the signature harmonies that Red Molly is known for.
I was particularly pleased to see the trio record Richard Thompson's "1952 Vincent Black Lightning," the song that inspired the group's moniker. Their version of Paul Simon's "Homeward Bound" fits perfectly in this collection, and the recording has been getting airplay all across the country on folk radio.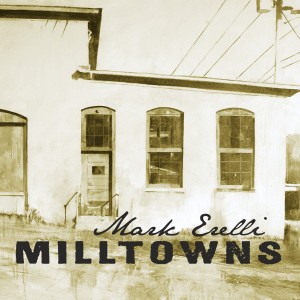 #4 Mark Erelli   Milltowns (self) This album was result of Mark Erelli going into his basement studio to work on his recording skills and choosing to sing a few Bill Morrissey songs. The practice session evolved into a full-fledged project to honor on of Mark's musical hero's. The results are an exemplary CD that is both a loving tribute and a showcase for the storytelling abilities of singer-songwriter Erelli. While the late Bill Morrissey pens all the songs except for the title cut, Mark treats them with respect and makes them sound freshly new.
While both are from New England, Mark discovered Morrissey through a photo of Texas singers-songwriter Robert Earl Keen wearing a Bill Morrissey t-shirt in the liner notes of one of Keen's recordings. Mark eventually met and performed with Bill Morrissey, and he writes about their first and last meeting on the albums title track, the only cut on the CD written by Mark.
The first cut is one of Morrissey's most popular songs, "Birches," and Mark gives it a hauntingly sweet yet poignant performance. Mark's rendition of "These Cold Fingers" just might be more powerful than the original. Anais Mitchell also joins him for a gorgeous version of "23rd Street.}
I find myself turning back to this CD repeatedly. It is a fitting tribute to TWO of the finest singer-songwriters to come out of New England in our lifetime.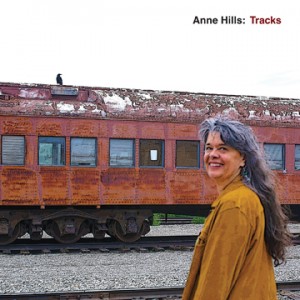 #3 Anne Hills  Tracks (Hand & Heart Music) When I heard that Anne's latest project was inspired by trains, I was eager to hear the results. I was not disappointed. I've always been fascinated by trains since growing up a block away from a branch line of the New York Central railroad. The lure of the rails has inspired me, as it has many songwriters such as Anne.
Anne found the inspiration for this new CD after performing for several summers on the Rio Grande Scenic Railroads Summer Concerts series. Operating in south-central Colorado, the tourist railroad offers excursions that pair up scenic trips through the Rockies with concerts featuring country, bluegrass, cowboy and folk artists. The railroad preserves classic passenger cars once owned by the Illinois Central Railroad that bear the name of its most famous train, the City of New Orleans. (Yes, Anne sings the Steve Goodman classic about this train on her CD, a song that she has been singing since she was a teenager.)
Tracks contains a mix of covers and original songs. Besides having one of the most glorious voices in folk music, Anne's gift for lyrical poetry deserves wider attention. Anne wrote 9 powerful songs for this collection and I was particularly moved by "Maria Took the Train to Town," a song about a homeless woman. While using trains as symbols and settings for many of the songs, Anne becomes the voice of the train and the rails in Transcontinental as she reminds us of their important place in our nations history.
I also loved her rendition of "The Train to Morrow," an old vaudeville song written in 1902 that has been sung by many people over the years, including her one-time partner, the late Bob Gibson. All in all, a fascinating trip from first to last cut.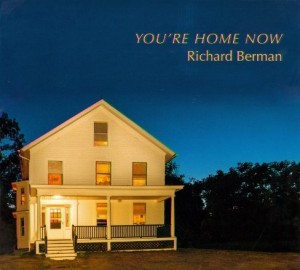 #2 Richard Berman  You're Home Now (self) Released in November, this one just sneaked in, and I am so glad it arrived in time! While the other CDs on my list have been around a while longer which enabled me to let the recordings thoroughly sink in, you do not need time to tell when you have something special. You only need to see the Grand Canyon for a few seconds before you realize just how magnificent it is and how your life has been forever changed. I get the same feeling from Richard Berman.
I am always surprised that Richard Berman has not received more recognition in the folk community and beyond. Granted he has received a number of songwriting awards and showcases at prestigious folk festivals over the years, and his CDs often appear on "best of" lists such as this. Yet to the general public, he is not a well-known entity.
Perhaps it is because Richard has held "day jobs" as a therapist and classroom teacher after receiving his master's degree in social work. His training and understanding of people is evident in the emotional songs he writes. His voice is simple and pure, a "common man" approach and understanding that has moved me to tears on a number of his earlier songs.
His latest recording also delivered a solid punch to my emotions. The title cut just may be the most moving song that I heard in 2014. It is a follow-up to an earlier composition called "People Holding Hands," a song after witnessing the reaction of a female cashier to two women holding hands in a Wal-Mart in New Mexico back in 1999. He received a letter in 2012 from one of the women, filling Richard in to their story since the incident and inspiring "You're Home Now." The song describes the roller-coast the two faced from their families, and the eventual realization and acceptance. It is a hopeful song about changes and common sense, and fitting to hear in 2014 as the country moves closer to full acceptance of same-sex marriage. Common sense and clarity of reason sometimes takes longer for some people to achieve, but progress will deliver the right results as long as people continue to work toward the goal. With songs from artists like Richard Berman to educate and inspire, we have the tools to make positive change in this world.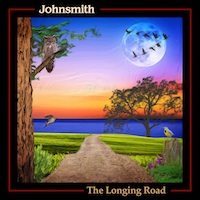 #1 Johnsmith  The Longing Road (self) – Like Richard Berman, Johnsmith should be a household name and his songs should be song all across the globe. Okay, perhaps John Smith IS indeed a household name, but this JOHNSMITH deserves to be heard by a wider audience.
John has been performing across the country for the past 30 years and his midwestern charm and onstage personality draws audiences into his performances. He has been a Kerrville New Folk Winner, released seven CDs, leads musical tours to Ireland, teaches songwriting, and was a former staff songwriter in Nashville before pursuing his own career. If you have ever seen John, you know how instantly likeable he is, and how his songs reach us on a personal level.
In 2013, he underwent double-bypass heart surgery and he had a good recovery, getting back to his high school weight, maintaining his cholesterol and blood pressure, and switching to a vegan diet. This health scare has obviously turned his life around, and his new CD is also an affirmation of life and the values that we hold dear.
The title cut is about the road we all travel and explores the doubts and questions we all ask as we look forward to what lies beyond the next bend. John explores family memories in a touching song called "Family Artifacts." Warning, have a box of tissues handy, as the tear ducts will flow.
I loved "Middle of the Moment," a song about those times when we have found ourselves in situations that offer valuable lessons and memories to learn from. "Sweetgrass" carries us to a prairie town dance, and even if you grew up in a big city in the northeast, you will relate to the songs theme of falling in love.
As you can surmise, I love well crafted songs. I could go on and on about each of these CDs, but instead of just reading my words, listen to these artists and their accomplished works. 2014 was a great year, and these are just a few of the gifts we received. My thanks to all the artists for their vision and hard work which resulted in these outstanding recordings. The living folk music song bag is truly richer. I can't wait to see what 2015 has in store!
Below is the playlist from my show when I announced my picks. I chose 3 songs from each of my favorite CDs and played them with a few other selections over the course of the show.
(Tune in to TRADITIONS every Sunday from 2pm to 5pm Eastern Time over WFDU-FM 89.1 in the NYC/Northern New Jersey area, or on the web at www.wfdu.fm or iHeartRadio.com. On-demand streams of shows, including this one, are archived for two weeks by clicking HERE. A Sing Out! Radio Partner.)
ARTIST "Tune / Song"
ALBUM Label/Website
2PM
Theme: HARVEY REID "Dirty Dish Rag"
Solo Guitar Sketchbook Woodpecker Records – www.woodpecker.com
LOU AND PETER BERRYMAN "New New Year Year"
#10
GARNET ROGERS "Old Campfires"
Summer's End Snow Goose – www.garnetrogers.com
GARNET ROGERS "My Old Man"
Summer's End Snow Goose – www.garnetrogers.com
GARNET ROGERS "The Sweet Spot"
Summer's End Snow Goose – www.garnetrogers.com
#9
MOLLY ANDREWS "Now is the Cool of the Day"
Dear Jean:Artists Celebrate Jean Ritchie Compass Records – www.compassrecords.com
JOHN MCCUTCHEON, TIM O'BRIEN, SUZY BOGGUSS, KATHY MATTEA, STUART DUNCAN AND BRYN DAVIES "Black Waters"
Dear Jean:Artists Celebrate Jean Ritchie Compass Records – www.compassrecords.com
PETE SEEGER "I Celebrate Life"
Dear Jean:Artists Celebrate Jean Ritchie Compass Records – www.compassrecords.com
CATHY FINK AND MARCY MARXER "Dear Companion"
Dear Jean:Artists Celebrate Jean Ritchie Compass Records – www.compassrecords.com
#8
VANCE GILBERT "First Ring"
BaD Dog Buffet  Diismye Music – www.vancegilbert.com
VANCE GILBERT "Sweet Potato Dove"
BaD Dog Buffet  Diismye Music – www.vancegilbert.com
VANCE GILBERT "Out the Way We Came In"
BaD Dog Buffet  Diismye Music – www.vancegilbert.com
HARPETH RISING "Norwegian Wood"
The Dreaming Tree self – www.harpethrising.com
3PM
NOWELL SING WE CLEAR "Song for the New Year"
Bidding You Joy Golden Hind – www.goldenhindmusic.com
#7
SCOTT AINSLIE "Ain't Misbehavin'"
The Last Shot Got Him self – www.scottainslie.com
SCOTT AINSLEE "When I See An Elephant Fly"
The Last Shot Got Him self – www.scottainslie.com
SCOTT AINSLIE "Avalon Blues"
The Last Shot Got Him self – www.scottainslie.com
#6
PETER, PAUL AND MARY "Give Yourself To Me"
Discovered: Live in Concert Rhino – www.rhino.com,  www.peterpaulandmary.com
PETER, PAUL & MARY "No Choice"
Discovered: Live in Concert Rhino – www.rhino.com,  www.peterpaulandmary.com
PETER, PAUL & MARY "Midnight Special"
Discovered: Live in Concert Rhino – www.rhino.com,  www.peterpaulandmary.com
#5
RED MOLLY "Homeward Bound"
The Red Album self – www.redmolly.com
RED MOLLY "Willow Tree"
The Red Album self – www.redmolly.com
RED MOLLY "1952 Vincent Black Lightning"
The Red Album self – www.redmolly.com
#4
MARK ERELLI "Birches"
Milltowns self – www.markerelli.com
MARK ERELLI "These Cold Fingers"
Milltowns self – www.markerelli.com
MARK ERELLI "Handsome Molly"
Milltowns self – www.markerelli.com
ANNA FALKENAU "The Wounded Hussar"
Feileacan na Saoirse self – www.annafalkeanau.com
4PM
VARIOUS "New Year's Round"
'Twas on A Night Like This Folk Legacy – www.folklegacy.com
#3
ANNE HILLS "Fallen Flag"
Tracks Hand and Heart Music – www.annehills.com
ANNE HILLS "Maria Took The Train to Town"
Tracks Hand and Heart Music – www.annehills.com
ANNE HILLS "City of New Orleans"
Tracks Hand and Heart Music – www.annehills.com
#2
RICHARD BERMAN "The Token of Scotty's Affection"
You're Home Now self – www.richardberman.com
RICHARD BERMAN "A Father and A Daughter"
You're Home Now self – www.richardberman.com
RICHARD BERMAN "You're Home Now"
You're Home Now self – www.richardberman.com
#1
JOHNSMITH "Longing Road"
The Longing Road self – www.johnsmithmusic.com
JOHNSMITH "This Field"
The Longing Road self – www.johnsmithmusic.com
JOHNSMITH "Middle of a Moment"
The Longing Road self – www.johnsmithmusic.com
DANNY QUINN "The Parting Glass"
Vacant Chair self – www.dannyquinn.com
PETE SEEGER "To My Old Brown Earth"
Pete Living Music – www.livingmusic.com
=================
Ron Olesko
WFDU-FM
1000 River Road
Teaneck, NJ 07666
www.wfdu.fm
www.iheart.com/live/WFDU-891-6648
click here for Traditions Archive