As the final hours of 2014 approach us, we wanted to take some time to list the albums that impacted us this year. Looking at other "Best of 2014" lists, it would be easy for us to bolster the ubiquitous releases that have enthralled the masses. Instead, we chose to compile a list, in no particular order, of albums released this year that we felt deserve merit or recognition for a multitude of reasons. We'd rather steer clear of the fanfare and glitz that these year-end lists tend to suggest – in fact, we'll readily admit that we haven't come close to listing all of the fantastic music that 2014 has brought us.
So, check out our serving of Great Albums of 2014. Want to add to the list? Feel free to join us in the comments! Happy New Year!
— Matt Hengeveld
---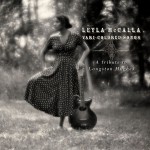 Leyla McCalla – Vari-Colored Songs (Music Maker Relief Foundation)
Amazon | Spotify
This album is an absolute triumph. Cellist and folk singer Leyla McCalla (formerly of The Carolina Chocolate Drops) crafted this love letter to Langston Hughes and her own Haitian heritage over a number of years. She turns Hughes' poetry into beautiful, Southern roots music (his poetry already had a song quality to it and many nods to musical traditions, so this isn't an impossible task), then blends it with traditional songs from her Haitian roots. None of this is easy. Hughes' poem "Song for a Dark Girl" is heart-rending, and McCalla knows how to bring out its raw power in the simplest way possible. And Hughes' writing on Haiti (which he visited) is tragically ironic today ("warehouses full of champagne, banks full of money"). But with our modern streets filled with raging anger, the words of Hughes are more important than ever to listen to. — Devon Leger
---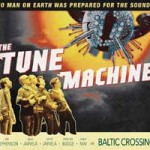 Baltic Crossing – The Tune Machine (Go')
Amazon
|
Spotify
This is an album like none other you've ever heard before. You'll think I don't know you well enough to say that, but I'm pretty confident, nevertheless. Five musicians – two Finns, two Danes and one Brit – use the instruments and music of Scandinavia to, as far as I can tell, have about the best possible time you can ever think of having. The musicians' spirit and their ability is infectious, poignant, and invigorating. Sometimes, especially in the world of folk music, we forget that irony and sarcasm don't have to be the only serious emotions left to us. Case in point, this disc is an absolute, unbridled joy. —
Glen Herbert
---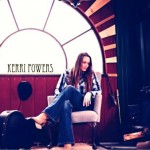 Kerri Powers – Kerri Powers (Self)
Amazon
|
Spotify
Her passionate alto with a hint of grit is perfect for her well-written songs alive with great images. With evocative arrangements of pedal steel, acoustic guitar, light percussion and more, this is an album you'll want to hear again and again, like that favorite movie where you notice something new every time. Her lyrics are great prose. In "Come Around," she offers, "I'm from a town smaller than your mind" and in "Ghost" she tells us, "Pictures whisper in a box / Thought I heard 'Forget me not'". Even when she sings covers like Janis Ian's "Jesse" she does it with such longing, you're sure she wrote the song; indeed, her writing is as good as Ian's. —
Jamie Anderson
---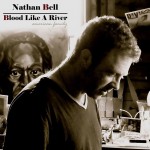 Nathan Bell – Blood Like a River (Stone Barn)
Amazon
|
Spotify
Nathan Bell's songs can shake, startle and astonish you. "Names," the opener, is the most eloquent song I've heard in years about soldiers fallen in action. "Blue Kentucky Gone" is portraiture of a father and his daughter who loves to sing. "Fade Out" is a moving song of redemptive love. Nathan's songs ring urgently true. There's a lot of life infused in them, but as Nathan set aside music for about two decades he has a lot of life to draw from. The album is spare and sparse the best to let the songs and Nathan's endearing if gruff voice shine. Every now and again an album comes along that shakes my world so I never quite see it the same again. Blood Like a River is one of those in my world. —
Michael Tearson
---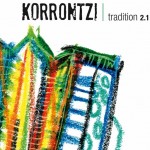 Korrontzi – Tradition 2.1 (ARC)
Amazon
|
Spotify
The first listen to this CD by Basque band Korrontzi just blew me away! The accordion led ensemble swings and stomps its way through an amazing set of tunes – all are catchy and melodic, well arranged and brilliantly played. The core quartet (accordion, guitar and mandolin, percussion, electric and double bass) is augmented by bagpipes and vocal choruses on several tracks. I'd recommend this to anyone who enjoys rousing, danceable music or the sounds of virtuoso accordion playing. —
Ken Roseman
---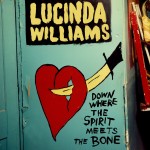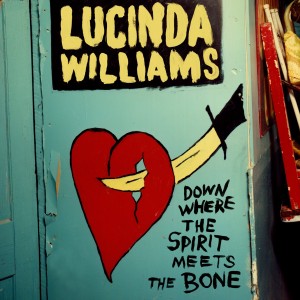 Lucinda Williams – Down Where the Spirit Meets the Bone (Highway)
Amazon
This travelogue of Lucinda's roots along her native South's musical highways incorporates blues, black gospel, Memphis soul, swamp rock and a bit of country. She's called it "psyche-Delta." "Something Wicked This Way Comes" traces back to a southern gothic tale of Flannery O'Connor's. As her beloved father and mentor, poet Miller Williams, descends into Alzheimer's, she bids him farewell and salutes him by setting his "Compassion" to music. ("You do not know what wars are going on/Down where the spirit meets the bone.") This album too takes us down where the spirit meets the bone. —
Bruce Sylvester
---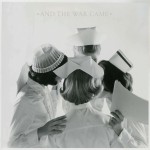 Shakey Graves – And The War Came (Dualtone)
Amazon
|
Spotify
Shakey Graves is a one-man band from Texas. His music often has a raw edge, but his masterful picking, the occasional backing harmonies by Esme Patterson and his solid percussive backbeat, provided by a bass drum head on a suitcase and a tambourine ­ both played by stepping backwards on a kick drum pedal ­ packs plenty of punch. His melodies are folky and catchy, but they veer off into unexpected directions as he drops hints of funk, 50s rock, country and hip-hop into his playing. His ironic humor and unique vocal style, part spoken word, part starry-eyed crooner, fill the album with unpredictable twists and turns. —
j. poet
---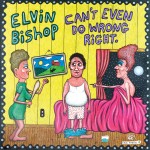 Elvin Bishop – Can't Even Do Wrong Right (Alligator)
Amazon
|
Spotify
Septuagenarian blues, rock and soul musician Elvin "Pigboy Crabshaw" Bishop brings to mind the likes of Cab Calloway or Slim Gaillard with his fun-loving and engagingly light-hearted approach to performing and recording. His latest project for Alligator is sprinkled with enjoyable originals such as "Old School" ("Don't send me an e-mail, send me a female"), "Everybody's In The Same Boat" and the title song alongside a great southern soul number titled "Let Your Woman Have Her Way" and tasty covers like "No More Doggin'" (add Charlie Musselwhite), "Bo Weevil" and "Hey-Ba-Ba-Re-Bop." And, man alive, can Elvin still play the hell out of old Red Dog – his fabled Gibson ES-345 guitar! — 
Gary von Tersch
---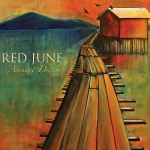 Red June – Ancient Dreams (Organic)
Amazon
|
Spotify
The skill is clear, the musicianship is deft, the vocal harmonies are fresh and atypical. It's a quiet album, for the most part, and the songs are allowed to speak for themselves. And it's remarkably rich. "I Saw You In August" is a study in arranging, complex and delicately crafted to allow the focus to shift around the story that's being told. It's brilliant, as is the whole album. —
Glen Herbert
---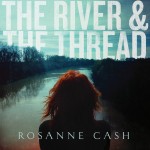 Rosanne Cash – The River & The Thread (Blue Note)

Amazon
|
Spotify
Rosanne Cash is one of the most fearless songwriters as she has never shied from confronting in her songs the wicked curves life has thrown at her.
The River & The Thread
follows her album of songs from The List of 100 essential country songs her father gave her with a journey through the South to learn more about her roots and her relation to them. Brilliant writing and performances coupled with eloquent production by her husband John Leventhal. —
Michael Tearson
---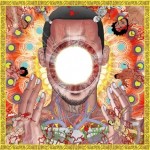 Flying Lotus – You're Dead (Warp)

Amazon
|
Spotify
A fusion of EDM, hip-hop and a wide array of jazz, Flying Lotus produces an unexpected hit. Nephew of famed jazz musician John Coltrane, Flying Lotus lives up to that stature. Dabbling in what feels like a Whitman's sampler of styles, and accompanied by a hoard of talented artists by his side,
You're Dead
has been quoted in 'best-of' lists in EDM, hip-hop and jazz publications. FlyLo succeeds by coupling his urge to create a modern-day hard-bop album with a knowledge of his own skills and limitations. A masterpiece. —
Matt Hengeveld
---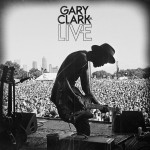 Gary Clark Jr. – Live (Warner Bros.)

Amazon
|
Spotify
I may be the last person to get on the Gary Clark Jr. boat, but whatever. Move over and give me a seat already! Clark's double album is a live affair and captures the burning ferocity of his music as only a great live recording can. I'm not sure everyone would consider this folk music, what with the second disc's nods to soul and R&B, but listen to him burn like napalm on "Catfish Blues" and tell me this isn't 21st century roots music done right. On his song "Travis County", he adopts a devil-may-care rockabilly sound for this true story of his arrest at 17. With current events, there's another meaning behind his street arrest, and he changes one line in the song to speak honestly about the fear he felt when the cop called him out. Goes to show you don't need to write an entire protest song in order to speak out. —
Devon Leger
---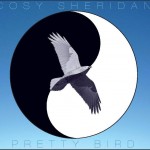 Cosy Sheridan  – Pretty Bird (Waterbug)
Amazon
|
CD Baby
She calls this her most personal collection of songs and indeed, they cover a time in her life with a lot of change, from the death of someone close to a new love. However, this isn't someone who sings you her diary, these poignant well-written songs will remind you of your own life and its many changes. The mostly-acoustic arrangements are centered on her impeccable guitar work. With "Drive On" she sings about moving through the hard stuff, and on "Welcome to Boston," she talks about another kind of moving, driving, with some laugh-out-loud observations about Boston drivers. "Pretty Bird" leans toward bluegrass while "Sing Goodbye" is a gorgeous ballad with only guitar, bass and vocal. —
Jamie Anderson
---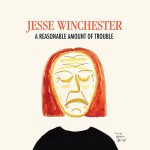 Jesse Winchester – A Reasonable Amount of Trouble (Appleseed)
Amazon
|
CD Baby
We lost Jesse Winchester this spring, but not before he completed one final album,
A Reasonable Amount of Trouble
(the title from a line spoken by Sam Spade in The Maltese Falcon, one Jesse loved to use). Like George Harrison's Brainwashed and Warren Zevon's
The Wind
, Jesse made the album knowing full well it would be his final work. And it is as exquisite and elegant as everything Jesse ever did. Mortality suffuses it, but never surrendering to sadness or gloom. A gorgeous, joyous album. —
Michael Tearson
---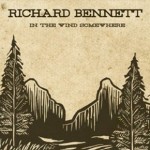 Richard Bennett – In The Wind Somewhere (Lonesome Day)

Amazon
|
Spotify
Sadly, I suspect you may not have heard of this release. Which is too bad. If Bennett is known at all, it's as a studio musician or a member of J.D. Crow and the New South. This is a quiet album, with some famous friends sitting in, including Tony Rice. There are comparisons to be made between Bennett and Rice, and rightly so, most notably his very light touch, his mastery of his instrument, and his ability to arrange a song. —
Glen Herbert
---
Auldridge, Douglas and Ickes – Three Bells (Rounder)

Amazon
|
Spotify
It's somewhat out of the usual course of things to consider an all-instrumental album for a spot at the top of year-end lists and recaps, but Three Bells is exceptional on many levels, not least of which is that it features the three Dobro players widely regarded as the best at their craft demonstrating the full dynamic breadth and capabilities of the instrument – though sadly, Mike Auldridge passed away shortly after the sessions were completed. Exceptional also in that there is no backup band, just the three of them combining for an exquisite harmonic treat. —
John Lupton
---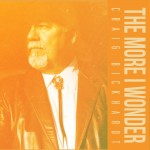 Craig Bickhardt – The More I Wonder (Self)

Amazon
|
CD Baby
Bickhardt polishes his songs like finely cut gems. The lyrics spin tales and limn characters usually pulled from real life and weds them to melodies that drive the stories and propel the songs. Craig is a master craftsman of song and is at the top of his art here. The album is performed and produced with excellence on all levels. Craig is a superb guitarist and a warm, embracing vocalist, and the support players are wonderful. "It Opens" is about seizing opportunities when life places them in your path and, personally, helped me find the grit and boldness I needed this year. When a song has that kind of positive impact I take notice. —
Michael Tearson
---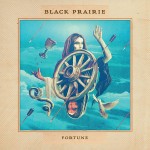 Black Prarie – Fortune (Sugar Hill)
Amazon
|
Spotify
What started out as a semi-acoustic bluegrassy side project started by several members of The Decemberists is now a full fledged folk-rock outfit. Accordion, fiddle, bouzouki, mandolin, and acoustic guitars are now joined by electric bass and drums, and the sound is much "heavier." The great singing (lead and harmony) is still there, as are melodies that echo of long time traditions. But everything is louder and the energy levels are definitely amped up. So think Appalachia meets Jefferson Airplane (or even Fairport Convention) – neo psychedelic "Americana" is as good a short description as any. I'd love to hear Black Prairie do their own arrangements of some authentic traditional ballads and tunes. That would be quite something! —
Ken Roseman
---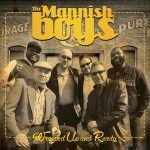 The Mannish Boys – Wrapped Up and Ready (Delta Groove)

Amazon
|
Spotify
The prolific Chicago-via-California blues assemblage (named after a Muddy Waters song), fronted by impassioned vocalist Sugaray Rayford, has released another guest-laden (Kid Ramos, Kim Wilson, Bob Corritore, Steve Freund) close-to-the-bone project. Highlights include an eight-minute tribute to guitarist Mike Bloomfield (featuring Kirk "Eli" Fletcher), the B.B. King-influenced "It Was Fun," a couple of great shuffles ("I Ain't Sayin'" and Everything's Alright"), a Latin-rimmed version of Ike and Tina's fiery "I Idolize You" (add Candye Kane) and a particularly vivid recall of Magic Sam's "She Belongs To Me." Contemporary blues album of the year in my book. —
Gary von Tersch
---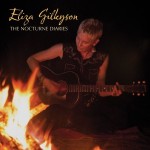 Eliza Gilkyson – Nocturne Diaries (Red House)

Amazon
|
Spotify
You know about those thoughts and notions that come to you unbidden in the dark and dead of night? Eliza Gilkyson wrote the songs for her album
The Nocturne Diaries
from some of her own. It is a frequently dark collection of songs, but the promise of the light that comes with the dawn infuses hope. A beautifully, eloquently wrought album co-produced by Eliza with Cisco Ryder. —
Michael Tearson
---