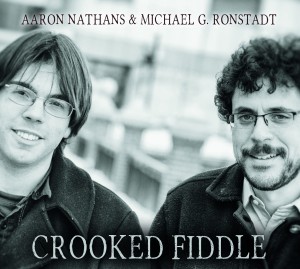 AARON NATHANS and
MICHAEL RONSTADT
Crooked Fiddle
Nathans Ronstadt 001
---
This is an engaging, warm and intimate collaboration between songwriter Aaron Nathans and songwriter/multi-instrumentalist Michael G. Ronstadt (cello, guitar, mandolin).
Following and getting to know Michael, I have developed a strong respect for the adventurousness he brings to everything he does. He produced and engineered this project with Ernie Tokay, and they have created a lovely album with smart, inventive production that never gets busier or denser than absolutely necessary. I like it sparse.
Aaron is the principal songwriter here, as he wrote or co-wrote nine of the twelve selections with the title track a collaboration with Michael. For his part, Michael brought two of his songs to the set. And they cover "All Along the Watchtower" with an arrangement more along the lines of Dylan's original than the famous Jimi Hendrix cover. Michael's cello brings something fresh and new to the oft played song.
The songs are often contemplative and thoughtfully constructed. Opener "I Stood Upon a Hill" adapts a Clarence Dan Blackly poem first published in 1939. This paean to nature sets the table nicely for what follows. Michael's "One Step" is about persevering, encouragingly so. Aaron wrote "Old Joe's Chair" with mix/master engineer Phil Henry as an ode to the comfort of a long loved barber's work and company. "Thirteen" is a light hearted remembrance of going through his Bar Mitzvah. "Crooked Fiddle" is a meditation on frustration and getting nervous. His "If I Had an Axe" is essentially an elegy for Pete Seeger told in scenes from Pete's life. The title refers to the possibly apocryphal legend of Pete wanting to sever the sound cable at Newport Folk Festival 1965 as Bob Dylan was playing electric.
Throughout the songs are stirring and they leave you thinking. A thoroughly satisfying and stimulating effort.
— Michael Tearson