WFDU-FM's TRADITIONS Playlist for December 14, 2014
I have complained about the lack of substantive Hanukkah music since I started WFDU-FM's TRADITIONS back in 1980. Each year I host a program of Christmas music on the Sunday before the holiday and I have more than enough music to fill my three hour time slot. When it comes to Hanukkah, I find myself playing the same handful of songs each year. Until this year.
While there are some wonderful Hanukkah songs, I've found that a vast majority of songs for this holiday are geared toward children. It is wonderful that kids have songs they can enjoy this time of year but I always like to share songs that older listeners to my show can relate to in a more direct fashion. While the Festival of Lights certainly is a wonderful family celebration, there are deeper meanings in this 8 day holiday that I always felt would be wonderful subject matter for songs.
You can imagine my delight when I received a note from a local New Jersey singer-songwriter telling me that she has just released a CD for Hanukkah that speaks to these very subjects, as well as the cherished traditions that children enjoy.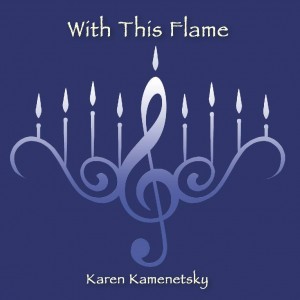 Karen Kamenetsky visited my show today to share selections from her new recording With This Flame. I believe this CD is going to find an annual audience as word spreads about the delightful music Karen has created.
It was 30 years ago that Karen converted to Judaism after marrying her husband Leonard, who is Jewish. She did not choose to convert because of the marriage, but she became interested in the faith after she was wed and discovered a spiritual connection. The teachings and traditions took on a special meaning in her life as she embraced her religion as an adult.
Music has also been an important part of Karen's life, playing guitar and singing as a young girl and continuing through her adult life. The craft of songwriting has been a more recent discovery for her.  In 2009 at the age of 52, Karen wrote her first song, "Every Day Matters." The song was written in the memory of her sister who died back in 1987. (The song eventually would become the title cut for Karen's first CD, and proceeds from the recording are going to a fund that will directly help patients being treated for Hodgkin's Disease.)
After discovering her gift for writing songs, Karen connected with some friends at a local open mic near her home in New Jersey. She soon began performing at coffeehouses, farmers markets and festivals while continuing to write songs.
Her new Hanukkah CD has evolved over the past several years. She started writing songs a few years ago to express her feelings about the holiday and the messages it carries. Friends and members of her congregation encouraged her to put together an album for the holiday, and in August she decided this was the year to do it. Over the last few months, Karen has worked with some talented musicians and insightful producer Steven Kohn to fashion a CD that explores the deeper messages while also sharing the fun and joy that is instilled in the wonderful traditions of Hanukkah. It is a joy to listen to and I am honored to share the songs with my listeners. Karen is also a wonderful guest! In addition to songs from With This Flame, we shared a great song she wrote about the virtues of locally grown (New Jersey!!!) food called "My Tomato"and a song called "Grandpa's Tree" that is based on Jewish lore.  I am sure we are going to be hearing more from this talented artist!
I also had the honor of broadcasting a "sneak peek" of David Amram's forthcoming CD Symphonic Variations on a Song By Woody Guthrie. Recorded by the Colorado Symphony Orchestra, this CD will be released in February. The piece was commissioned by the Guthrie Family a few years ago to honor the centennial of Woody Guthrie's birth. There have been several performances of the symphony that is based on "This Land is Your Land" and musically captures the spirit of Woody Guthrie's travels – through expressions of a Sunday morning church service in Okemah, a Texas barn dance, the farmers and families who endured the Dust Bowl and the streets of New York City where Woody encountered the various ethnic neighborhoods and their music.  Amram, who first met Guthrie 57 years ago, weaves elements of Woody's classic song throughout the symphony in this inspired creation. It is a powerful expression that captures the spirit of Guthrie's travels and the connections that people that Woody sang about. My thanks to David Amram for sharing this recording with me and allowing me to share it with my listeners for this sneak preview.
New and Noteworthy – Harpeth Rising Live at the Dreaming Tree (self), Jesse Terry Empty Seat on a Plane (self), Christine Lavin If You're Drunk You Cannot Buy a Puppy (self) and Rob Lytle A Hypocrite of Heart and Hope (Heart and Hope Music).
(Tune in to TRADITIONS every Sunday from 2pm to 5pm Eastern Time over WFDU-FM 89.1 in the NYC/Northern New Jersey area, or on the web at www.wfdu.fm or iHeartRadio.com. On-demand streams of shows, including this one, are archived for two weeks by clicking HERE. A Sing Out! Radio Partner.)
ARTIST "Tune / Song"
ALBUM Label Website
2PM
Theme: HARVEY REID "Dirty Dish Rag"
Solo Guitar Sketchbook Woodpecker Records – www.woodpecker.com
THE KLEZMATICS "Happy Joyous Hanukah"
Woody Guthrie's Happy Joyous Hanuka  Shout Factory – www.klezmatics.com

GUEST: Karen Kamenetsky. Karen, a New Jersey based singer-songwrier, visited the show to discuss her new Hanukkah CD as well as some of her earlier recordings, featuring songs influenced by her faith.
KAREN KAMENETSKY "With This Flame"
With This Flame self – www.karenkamenetsky.com
KAREN KAMENETSKY "Judah Maccabee Standing Tall"
With This Flame self – www.karenkamenetsky.com
KAREN KAMENETSKY "Zot Hanukkah"
With This Flame self – www.karenkamenetsky.com
KAREN KAMENETSKY "Grandpa's Tree"
Sing With Me self – www.karenkamenetsky.com
KAREN KAMENETSKY "My Tomato"
Every Day Matters self – www.karenkamenetsky.com
KAREN KAMENETSKY "Happy Hanukkah Potatoes"
With This Flame self – www.karenkamenetsky.com
JENNIFER EVANS "Things That Lovers Do"
The Last Cheap Hotel self – www.jennifer-evans.com
3PM
PETER, PAUL & MARY "Show the Way"
Discovered Live in Concert Rhino/Warner Brothers – www.rhino.com
HARPETH RISING "These Boots Are Made For Walkin'"
Live at the Dreaming Tree self – www.harpethrising.com
YVES LAMBERT TRIO "LES CORPS DE METIERS"
Trio self – www.yveslambert.com
MOIRA SMILEY & VOCO "North Country"
Laughter Out of Tears self – www.moirasmiley.com
THE SWEET LOWDOWN "Fallou"
Chasing the Sun self – www.thesweetlowdown.com
IRISH MYTHEN "How Do You Love"
demo self – www.irishmythen.com
REBECCA LOEBE, RAINA ROSE, SMOKEY & THE MIRROR "Lie"
Three Nights Live Goose Creek Music – www.goosecreekmusic.com
JESSE TERRY "Empty Seat on A Plane"
Empty Seat on a Plane self – www.jesseterrymusic.com
LIVINGSTON TAYLOR "Paperback Writer"
Blue Sky Whistling Dog – www.livingstontaylor.com
MARK ALLEN BERUBE "My Left Arm"
Sticky self – www.markallenberube.com
CHRISTINE LAVIN "Remembering My Password(s)"
If You're Drunk You Cannot Buy a Puppy self – www.christinelavin.com
THE FOLK GODDESSES "Underwater"
I Am Oak self – www.thefolkgoddesses.com
ROB LYTLE "Daddy Let Me Help You"
A Hypocrite of Heart and Hope Heart and Hope Music – www.roblytle.com
RICHARD BERMAN "You're Home Now"
You're Home Now self – www.richardberman.com
4PM
IDA MAE SPECKER "Red Rocking Chair"
For Your Consideration self – www.idamaespecker.com
DAVID AMRAM & THE COLORADO SYMPHONY ORCHESTRA "Theme and Fanfare for the Road"
Symphonic Variations on a Song By Woody Guthrie Newport Classic Ltd. Recordings – www.newportclassic.com
MARIENNE KREITLOW "Deportee (Plane Wreck at Los Gatos)"
Like Noah's Dove Living Song – www.marienne.com
DAVE ROWE "It's Alright"
All of the Dreams self – www.daverowe.com
CATHIE RYAN "Fare Thee Well"
Through Wind and Rain Mo Leanbh Records – www.moleanbhrecords.com  , www.cathieryan.com
JOHNSMITH "Longing Road"
The Longing Road self – www.johnsmithmusic.com
HARRY CHAPIN "Story of a Life"
Sequel Dunhill – www.harrychapinmusic.com
JEN CHAPIN "Cat's in the Cradle"
Song of Our Fathers
TOM CHAPIN "Circle"
Tom Chapin and Friends Live in Concert Gadfly Records – www.tomchapin.com
HARRY CHAPIN "Remember When the Music"
Sequel Dunhill – www.harrychapinmusic.com
=================
Ron Olesko
WFDU-FM
1000 River Road
Teaneck, NJ 07666
www.wfdu.fm
www.iheart.com/live/WFDU-891-6648
click here for Traditions Archive