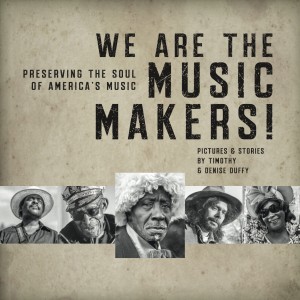 VARIOUS ARTISTS
We Are The Music Makers!: Preserving
the Soul of America's Music
Music Maker Relief Foundation
---
Founded in 1984, the North Carolina-based Music Maker Relief Foundation – led by Tim and Denise Duffy – is utterly pragmatic in its goals: preserving traditional southern music by presenting it on disc and on stage and also by helping needy players through finding them gigs, providing them with decent instruments and even repairing their homes. Among its 150-plus CDs thus far, the primary focus is on performers age 55 or older with incomes below $18,000 per year.
The 44-track We Are the Music Makers!: Preserving the Soul of America's Music commemorates the non-profit's 20th anniversary with acts ranging from the obscure to a few big names like Carolina Chocolate Drops (whose recording career began on the label) and Taj Mahal (who plays backup banjo, guitar and ham bone on a few cuts). Musical styles run the gamut from Etta Baker's graceful Piedmont blues picking to Pura Fe's Native American chants from her Tuscarora tribe. Classically trained Leyla McCalla, former cellist in the Chocolate Drops, draws on her Haitian heritage in "Manman Mwen." Among the religious tracks, country singer Carl Rutherford hauls out "Old Rugged Cross."
As for childhood memories, Big Boy Henry's "Old Bill" tells of his pet rooster, which his mother killed to feed a lecherous minister his father thoroughly distrusted. Jerry "Boogie" McCain's "My New Next Door Neighbor" ends with screams and gun shot sounds. On "Peter Rumpkin," Willa Mae Buckner (a snake charmer, say the notes) falls back on a gimmick many of us can recall from childhood: raising expectations that a verse's rhyme will end with a dirty word but then closing it with something innocent.
The news is fodder for the blues. (Remember Blind Willie Johnson's "God Moved on the Water" in the wake of the Titanic's sinking and, from World War II, the harmonizing Golden Gate Quartet's "Stalin Wasn't Stallin'.") Whooping, Bible-referencing guitarist Drink Small's "President Clinton's Blues" points out, "The man did the same thing that Adam did to Eve. … The Bible says, 'He who has not sinned cast the first stone.' … She didn't rape him. And he sure 'nough didn't rape her." Anti-gay sentiment appears in the song.
Political correctness is oft an unknown concern in the blues, Ironing Board Sam's disco-like offering has one basic, repeated line: "I can't think of nothing but your butt." High-pitched Algia Mae Hnton advises "Cook Corn Bread for Your Husband, Biscuits for Your Outside Man."
Prison being a well-known topic in the blues, a title such as Adolphus Bell's "Child Support Blues" speaks for itself. Is Bell ad libbing? And a bluesman's listening habits aren't limited to the blues, either. Eddie Tigner, who toured with the Ink Spots for 35 years, scats and improvises his way through "Route 66."
A genre that traveled from Africa to America, the praise song can have various motives – showing appreciation or currying favor, for example. Just think back to Leadbelly's "Governor Pat Neff" for the Library of Congress and Folkways not to mention, from Memphis's Sun Studios, the Prisonaires' "What about Frank Clement (a Mighty Man)" for governors of Texas and Tennessee, respectively. Side 1 of this Music Maker package ends with a quiet but quite specific praise song, Captain Luke & Cool John Ferguson's leisurely "Tim Duffy Is a Good Ol' Guy": "As good a guy as he could be / He got me a gig across the sea. / When he tell you something, he really mean it. / He got me a gig in Argentina." In the world of downhome music, the Duffys are bringing home the bacon.
— Bruce Sylvester