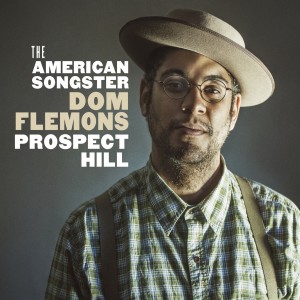 Dom Flemons
Prospect Hill
Music Maker Foundation
---
The Carolina Chocolate Drops have been a brilliant beacon of American music from the beginning. Over time they have expanded their purview from early black string band music, a form largely ignored until they shone their light on it, to other music from many sources.
Now having departed the group and out on his own, Dom Flemons continues his musical voyage with his first solo album Prospect Hill, a dazzling array of song and music that whizzes by. The 14 selections total 38½ minutes, and quite frankly as rich and varied as it is, I am satisfied it's as compact a program as it is. A much longer program might have been too much to comfortably digest.
Dom touches many bases with the selections here. The early New Orleans jazz feel of the opener "'Til The Seas Run Dry" which he wrote but sounds a century or more old. The old-timey "Polly Put the Kettle On" comes from Sonny Boy Williamson of all people, and Dom's harmonica, Guy Davis' guitar and Ben Hunter's fiddle give it an irresistibly jaunty feel. The humorous "But I Got It Fixed Right On" from Georgia Tom Dorsey and Tampa Red spotlights Davis playing Mike Seeger's 6-string banjo. Frank Loesser's "Have I Stayed Away Too Long?" has been a hit for Jim reeves and Willie Nelson, but Dom says he learned it from Blind James Campbell and His Nashville String Band, and he gives it a rollicking take. Gus Cannon's "My Money Never Runs Out" closes the set with a fun romp driven by Dom's 4-string banjo and Guy's guitar.
There's lots more (Dom wrote eight of the 14 selections), but I'll leave them for you to delve into. The recording is warm and intimate, and if you don't catch yourself beaming broadly as you listen you are just not paying attention. Dom Flemons' Prospect Hill is a treasure, hopefully merely the first of many more to come.
— Michael Tearson