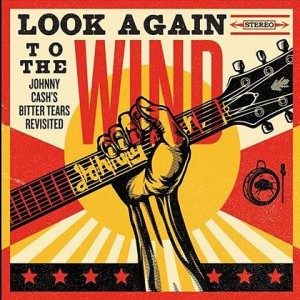 Various Artists
Look Again To The Wind
Sony Masterworks 06067
www.sonymasterworks.com



Forthcoming film:
We're Still Here: Johnny Cash's Bitter Tears Revisited directed by Antonino D'Ambrosio
---
Johnny Cash was "a holy terror … a dark and dangerous force of nature that also stood for mercy and justice for his fellow human beings," said Kris Kristofferson (his friend and teammate in the Highwaymen) at the Man in Black's funeral in 2003. As his son John Carter Cash once put it (on the DVD Johnny Cash's America), "My father had a way of reaching out and singing songs for everyone in need and becoming the spokesperson if need be for those who couldn't speak."
This year marks the fiftieth anniversary of his Bitter Tears , a concept album addressing centuries of wrongs done to our Native American population. Coming at the onset of national turbulence over the Civil Rights Movement and then the Vietnam war, the LP spoke for a people whose worthy issues were often overlooked amid the era's altruism. Native American singer and activist Bill Miller says the album "was a phenomenal boost for my spirit. … It made me feel that someone cared," in the forthcoming film We're Still Here: Johnny Cash's Bitter Tears Revisited directed by Antonino D'Ambrosio, whose thoroughly researched book A Heartbeat and a Guitar: Johnny Cash and the Making of Bitter Tears (Nation Books, 2009) was the inspiration for the new tribute CD Look Again to the Wind: Johnny Cash's Bitter Tears Revisited. The arresting film is meant to be a companion to the tribute.
Cash's original Bitter Tears (Columbia) was a concise 32-minute, eight-cut collection with five tracks penned by Peter La Farge, two by Cash himself and one by Johnny Horton. The tribute album mostly retains the original's song sequence but doesn't try to recapture Cash's charisma and gravitas. How could it? Nor does ace guitar mainstay David Rawlings mimic the trademark tick-tack rhythms on Cash tracks since his early days on Sun Records.
The opener "As Long as the Grass Shall Grow" (six minutes long in Cash's hands) becomes a nine-minute meditation by Gillian Welch and Rawlings on the 13-cut tribute, where track 10 is a shortened revision of "As Long," this time including Norman and Nancy Blake – Norman being the sole survivor among performers on the '64 original. (By the way, John and June Carter Cash later revamped the ballad into a love song. Long unissued, it surfaced on his posthumous box Unearthed.) The original song has a close-to-nature chorus while the verses pointedly deal with the American government disregarding a 1794 treaty President Washington signed with the Seneca tribe in order to build the Kinzua Dam along the Allegheny River. (The Kinzua controversy also fueled Buffy Sainte-Marie's angry "Now That the Buffalo's Gone," which opened her debut LP, It's My Way , in 1964). We see the dam's ravages to Native American land on We're Still Here.
Moving on, "Custer" drolly – even mockingly – relives the legendary 1876 Battle of Little Bighorn. At one point, Cash laughed sarcastically on La Farge's composition. Steve Earle (who's been known to write fictionally of a loathed 19th century military man) treats it as a talking blues with an acoustic arrangement that would fit on his 1995 comeback CD, Train a Comin'.
Next comes the final track of the original LP's side 1. "The Talking Leaves" – now quietly narrated by Nancy Blake – speaks of Sequoia, a Seneca who was told that white people's paper with dark markings conveyed meaning so, over time, he created a written alphabet for his own tribe's tongue.
The album's most powerful track of all, La Farge's composition "The Ballad of Ira Hayes," dramatically began the '64 LP's second side. (Coming midway on a single-sided CD, its impact is lessened.) Kristofferson gives it a grizzled sound. And who, some may ask, was Ira Hayes? A Pima Native American from Arizona, Ira Hamilton Hayes was among the World War II soldiers in Joe Rosenthal's iconic 1945 photo of the American flag raising on Iwo Jima (later recreated at the Iwo Jima Memorial at Arlington National Cemetery). A war hero upon returning home, he fell victim to unemployment and drink. In 1955 at age 32, he died in a ditch from exposure and alcohol poisoning.
For truth's sake, D'Ambrosio's book points out that Rosenthal's photo doesn't actually capture a moment of victory. Hayes and his mates were really just replacing a smaller flag that had already been raised there. It seems the Second Battalion commander wanted the original flag for himself. (Ever putting Bitter Tears into historical context, the book also discusses the irrigation system that for centuries had enabled Hayes's Pima tribe to thrive agriculturally until whites redirected their water supply for their own use.)
Did self-destructive Cash identify with Hayes, no longer a hero in his final dissolute years? We're Still Here has a clip of him singing "Ira Hayes" on Pete Seeger's TV show Rainbow Quest. His face is a painful mirror of substance abuse's ravages. How did straight-arrow Pete feel about his guest's condition?
Another La Farge composition, "White Girl" (covered by the Milk Carton Kids on the tribute) tells of an interracial love that cannot be. A few years later, Janis Ian would revisit the theme on "Society's Child" as Merle Haggard would on "Irma Jackson."
The LP's powerful finale, "Vanishing Race," gets expanded by part-Native Rhiannon Giddens of Carolina Chocolate Drops. The original piece was penned by Cash's angling and séance buddy Johnny Horton ("the singing fisherman"). After years of honky tonk discs, Horton had finally found the road to pop stardom with a series of lively American history songs geared for teenagers, starting with "Battle of New Orleans" in 1959 and followed by "Sink the Bismark" and "North to Alaska." "Vanishing Race" shows a socially concerned side to Horton his hits never revealed. Using his guitar to create a tomtom's sound, he only did it as a demo tape in 1960, a few months before a drunk driver killed him en route home from a gig. All the stronger for its bare-bones backup, his demo can be heard on Youtube. Recorded before the '60s' topical songwriting boom, it leaves us wondering how his writing would have evolved had he lived into the folk revival.
The tribute closes with a number not found on Cash's original LP. It's the song that becomes the tribute's title track. Bill Miller's sonorous rendition of La Farge's "Look Again to the Wind" offers a final note of optimism in a collection filled with bitter tears.
And how was the LP received in the polarized 1960s? We're repeatedly told of Columbia Records' negative response. One label exec told Cash he should entertain, not educate. He furiously paid for an ad in Billboard excoriating the media for, in his mind, not having the courage to get behind the album. Yet it made #2 on Billboard' s country charts, while challenging "Ira Hayes" hit #3 as a country single, showing that it must have gotten airplay and that some country fans were far more progressive than outsiders to their culture stereotyped them. Cash's earlier recordings on Sun enjoyed their share of trad folk, but Bitter Tears proved he belonged at Newport Folk Festival as much as on Grand Ole Opry. As an artist, the Man in Black defied pigeonholing.
So did Cash himself have Native American blood? Bitter Tears' notes ended with "Johnny Cash is proud of his Cherokee blood." Then, years later, as we hear on the Johnny Cash's America DVD, he acknowledged, "I wanted to be part Indian so bad I said I was."
Mentally troubled Peter La Farge (1931-65) sometimes claimed to be full-blooded Native American. More often, he said his parents had blood from New England's Wampanoag and Narragansett tribes. Born into wealth as Oliver Albee La Farge, he was the great grandson of John La Farge, a stained glass artist involved with the creation of New York's Cathedral of St. John the Divine. In 1930, Peter's father Oliver La Farge (a strong advocate for indigenous peoples rights) won a Pulitzer Prize for his novel Laughing Boy, most of whose characters were Native Americans. When young Peter's mother and step father moved the family to the Southwest, his interest in Native concerns grew. As a singer/songwriter in New York's folk community, he recorded for Columbia and Folkways and wrote for Sing Out! He also helped Seeger build his fireplace and chimney. For a photo of him, Look Again' s booklet simply reprints a 1966 Sing Out!' s cover. (For that matter, A Heartbeat and a Guitar often cites Sing Out!) We're Still Here has footage of him performing. The circumstances of his death are shrouded in ambiguity.
So will the new CD and film lead audiences to go exploring backwards to Cash's original Bitter Tears? And from there to La Farge's discs and to ongoing Native American issues? JR Cash would surely have hoped for the latter.
— Bruce Sylvester