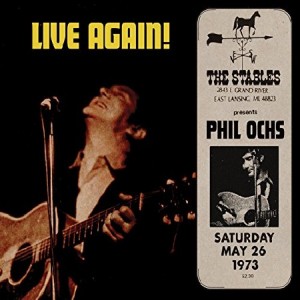 Phil Ochs
Live Again!
Rockbeat 3249
---
Much of Phil Ochs recorded legacy is either out of print or hard to find. Which makes this new release of an apparently recently discovered board tape a treasure. It dates from a May 26, 1973 performance at The Stables in East Lansing, MI, a later recording than any previously released. The songs here range from very early ones ("Power And The Glory," "I'm Gonna Say It Now," "I Ain't Marching Anymore," "Is There Anybody Here?") to songs from his final album of new ones Greatest Hits ("Chords of Fame," "Boy in Ohio"). Five from his A&M debut Pleasures of the Harbor are included ("Pleasures of the Harbor," "Crucifixion," "Outside of a Small Circle of Friends," "Flower Lady," "The Party").
Phil sounds in excellent upbeat spirit and his performance is spot on and quite focused. He opens with his setting of Edgar Allen Poe's "The Bells" he has the audience rapt from the beginning. He sounds especially fine on the tender songs "There But For Fortune" and "Changes" and his arrangement of Alfred Noyes' epic poem "The Highwayman."
A bonus track from Chicago's Quiet Knight recorded March 17, 1974, is Ewan MacColl's "Ballad of the Carpenter," a modern take on the life of Christ, and as a counterpoint to "Crucifixion" most eloquent.
Several Phil Ochs live albums have been released over the years. To my ears this one is the best. It is, as I have noted, the latest in his career, not long before his demons began to untrack him leading to his suicide in 1976. Having it appear is a lagniappe in the truest sense, an unexpected boon. Phil's brother Michael Ochs is listed as executive producer which should allay any fears of exploitation or unauthorized release.
As I was completing this review I learned of another new Phil Ochs release A Hero of the Game (All Access Records) which is a 1965 broadcast on New York City's WBAI and includes among several other songs at that time not yet released the premier of "Crucifixion" which Phil had just written during a tour of England. Can't wait to hear that one!
— Michael Tearson