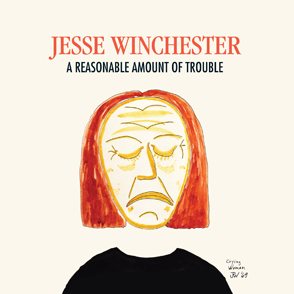 Jesse Winchester
A Reasonable Amount of Trouble
Appleseed 1139
---
A Reasonable Amount Of Trouble is Jesse Winchester's final studio album. He completed work on it shortly before he died in April 2014. He wrote the album's nine new originals while undergoing treatment for his terminal cancer. They are mostly sweet and upbeat in tone and sound, as grounded and wise as any he's ever done.
"Ghosts" sounds sad and rueful, but it is an exception/ "All That We Have Is Now" is accepting, and as the album's opener it sets the warm tone that illuminates the project. "Never Forget To Boogie" is sly and again quite, quite wise. "Neither Here Nor There" is a song of ending and acceptance. "A Little Louisiana" is a most affectionate ode to the South Jesse grew up in, a theme he's touched upon many times. "Don't Be Shy" reaches for understanding with warmth and love. "Every Day I Have The Blues" in which he confronts his condition could have felt bitter in other hands but Jesse makes it sweetly sad yet, again, accepting. The gorgeous finale "Just So Much" is about rainbows and sunsets and the beauty of living and self-reliance all while pondering the end. A more fitting final song for Jesse Winchester would be difficult to imagine.
In his liner notes album producer Mac McAnally says the three covers here, all doo wop songs Jesse loved ("Rhythm Of The Rain," "Devil Or Angel," "Whispering Bells") are intended to lighten the tone. Mac notes Jesse did not want this farewell album to feel too heavy or dark, and these three work perfectly as delicious slices of joy. Mac's production has a nice light touch as he on guitars and keys, bassist Roscoe Beck and percussionist Eric Darken illuminate the songs. Jerry Douglas (lap steel guitar), Joel Guzman (accordion), Stuart Duncan (fiddle) and Jim Horn (sax) all add lovely touches to a couple songs each.
When I wrote Sing Out's obituary for Jesse I noted this album would appear in fall 2014. Now that it is here it is even better than I hoped. Jesse Winchester's honeyed voice and smart wit may be stilled now, but his songs, a life's work, remains a beacon of sense and sensibility in a world sadly lacking in those very qualities. A Reasonable Amount Of Trouble is a wonderful and eloquent farewell. Rest easy, Jesse.
A word about the album's title. It comes from a line Sam Spade spoke in The Maltese Falcon, one Jesse loved to cite: "I don't mind a reasonable amount of trouble." Feels like a capsule of his philosophy.
— Michael Tearson