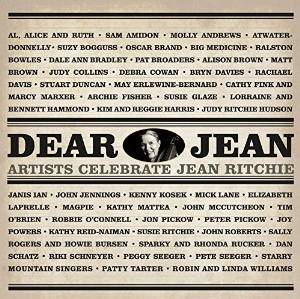 Various Artists
Dear Jean: Artists Celebrate Jean Ritchie
Compass Records #7 4631 2
---
There are two things any and every true aficionado of folk music should know full well about Jean Ritchie: First that she is one of the most important and influential tradition bearers to bring the essential and keenly beautiful rooted music from the Appalachians deep into the folk revival … a bridge for many revivalists who came to champion this music in the decades that followed. And, second, that she is one of the most profoundly talented songwriters-within-the-tradition that emerged in the early years of the revival. She created a large body of new compositions that so seamlessly blend with the best traditional songs that they are often mistaken as such. Jean was also always a wonderful, honest, haunting performer whose simple, heartfelt soprano, pinned by her trademark dulcimer easily transported listeners right inside the material … be it a "great" ballad, a simple folk song, or her own sharp, insightful compositions.
It should come as no surprise, then, that this 2-CD, 37-track celebration of Jean's work, performed by several dozen of her contemporaries, and contemporary-carriers of her torch, came eagerly anticipated. At its peaks, this collection is a terrific reminder of just how wonderful this material is … and an inspiration to go back to Jean's own five decades of recorded work (much of which is, happily, readily available on all your usual CD, download and streaming sources these days).
Producers Mick Lane, Charlie Pilzer and Dan Schatz took a mostly orthodox path in selecting artists to participate on the project, and I think that was mostly a smart way to go. This is not material that would benefit from hipster, ultra-contemporary re-imagining … and the kind of reworking you'll find here comes from folks who really understand and love Jean and her repertoire.
The artists contributing to the project come primarily from the first and second generation of artists that immediately followed Jean's emergence. The CD opens with a terrific take on Jean's pointed pleading "Black Waters," taking sharp aim at the regional ecological damage done by coal mining, and a terrific collaboration between John McCutcheon, Tim O'Brien, Suzy Bogguss, Kathy Matea, Stuart Duncan and Bryn Davies that sets a high bar for the recording. It's followed by a wonderful, stripped-down reading of "Now is the Cool of the Day" by Appalachia singer Molly Andrews who sounds uncannily like Jean at times; and then a very strong reading of what is probably Jean's best known (and most recorded) composition "The L&N Don't Stop Here Anymore" by the incomparable Robin and Linda Williams.
All in all, there really are quite a few incredible performances here. Bluegrass singer Dale Ann Bradley's mournful take on the Ritchie repertoire trad "Go Dig My Grave" is stellar. Elizabeth LaPrelle (accompanied here by her mom) delivers a powerful "Fair Nottamun Town" that confirms her to be one of the finest next-gen traditional singers out there. The Starry Mountain Singers choral take on "I've Got a Mother" is truly ethereal in the best sense of that word. Sam Amidon's deliciously crooked take on "The Cuckoo" brought a wide grin to my face. I loved Lorraine and Bennett Hammond's take on "Best and Brightest," Lorraine remains one of the best lap dulcimer accompanists out there and a natural "child" of Jean's. And Judy Collins delivers a really terrific performance of Jean's "One I Love" simply backed by her piano and Eric Weissberg on guitar that is as good as Judy has every sounded! Other contributions from Janis Ian, Sally Rogers and Howie Bursen, Archie Fisher, Kim and Reggie Harris, Atwater-Donnelly and Rachael Davis are also particularly deserving of note.
All those high points aside, I've got to admit that there were a number of performances that I just didn't get in this context. I understand the enthusiasm and interest in inclusion for this kind of a tribute … but I simply found some of the performances below a quality that should have a bar for making such a long recording. Pete Seeger's spoken word reading of "I Celebrate Life" seems more like a name check than contributing something valuable to the recording. Same with Kathy Mattea's very rough live take on "Jubilee," and an archival "outtake"-sounding live performance by Oscar Brand and Jean. (I admit to liking the idea of including Jean's own terrific performances … but this one, with tons of messed up lyrics, just doesn't bear up to repeated listening. Surely there must have been a stronger recording of Jean and her close friend Oscar that would have made more sense?) Some other performances, mercifully not name-checked here, might be fine (and welcome) "open mic"-level performances, but just don't do this tribute or the listener much benefit. I think a long, single-disc release would be been much, much more powerful … and there is, without a doubt, a five-star recording mixed in here with just a few too many two- and three-star tracks.
My bottom line is this: More than half of what's here is undeniably terrific … dare I say, "essential and well-worth the investment." Dear Jean easily urges any listener who hasn't returned to Jean's own recordings recently – or, gasp, ever given Jean the listen she's due – cause to do so. And that's at least one of the jobs of any proper tribute album.
— Mark D. Moss