While artists release CDs throughout the year, the fall seems to bring the most new recordings to my mailbox. While this doesn't seem to thrill my mail carrier, I am able to deliver some extraordinary new songs to our radio listeners, and judging from the phone calls and e-mails I received today – everyone is enjoying the treats!
I highlighted three CDs on this week's show, although there were several equally deserving of attention.
Singer-songwriter John Smith has delivered a masterpiece entitled The Longing Road. I have not made up my list of favorites of 2014, but I can tell you without a doubt that this CD will make my list, and I am sure it will top many other lists as well. John is a talented songwriter from the midwest, but his reach is gobal. His Irish heritage comes shining through, but he reaches audiences on a much wider scope.
The new CD from Aaron Nathans and Michael G. Ronstadt, Crooked Fiddle deserves your attention. Aaron was born not in New Jersey, not far from the studios of WFDU-FM. He now lives in Pennsylvania where he is creating moving songs about everyday live but with great wit, insight and a marvelous sense of humor. Michael G. Ronstadt is virtuoso cellist, guitarist and composer who performs with his father and brother in the band Rontstadt Generations. Michael has also performed on stage and in the studio with artists including David Bromberg, Craig Bickhardt as well as Michael's aunt, Linda Ronstadt. Michael and Aaron have teamed up to create a powerful work of art that I guarantee will move you.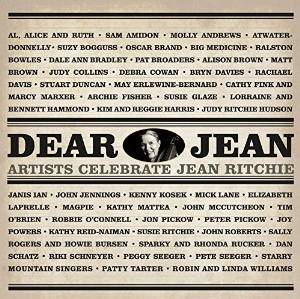 The third CD I showcased features a collection of artists who are paying tribute to a musical legend, Jean Ritchie. Released on Compass Records, Dear Jean – Artists Celebrate Jean Ritchie is a gathering of diverse artists sharing songs written by Jean as well as traditional songs that come from the Ritchie Family, whose musical treasures caught the eye and ear of Cecil Sharp during a song collecting trip in the early part of the 20th century. This CD tribute, produced by Mick Lane and Dan Schatz. Dan co-produced Singing Through The Hard Times, a CD tribute album similar in style to this new Jean Ritchie recording. Over two years in the making, the CD features 37 tracks and dozens of artists including  Pete Seeger (one of his last recordings), Judy Collins, Janis Ian, Kathy Mattea, Tim O'Brien, Robin and Linda Williams, Magpie, Cathy Fink & Marcy Marxer, Oscar Brand and many others. I would not be surprised to see Dan Schatz dusting off his tuxedo for the next Grammy Awards.
(Tune in to TRADITIONS every Sunday from 2pm to 5pm Eastern Time over WFDU-FM 89.1 in the NYC/Northern New Jersey area, or on the web at www.wfdu.fm.or iHeartRadio.com.  On-demand streams of shows, including this one, are archived for two weeks HERE. A Sing Out! Radio Partner.)
ARTIST Tune / Song
ALBUM LABEL – Website
2PM
Theme: HARVEY REID "Dirty Dish Rag"
Solo Guitar Sketchbook Woodpecker Records – www.woodpecker.com
JESSE MCREYNOLDS "Ripple"
Songs of the Grateful Dead Woodstock Records – www.woodstocrecords.com, www.jimandjesse.com
THE HIGH BAR GANG "Angel Band"
Lost and Undone True North Records- www.truenorthrecords.com, www.highbargang.com
LAURIE & KATHY "Cowboy Jack"
Sings the Songs of Vern and Ray Spruce and Maple Music – www.spruceandmaplemusic.com, www.laurielewis.com
EIGHT DOLLAR MOUNTAIN "Fly Like An Eagle"
Tied to the Tracks self – www.eightdollarmountain.net
TWANGTOWN PARAMOURS "Widow of the Mountain"
The Promise of Friday Night   self – www.twangtownparamours.com
CHERYL BRANZ "White Sails"
Letting Go self – www.cherylbranz.com
MOORS & MCCUMBER "Sawyer Hamlin"
Gravity self – www.moorsandmccumber.com
DAVEY O "The Song I Wrote"
No Passengers self – www.daveyo.com
JAMES KEELAGHAN "Bonnie Light Horseman"
A Few Simple Verses Jerico Beach – www.keelaghan.com
ATWATER-DONNELLY "The Rolling of the Stones"
Where the Wild Birds Do Whistle self – www.atwater-donnelly.com
JACKIE DALY & MATT CRANITCH "Maidin Ro-Mhoch"
Rolling On self – jackie
HUGH MORRISON "Scotland is Free"
Scotland is Free self – www.hughmorrison.com
EWAN MAcCOLL "Lang-A-Growing"
Newport Folk Festival 1960 Not Now Music – www.notnowmsuic.co.uk
3PM
JOHNSMITH "Middle of a Moment"
The Longing Road self – www.johnsmithmusic.com
JOHN SMITH "Sweetgrass"
The Longing Road self – www.johnsmithmusic.com
JOHN SMITH "She Loved Flowers"
The Longing Road self – www.johnsmithmusic.com
JOHN SMITH "Little Man"
The Longing Road self – www.johnsmithmusic.com
DANIEL BOLING "It's His Voice She Hears"
Sleeping Dogs Berkalin Records – www.berkalinrecords.com, www.danielboling.com
BETH DESOMBRE "Crawfordsville, Indiana"
At Home in this Town self – www.bethdesombre.com
JANE FALLON "Travelin' Thru"
Tangled in a Tree self – www.janefallonmusic.com
JOE CROOKSTON "Black Dress"
Georgia I'm Here self – www.joecrookston.com
JOHN GORKA "Down Where the Rabbits Run"
Fast Folk Jack Hardy Tribute Fast Folk – Fast Folk
PAUL SACHS "Survival is the New Success"
Survival is the New Success self – www.paulsachs.com
WE'RE ABOUT 9 "Prime of My Life"
Future Pilot self – www.wereabout9.com
AZTEC TWO-STEP "Living in America"
Cause & Effect self – www.aztectwostep.com
THE GREENBEANS "A Happy Life"
The Greenbeans self – www.thegreenbeansmusic.com
JACOB JOHNSON "8 O'Clock Jive"
One Take Jake self – www.jacobjohnstontunes.com
4PM
MOIRA SMILEY & VOCO "Orphan Girl"
Laughter Out of Tears self – www.moirasmiley.com
AARON NATHANS and MICHAEL G. RONSTADT "Old Joe's Chair"
Crooked Fiddle self – www.michaelronstadt.com, www.aaronnathans.com
AARON NATHANS and MICHAEL G. RONSTADT "Drop of a Hat"
Crooked Fiddle self – www.michaelronstadt.com, www.aaronnathans.com
AARON NATHANS and MICHAEL G. RONSTADT "If I Had An Axe"
Crooked Fiddle self – www.michaelronstadt.com, www.aaronnathans.com
CHERYL WHEELER "Seventy-Five Septembers"
The Women of Kerrville SilverWolf – www.cherylwheeler.com
MARK ERELLI "These Cold Fingers"
Milltowns self – www.markerelli.com
TOM CHAPIN "And Loving You"
The Turning of the Tide Sundance Music – www.tomchapin.com
JOHN MCCUTCHEON, TIM O'BRIEN, SALL BOGUSS, KATHY MATTEA, STUART DUNCAN, BRIAN DAVIS "Black Waters"
Dear Jean: Artists Celebrate Jean Ritchie Compass Records – www.compasssrecords.com
CATHY FINK AND MARCY MARXER "My Dear Companion"
Dear Jean: Artists Celebrate Jean Ritchie Compass Records – www.compasssrecords.com
PETE SEEGER "I Celebrate Life"
Dear Jean: Artists Celebrate Jean Ritchie Compass Records – www.compasssrecords.com
JEAN RITCHIE AND FRIENDS "The Peace Round"
Dear Jean: Artists Celebrate Jean Ritchie Compass Records – www.compasssrecords.com
JOAN BAEZ "Jackaroe"
Bowery Songs Koch Entertainment – www.joanbaez.com
==================
Ron Olesko
WFDU-FM
1000 River Road
Teaneck, NJ 07666
www.wfdu.fm
To listen to our show archive – click here