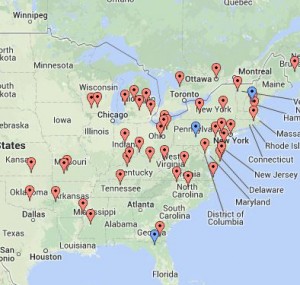 This blog all about community singing is just getting started and already the response has been great. I have to admit, I'm not all that surprised. I have been sensing for years that there is this under-the-radar network of singing going on all over. I know, from my own experience with informal community singing, how powerful it can be. So how do you go from somewhere under the radar to somewhere on the radar? You collect data and make a map. So how do you do that? Well you start by partnering up with an organization that has been encouraging people to make their own music since 1950.
When I first brought the idea of this blog to the editor of Sing Out!, Mark Moss, it took about five seconds for him to be on board and for the ideas to start rolling. One of the first of those ideas was to use Sing Out! as a clearing house for information about community sings all over. Let's say you are traveling for work in Michigan and you have a free Wednesday night. You could head over to www.singout.org and find out if there is a group of like minded folks gathering to sing someplace close. Or let's say you heard a rumor about a community sing in your area, but don't have the details. You will be able to find those details quickly. To do this we need to create an on-line directory of where these sings are happening. I have already heard from dozens of folks telling me about ongoing sings in Upstate New York, Chicago, East Lansing, Western Massachusetts … the list goes on. Now we need to make it a real list. Once we collect the data, the Sing Out! staff will create an interactive map of these events that will be easy to access and share with others.
A CALL TO ACTION
If you run, participate in or know of an ongoing community sing in your area, take a few moments to fill out the form provided HERE (the link to the submission for will also permanently reside in the sidebar to the right, and on the home page for this blog). We will collect that information toward the goal of creating a directory and an interactive map. (We've set November 1st as the launch date for the Directory.) It's as simple as that. Let's get started!