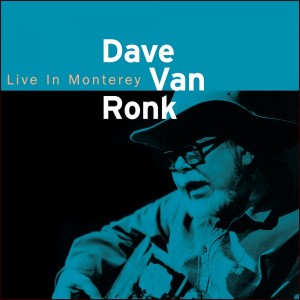 Dave Van Ronk
Live In Monterey
Omnivore Records
---
Recorded April 4, 1998 at Carleton Hall in Monterey CA by Rick Chelew this is a lovely 16-song set. It is mostly blues and a wonderful example of the late and seriously missed Dave Van Ronk toward the end of his career. By this time Dave's fierce howl of a voice had been reduced somewhat by the wear and tear of time, but his intensity and love of playing never wavered a bit. This is one of his really, really good nights, and Dave sounds relaxed and comfortable. He is in top form here.
There are not a lot of surprises here, as the program is mostly blues material that Van Ronk had played for, seemingly, forever. But Dave never played any of these songs as throwaways. He remains completely committed to each performance, even though he had to have played most of these pieces hundreds if not thousands of times over the decades. His wry humor infuses and expands Rev. Gary Davis' "Cocaine Blues." As he so frequently did he offers Tom Paxton's loving tribute "Did You See John Hurt" and had the presence to follow it with Hurt's "Spike Driver Blues" as his own fitting tribute.
There are two DVR originals here in "Blood Red Moon" and "Losers." "Losers" feels especially delicious.
The real surprise on the album is the encore, a rare Dave Van Ronk take of Ian Tyson's classic "Four Strong Winds" which, as far as I can recall, has never before appeared on a Van Ronk album. His performance is an astonishing and riveting transformation of the song laced with drama.
The CD's booklet has notes by Rick Chelew recounting his memories of this date with Van Ronk and by Happy Traum offering personal reminiscences of meeting Van Ronk in Washington Square long ago and their long friendship plus an eloquent assessment of Dave as artist and performer and the vast influence he had on so many.
Live In Monterey is a wonderful and unexpected addition to Dave Van Ronk's recorded legacy. Here is a man doing what he did best, what he loved doing best and most excellently late in his long and stories career. A truly wonderful document.
— Michael Tearson