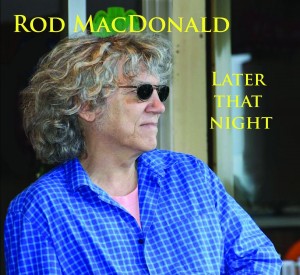 Rod MacDonald
Later That Night
Blue Flute Music 107
---
Every few years the mainstream media drives a lame stallion out of the stable to see if he'll gallop. All of a sudden there will be a spate of articles on the disappearance of protest music and every explanation except the right ones will be trotted out to tell us why there is no Dylan, Ochs, or Seeger in our midst. I think it was Holly Near who incredulously responded to a journalist's question of where all the idealists have gone by remarking, "You must be hanging around with the wrong people." Anyone who doubts Near's wisdom should check out Ron Olesko's excellent piece on David Rovics in Sing Out! v.55 #4 (Spring 2014). Or maybe listen to Holly's music instead of asking her stupid questions.
There are some big differences between now and protest music's heyday in the 1960s. Unwilling draftees don't staff American wars for one; the civil rights movement battles for justice more in courts than on the streets for two. Plus, as folks like the late Utah Phillips observed, liberal uses of humor and irony go down better with post-Baby Boomers. And let's not forget that performers draw upon personal as well as public events for creative inspiration and that they need to make a living. Need I remind you that one of folk music's greatest gifts is capturing the universal human condition, not just the evening news.
A young songwriter looking to strike a balance between righteous anger, bemused irony, and just plain old good writing should check out folk vet Rod MacDonald. Later That Night is Rod's fourteenth album and it finds him in well-tuned wit, voice, and melody. He takes down religion's nasty social uses on "Hole in the Bible" and gives the same treatment to the GOP on his hysterical calypso/reggae/folk mash-up "Young Republicans in Love." If you wonder if humor can change things, check out MacDonald's six-minute narrative ballad, "White Flour," which recounts the 2007 tale of how clowns took down the Ku Klux Klan in Knoxville, Tennessee. MacDonald is no shrinking violet. Although it's quite different musically from Cheryl Wheeler's rap "If It Were Up to Me," MacDonald's "Joe Public" similarly refuses to excuse working-class louts who cite all manner of excuse and imagined enemies to explain why they act and vote against their own interests. That's not to say that he's unsympathetic. Every union hall in American ought to be playing his "Last American Worker," the best pro-worker song I've heard in over a decade. (It was published in Sing Out! v.54 #3, too.) MacDonald names the real enemies, including banks, Wall Street, global capitalism, the health care industry, and greedy shareholders. His refrain, "He's the last American worker/And they've got him dead in their sights/They've taken away everything that he worked for/Somebody turn out the lights."
But if you think everything is angst and gloom, it's not. "That's Why You Play the Game" is a series of vignettes of those who were declared down for the count and got up for a few more rounds – "That's why you play the game/Because you never ever know/What you can't do till you do your best/Till you put yourself to the test/And win or lose or show/You stood tall just the same/My little darling/That's why we play the game." Optimism also shines through on songs like "Raven," with its catchy guitar lick in the vein of "Here Comes the Sun," and the bluegrass-influenced "To My Dearest One." Even more impressively, MacDonald makes us hopeful when he takes on a tough subject such as mental illness ("We're All One").
Sometimes MacDonald does get out of synch. "Big Time Record Contract" is an anachronism in the age of downloads that pay musicians a fraction of a penny; and "Don't Come Knocking" has a fun soul/blues groove, but the subject matter is a tired old sex joke. But these are two minor defects in an otherwise sparkling gem. And the next time someone asks you where good protest music has gone, make that person listen to this CD.
— Rob Weir