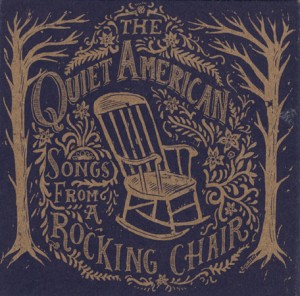 The Quiet American
Songs From A Rocking Chair
Aaron Keim
---
Among the many duos plying Americana waters these days, The Quiet American may rank as the old-timiest of all. Aaron and Nicole Keim have left Boulder for the Pacific Northwest to raise a family and make music, art and ukuleles; Songs From A Rocking Chair has the stark, sparse but warm live feel full of the pioneer spirit you might expect.
Inspirations come from across the old-timey spectrum on their new album, and the band tries its hand at standards from the archives of the folk revival, country gospel, pre-war blues, Stephen Foster and Woody Guthrie. Interspersed with these are originals drawing on the same influences as well as string band music, all presented quietly but confidently and thoughtfully.
The sparse formula works beautifully. A more raucous version of 'Mobile Line' falls a bit flat, but is the only moderate misstep. By comparison, their arrangement of Billy Bragg's melody for Guthrie's 'Ingrid Bergman' is quirky and charming, with a relaxed vocal from Nicole accompanied by a small, restrained string band anchored by Aaron's ringing 5th string and accented with some lovely lap steel.
Despite a strong lineup of standards, the Keim originals are among the best cuts on the record. "Worth A Million" appears first and feels a bit like a quieter version of the arena-folk of the past few years, a catchy, pulsing melody strummed on Aaron's ukulele with light accordion accompaniment from Nicole. "Roxy's Waltz" is a beautiful fox-trot, softly plucked in a way reminiscent a bit of the American Primitive guitar school of thought but still well within the album's sonic scope. Aaron's original "Garden Melody" highlights his influential skill on the increasingly popular clawhammer ukulele technique, zipping through a trio of tunes that scamper like the animals name checked in the three titles.
Throughout the record, the Keims' harmonies twine gracefully, and closely. Nicole has the smoother delivery, but Aaron's vocals have the rough charm, and they sound great together. Instrumentally, it can be hard to tell who's doing what as both play ukulele throughout; Aaron also adds bass, banjo and tenor guitar and Nicole plays a subtle accordion on several tracks. The pair handles most of the instrumental duties, joined only by Ben Bonham on harmonica and lap steel, and Ronnie Ontiveros on bass. The playing is consistently subtle – there's very little flash, but everything is beautifully played, and it's a better record for it.
With a glut of Americana imagery in the music marketplace, the idea of Songs From A Rocking Chair – the idea of homemade music as both a social event and a personal expression, as a continuing part of our cultural heritage – might seem a bit contrived, or over earnest at first glance. The record should overcome any skeptics, however; it delivers a highly enjoyable listen that proves its point, all in a setting that will never grow old, rocking chair, porch swing, or a recliner.
— Dan Greenwood