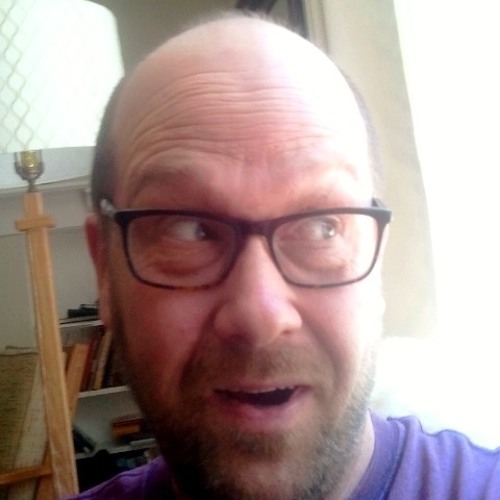 Hank Tilbury is a musical renaissance man, a wickedly talented multi-instrumentalist with eclectic interests and output. His work runs the gamut from the old-timey to the experimental, frequently in the same piece, and the same is true of his choice and use of instruments. This set features Hank doing multi-track improvisations on an acoustic guitar modified by placing an extra bridge onto the fingerboard; he plucks the strings on both sides of the bridge. The resulting sound has reflections of not just fingerstyle guitar, but of kora, harp, koto and other harp and zither family instruments. It is also highly listenable.
Q & A
What is your goal in recording and sharing music?
My goal in recording is to work out ideas that would otherwise be lost in my head. My goal in sharing music is to communicate with and learn from other musicians.
Come up with a descriptive, original genre name for your music.
Sorry, I'm stumped.
Who do you view as a likely audience for your music?
Mostly, my audience is other amateur musicians and a few serious listeners of music — specifically, those whose tastes travel the weed-grown path bridging country blues, hillbilly and avant-garde noise. Casual music fans tend to, at best, smile politely before exiting the room. Accomplished musicians proclaim their distaste with less subtlety.
If trapped on a desert island with only 3 songs, which would they be?
I'm hounded mercilessly by countless songs, wherever I go. Exile to a desert would not allow me to escape any of them.
Is there an instrument you do not currently play that you'd like to learn?
Ideally, I'd like to play soprano sax like Sidney Bechet, piano like Abdullah Ibrahim and fiddle like Tommy Jarrell. Realistically, I'd like to attain competence on the banjos and guitars I already own.
Who is your musical hero(es), if any?
Primarily, I'd say it's John Fahey, who, despite limited technique, forged a strong, coherent musical personality out of all the disparate sonic traditions and elements he loved.
You can find more Hank Tilbury on his Soundcloud page: Click Here