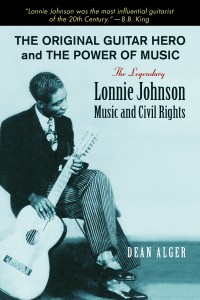 Dean Alger
The Original Guitar Hero And the Power of Music: The Legendary Lonnie Johnson, Music & Civil Rights
University of North Texas Press
ISBN: 978-1574415469
---
This long overdue, deeply researched biography deals with the roller-coaster life and times of one of the unsung geniuses of 20th century American music, who moved effortlessly, with his virtuoso-like twelve-string guitar and urbane vocals, among a broad variety of genres – from tent show blues, folk music and classic jazz (Johnson pioneered the single string guitar solo in the idiom in 1927) to pop music and rhythm 'n blues.
In fact, Lonnie Johnson's (1894-1970) innate musical adventurousness and sophistication throughout his life made him unique among his fellow musicians. With a personal story that cuts across 20th century American history as well, from the harrowing segregation of his youth with its attendant influenza epidemics through the Civil Rights movement and the English-inspired blues revival of the 1960s, Alger relates an endlessly fascinating as well as a profoundly meaningful tale of the affable Johnson not only as a musical trailblazer (his groundbreaking work with Duke Ellington, Louis Armstrong and white guitarist Eddie Lang in the 1920s is only one example) and an accomplished tunesmith but also an earnest symbol of racial understanding and social progress.
Fully understanding the importance of music to advance the civil rights cause, and encouraged by Toronto's relative racial tolerance, Johnson famously emigrated to Canada in 1966 and opened up his own club, Home of the Blues, on the city's famed Yorkville Avenue. Anecdotes abound as the multi-instrumentalist and engaging vocalist, along with his various buddies, cross paths with the likes of Bessie Smith, the fore-mentioned Ellington, Lang and Armstrong, Robert Johnson, B.B. King, Bob Dylan, Buddy Guy and T-Bone Walker among many others, has quite the trans-continental career (aurally documented, following Johnson's life story, on a limited-edition CD, available solely from the author at this point) and cagily proffers, from a fellow musician's perspective the ins and outs of Johnson's vibrato-laden, blue and bent note-laced guitar style.
Sadly, in March of 1969 he was struck by a car while walking on the sidewalk in his adopted city and was never the same – Alger doesn't spare the details. Fortunately, Johnson had a prolific recording career (over 100 sides for Okeh Records as well as a slew of albums for Folkways and Prestige, all worth listening to) and was one of those very few musicians that never disappoints. Some correspondence with the author also reveals current plans in development for a documentary (Johnson, particularly in his later years, was well-filmed) aimed at PBS' Masters Series. Long live Lonnie Johnson!
— Gary von Tersch