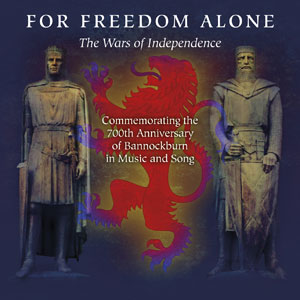 Various Artists
For Freedom Alone: The Wars of Independence
Greentrax 1314
---
June 23rd and 24th mark the 700th anniversary of the Battle of Bannockburn, a major victory in Scotland's 1297-1328 struggle for independence from its neighbors to the south of the River Tweed.
Commemorating the anniversary, Greentrax Records here continues its series of thematic Scottish compilation albums with 18 tracks from its own catalog and from other labels. The accompanying 24-page booklet well explains Medieval Scottish history (including military tactics) and songs' backgrounds.
Enhancing the disc's sonic variety, textures shift from cut to cut: burr-filled singing, refined dance music, narrations. Iain Anderson recites an excerpt of the Declaration of Arbroath, the Scottish nation's 1320 declaration of independence. Alastair McDonald's "Stirling Brig" addresses William "Braveheart" Wallace's 1297 victory at Stirling with a melody that moralistic and thrifty 18th-century Scots recycled to mock and denounce King George I's licentious court in "Come Ye o'er frae France" (recorded by Ewan MacColl and Steeleye Span among others).
The Corries sing the late Roy Williamson's "Flower of Scotland," which has become a quasi national anthem. Though strategist Wallace had been captured and grotesquely executed by England's warrior king Edward I ("Longshanks") in 1305, King Robert the Bruce took inspiration from a spider he observed struggling and ultimately succeeding (a legend we find here) and defeated England's infamously ill-fated King Edward II at Bannockburn in 1314. As the notes relate, "King Robert was angered that he'd broken his good battle axe on [a glory-seeking Englishman's] skull."
The CD's last two tracks bring the 14th-century struggle for sovereignty into the present. Alastair Fraser and Natalie Haas's fiddle/cello instrumental "The Referendum" represents Scotland's pending referendum on independence. Then, for a finale to create a sense of balance on the disc, Dick Gaughan's "Both Sides of the Tweed" (from his 1981 Topic album Handful of Earth) urges, "Let friendship and honor unite and flourish on both sides the Tweed."
Other discs in Greentrax's series on Scottish wars and battles include Far, Far from Ypres: Songs, Poems and Music of World War I; The Battle of Prestopans 1745; No Pasaran!: Scots in the Spanish Civil War; and The Flooers o' the Forest: Battle of Flodden.
— Bruce Sylvester