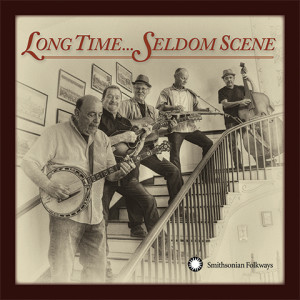 Seldom Scene
Long Time … Seldom Scene
Smithsonian/Folkways 40199
---
As a recap of the more than forty-year history of the Seldom Scene, the extensive liner booklet accompanying this new release is about as authoritative as it gets, containing first-person accounts from the band's three surviving original members: banjo player Ben Eldridge, bassist Tom Gray, and lead singer/guitarist John Starling. Along with mandolin player John Duffey and Dobro wizard Mike Auldridge (both now deceased), the band formed in the early 1970s almost as a pickup/hobby band and grew into a weekly institution at Washington's venerable Birchmere Music Hall, cranking out a couple of dozen or so albums along the way.
Personnel changes are par for the course in bluegrass, but The Scene has remained a remarkably stable band over the years, and in fact the current lineup has been in place since Duffey's passing in 1996: Eldridge remains on banjo, joined by Dudley Connell (guitar), Lou Reid (mandolin), Fred Travers (Dobro) and Ronnie Simpkins (bass). For Long Time…, Starling and Gray return for guest appearances along with Emmylou Harris, fiddler Rickie Simpkins (Ronnie's brother) and Ben's son Chris Eldridge, he of guitar-renown with the Punch Brothers.
With one exception all 16 tracks are revisits of classic studio and live recordings from albums past: "Little Georgia Rose," "Wait A Minute," "Walk Through This World With Me" and "Like I Used To Do," to name just a few. That one exception is Hazel Dickens' "My Better Years," brought to the band by Connell from his years touring with her. Much of the appeal of the album lies in the fact that, rather than attempt to emulate the originals, the arrangements here play to the strengths of the current lineup. In particular, for longtime fans of the band it's impossible to hear some of these songs again and not wistfully recall Duffey's tenor, but to his credit Reid has always managed to put his own stamp on the band's standards throughout his tenure. And, those familiar from recent years' experience are already aware that Connell and Travers are fine singers as well. The names and faces have changed over the years, but they're still playing the same songs. They just sound a little different this time around.
— John Lupton