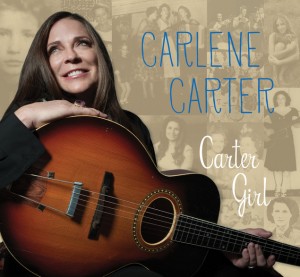 Carlene Carter
Carter Girl
Rounder 11661-918
---
With Carter Girl, Carlene Carter has made an album she's wanted to make for many years: one steeped in and, in truth, inspired by her Carter Family heritage. She has said she hopes this will be the first of a series. After all Carlene is granddaughter of Mother Maybelle Carter and daughter of June Carter Cash.
Over the years Carlene's albums have mostly been rockers with country roots, but here with Don Was' adept and empathetic production Carlene tackles songs written by her Mom, her Grandmom and her Aunt Helen as well as seven by Carter Family patriarch A.P. Carter. Carlene wrote the autobiographical "Me and the Wildwood Rose" drawing on childhood memories of family music making, and she has placed it right after A.P.'s "Give Me the Roses (While I Live)" for extra resonance.
Carlene has never sounded better or more emotionally involved in an album than she does here. Don Was and Carlene have not tried to replicate the sounds the old songs were originally played in. Rather they have set them with a rootsy band sound that feels current yet comfortable. It works perfectly. The band plays with spirited restraint and are fueled by obvious love for the songs. Elizabeth Cook, Willie Nelson, Vince Gill and Kris Kristofferson each add guest vocals. The final track A.P.'s "I Ain't Gonna Work Tomorrow" is built atop an 80s vintage track with Carter Sisters June, Helen and Anita and Johnny Cash singing plus Cowboy Jack Clement on acoustic guitar. A more perfect finale would be hard to imagine.
Falling in love with Carter Girl was easy. There's so much heart in the performances, and they are so strong and right. And of course the songs are wonderful. Here's hoping the wait for Carlene's intended sequel is a short one.
— Michael Tearson