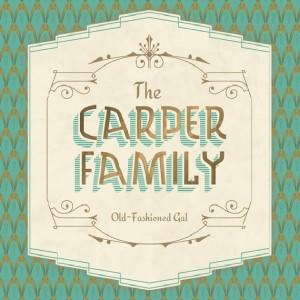 The Carper Family
Old-Fashioned Gal
The Americana Agency
---
The CD's title is perfect because there's an old-fashioned feel to their rootsy songs, ranging from upbeat swing to classic country to take-no-prisoners bluegrass, all expertly played by this Austin-based trio: Melissa Carper (bass, vocals), Beth Chrisman (fiddle, vocals), and Jenn Miori (guitar, vocals). Add stellar side players, like steel guitar master Cindy Cashdollar (who also co-produced the disc), and you've got magic. The Carper Family offers a blend of originals and covers; and even the covers fit like a soft cotton dress.
The title cut kicks everything off with an original swing tune. Since Melissa wrote it, I'm guessing that's her singing the lead. With a voice reminiscent of a young Dolly Parton, she sails through this sweet tune with the able backing vocals of the band. Those beautiful harmonies are on every song, but it's not overdone. I love how their voices are different, and yet blend well. Another swing number, "Fancy Pants," written by the whole trio, is about a guy who thinks a whole lot of himself. It's all done in that nice Southern way of backhanded compliments. "Precious Jewel" and "Boxcar Blues" are great straight-ahead bluegrass. The latter features some fine banjo work from Rolf Sieker. "Old Chevy Van" is about cheating … on her old van, with a shiny new red car. There's a kiss-off, bluegrass style, in "I've Tried," and a lonesome feel in "I Gotta Have My Baby Back." "Aunt Rose" is a refreshing arrangement of just vocals, hand claps and light tambourine, illuminating the poignant words.
There's a cool slapping bass in "Bad Attitude" and a wonderful dance rhythm in the aptly titled "Last Chance to Dance." A rootsy cover of Neil Young's "Comes a Time" sounds so natural, I'm convinced that's how Young meant it to be sung. I think that's Beth Chrisman singing "Dollar Bill." Her voice is smooth and smoky. I would've liked her vocal a bit more prominent in the mix because her lyrics are a little lost. And while I'm talking about lyrics – it would've been great to have them in the CD booklet or on line. Too often, a missed word here and there, even with crisp production like this, can be lost. It's a small complaint though, and, all in all, this is a wonderful release. Highly recommended.
— Jamie Anderson