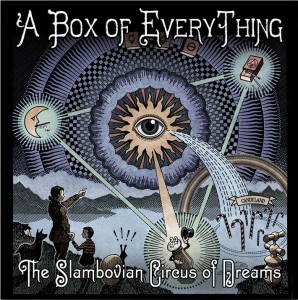 The Slambovian Circus of Dreams
A Box of Everything
Red River
---
W
ith influences including Bob Dylan, The Beatles, Pink Floyd, Jethro Tull, Frank Zappa, Todd Rundgren, and the marching bands in Philadelphia's Mummer Parade, the Slambovian Circus of Dreams deliver a sound both strikingly familiar and excitingly new. As it's title indicates, their debut for Red River,
A Box of Everything
samples each step along the Sleepy Hollow, New York-based band's decade-and-a-half-long path. With songs from their independently released studio albums,
A Good Thief Tips His Hat
(1999),
Flapjacks from the Sky
(2004),
The Great Unravel
(2008) and
The Grand Slambovians
(2011), as well as previously unreleased tracks, they step forward as one of Americana's most original ensembles. Despite several name changes since 1998 – Gandalf Murphy & the Slambovian Circus of Dreams, The Grand Slambovians – their infectious delivery has remained consistent. While Joziah Longo commands center-stage with his baritone singing, rhythm guitar and harmonica playing, and quirky songwriting, the sound is very much a group effort. Longo's wife, Tink Lloyd, a classically trained keyboardist, provides inspiration for several songs, while summoning a tonal smorgasbord on accordion, cello, ukulele, melodica, Theremin and flute. Sharkey McEwen's sonic-driven guitar and mandolin string bending propels each tune. Founding drummer Tony Zuzulu adds hard-edged syncopation to all but the title track and the bonus track, "Alligators," played by Eric Puente. Each of Longo and Lloyd's twin sons, Chen (bass, background vocals), and Orien Longo (piano, bass, background vocals), appear on three tracks. Paul Silverman (piano and calliope), Michael Polito (standup bass), and Rocky and Nikki Shiga (trombone and clarinet), add to the hook-laden, break-up, pop tune, "Very Happy Now." Seth Gallagher plays uillean pipes on "Tink (I Know it's you)."
A Box of Everything has been a long time in coming. Performing in coffeehouses from the age of 12, Longo (who ran away from home at 16, and lived in a commune) has seemed destined for stardom – on his own terms. Moving to New York, he was offered a role in a production of stage musical, Pippin, and an opportunity to record with Pink Floyd's producer – he turned them both down. Frontman of The Ancestors, a band that he formed, with Lloyd, in 1979, he played in Carnegie Hall with a seventy-two piece orchestra and became one of the first American bands to play in China. Spurning multiple offers to record for major labels, he (and Lloyd) disbanded The Ancestors, returned to school, and spent the next years studying art, graphics, and video design.
Although they knew where they were heading, when they returned to music and formed Gandalf Murphy and the Slambovian Circus of Dreams (a name that Longo once told me they chose to keep major labels away), they have taken their time to get there. Weaving a good-spirited mix of musical influences, they spurned the world of commercial music and found a welcoming home among the contemporary folk, alt-rock, and Americana communities. With their first widely distributed release, their acclaim should spread even more.
— Craig Harris