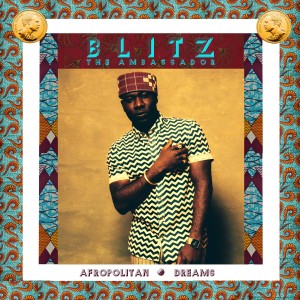 Blitz The Ambassador
Afropolitan Dreams
Jakarta
---
Samuel Bazawule was born and raised in Accra, Ghana. In his youth he was introduced to the Highlife and Afrobeat sounds popularized in West Africa, but it wasn't until his older brother played It Takes a Nation of Millions To Hold Us Back by Public Enemy that his musical passion was ignited. Bazawule became enamored with Western hip-hop lyricists of the late-'80s and '90s (Rakim, KRS-One, Q-Tip, Posdnuos etc.) and their ability to use music as an outlet for socio-political commentary. He hadn't heard young black people express themselves in this way before, and he was hooked.
Currently, Bazawule is a resident of New York City and is better known by his stage name Blitz the Ambassador. His third studio album, Afropolitan Dreams, is his most focused release to date. Featuring a balance of West African instrumentation and rhythms with a firm rooting in Westernized hip-hop, Blitz is making a name for himself in an era of hip-hop music that chides "consciousness" in lyricism (or at least seldom attributes praise to artists who do incorporate it).
Hip-hop has a habit of creating archetypes and finding new artists to continually fill these designated spaces. Kendrick Lamar follows in the footsteps of Ice Cube, Danny Brown follows in the footsteps of Ol' Dirty Bastard, Tyler The Creator follows in the footsteps of the RZA, etc. (and this isn't unique to hip-hop; who is Springsteen without Dylan, who is Dylan without Guthrie?). But where is the archetype of the international rapper? In fact, there really is no prominent archetype for the international rapper in Western hip-hop. Multi-platinum phenomenon Drake calls Canada his home, but you won't soon hear him dropping bars over an Yves Lambert piece.
The way that Blitz the Ambassador tackles this lack of precedence is what truly makes him an astonishing artist, a true ground breaker. He forms his own lane by embracing his Western hip-hop and Ghanian duality. By enlisting talents like Nneka, Angelique Kidjo and Seun Kuti, Afrocentrism reigns supreme on Afropolitan Dreams. He laments on the track "Dollar and a Dream" that world music critics would chastise his earlier music for not being African enough – this album should quiet those detractors. He is joined on every track by his seven-piece band, Embassy Ensemble, who not only demonstrate a mastery of Afrobeat that would make Tony Allen proud, but they are also capable of bursting into hip-hop staples. The interlude "Traffic Jam," for example, sports the infectious bassline from Bob James' "Nautilus," which has been sampled innumerate times, most notably in the song "Daytona 500" from Ghostface Killah's Ironman album. "Internationally Known," a fast-paced head-nodder of a track, features fun vocal sampling from Rob Base's hit "It Take's Two," and features some of the braggadocio hip-hop is known for. All the while he uses this unique soundscape to spout his views on a variety of subjects, including the growth of Africa as a collective world power, the nature of communicating with family overseas, and the state of his home country of Ghana.
So-called "fusion" artists, especially those that are hip-hop related, often bounce between two styles and seldom find themselves much at ease. Blitz is fully at home in his style, and his music is a perfect bridge between cultures. He straddles the line between world music and hip-hop without letting it fog his mission as an emcee with something to say. He's an original character in both realms and Afropolitan Dreams shows Blitz the Ambassador reaching a satisfying maturity.
—Matt Hengeveld