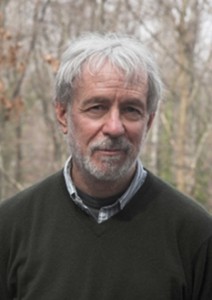 We're sad to report that songwriter, singer and guitarist Jesse Winchester died on Friday, April 11th, 2014, after a long battle with cancer.
Jesse first appeared with a debut album produced by Robbie Robertson of The Band. It had a gatefold cover and sported the same b&w picture on all four faces of the package, as if he'd shot his photon wad in one snap! It resembled the Americana look of the pictures of The Band on their second album. All it took was one listen to know this was a most special artist.
That first album was loaded with shimmering gems from the opener "Payday" through "Biloxi," "Snow," "The Brand New Tennessee Waltz," "Yankee Lady" and the rest of the 11 songs there. It was an instant treasure!
Turned out Jesse Winchester was a Bossier City, Louisiana, native who had fled the US in 1967, relocating to Montreal to avoid being drafted to serve in the Vietnam War. An act of conscience. But politics never got much play in Jesse's songs which were more images of the life, the land he's left behind, and the life he had come to lead. During the time he was a draft exile, there was no chance he'd be able to come back to the States to play live, but that was finally corrected in 1977, when Jimmy Carter offered amnesty to conscientious exiles like Jesse.
Winchester was never a very prolific artist. Over 30 years he only released 10 albums of songs, with one more to come as Appleseed Records will soon issue his final album, A Reasonable Amount of Trouble (the title inspired by a Sam Spade quote from The Maltese Falcon). There are also several live albums available, too. Every album Jesse made was a gem, each studded with terrific songs.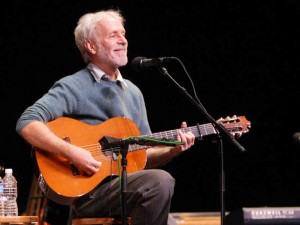 And those songs reflected the man he was: quiet spoken, with a most genteel, courtly nature … but with a rascally streak that surfaced from time to time, as in "Talk Memphis" and "Rhumba Man." A Jesse Winchester concert was always a treat. I only had the chance to spend some quality time with him once. It was a night around 1996 when he did a live concert on WHYY-FM in Philadelphia. This was aired live, and as chance had it I was filling in for regular host Gene Shay. He came to the studio for an interview after the show, and I was utterly charmed and delighted by this soft-spoken Southern gentleman who had been so long removed from the land that shaped him. It was an evening I treasured ever since.
Any live performance by Jesse Winchester was a treat. Whether playing with a band, as he did early on when he could tour at last, or solo as he was most likely to do in recent years. Jesse was a riveting performer who would tell stories along with the songs, letting his warm, occasionally wicked wit shine. The proof is right there in those live recordings.
Emmylou Harris was one of the first to cover Jesse's songs when she did gorgeous takes of "Defying Gravity" and "My Songbird" on her Quarter Moon in a Ten Cent Town album. Later Emmylou named her retrospective boxed set Songbird. In 2012, as Jesse was expecting to die from esophageal cancer, he received word Jimmy Buffett and Elvis Costello had shepherded a wonderful 11-song tribute album called Quiet About It: A Tribute to Jesse Winchester. Much to everyone's surprise and delight, Jesse recovered and he was able to get back on the road.
But the cancer did finally return, and now Jesse has departed. Still, the gift of his wonderful songs remains … as does the memory of the sweet, kind, warm human being he always was. He could have let anger drive his songs but chose love instead.
— Michael Tearson



Some of Jesse's friends and admirers shared some words about him:
Happy Traum: "Jesse became a local hero around Woodstock early on when Robbie Robertson brought him (figuratively, as he was in Canada avoiding the draft) to Bearsville Records. We were all captivated by that first album with his soulful voice and stunning songs. Many years later, Artie Traum was doing an artist-in-residence series at a local college and Jesse came for a visit, sat in with Artie (beautiful duets) and then did his own set for a hundred or so students who barely knew who he was. Needless to say, they were as mesmerized as we were and thoroughly entertained.
"Beyond all that, Jesse was a kind and generous human being who wrote and sang with a rare combination of intelligence, humanity, wit and a soulful groove. There was none better."
Danny O'Keefe: "I've had the privilege of counting Jesse as a friend for many years. It's like belonging to a special club where the members don't see each other often but are connected by the force of music. His songs have a delicate strength and the same quiet dignity that he does. We will miss him terribly when he's gone but he's left us a great and enduring legacy."
Eric Andersen: Besides his unquestionable gifts as a writer and singer Jesse was a thoughtful man the day he stood up for himself and others by turning his back and walking away from the front lines of bad war knowing he might never see his beloved south again.
Christine Collister: "I'll be thinking about him and hope he's released from whatever physical pain he's battling. Very sorry to hear about his imminent and too soon departure from this world." (Christine covered Jesse's "How Far to the Horizon" on her Aconite Blue album)
Janis Ian: "RIP Jesse Winchester. As underrated a singer as Chet Baker. As underrated a guitarist as Willie Nelson. A man who held the audience in the palm of his hand without moving an inch. One of the best songwriters on earth."
Bill Mallonee: "So many of the greats struggled to gain some stability and recognition. They knew how to give the perfect nomenclature to the ragged & lonely contours of our all too human hearts. Mr. Jesse Winchester drew from that deep well. It has to be an amazing feeling to have written one of the greatest songs of all time about what it's like being a songwriter & performer."
Craig Bickhardt: "Jesse's songs always spoke to me like wise and witty old friends. He could write about absolutely any subject with grace and humor, which is something he had in common with Mark Twain. Whenever I saw him perform it struck me that he could get more out of a gut string guitar, his sweet soulful voice and a great tune than anybody on the planet."
Mary Sue Twohy (Program Director, SiriusXM The Village): "After many years of deeply enjoying Jesse Winchester's albums, I decided to see if he might be interested in coming into the SiriusXM studios for a performance. I ended up emailing him directly about this and nearly fell out my chair when he emailed back saying he would be delighted! The performance he gave us that day, before a small studio audience, remains one of the top performances of my life. The audience was in the palm of his hand within seconds. And his stories and southern gentleman ways somehow frame some of the most masterfully created songs I know – heart, melody and lyric all equally resonant."