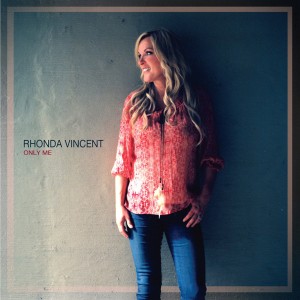 RHONDA VINCENT
Only Me
Upper Management 007
---
Rhonda Vincent's new album attempts to straddle her stellar bluegrass heritage and her love of country music in a most peculiar way. She has made Only You a 2-CD set where each has six songs for about 20 minutes of music each. One is bluegrass, the other country. Both could have easily fit on a single CD instead of two very short ones. I did e-mail Rhonda and asked about this and she confirmed the intent was to make each set pure.
One real asset on the bluegrass CD is that Rhonda plays her signature mandolin, even soloing some, and her band The Rage is the support. Willie Nelson guests on "Only Me," singing and playing guitar with a splendid Willie/Rhonda dialogue between guitar and mandolin. Daryle Singleterry duets with Vincent on Melba Montgomery's "We Must Have Been Out of Our Minds," a real weeper. This is a really fine and satisfying mini-set of 'grass!
The country set is in its own way and in its own terms just as good. "Teardrops Over You" is the only Vincent original in the album, a classic sad country song with Catherine Marx adding rippling Floyd Cramer style piano licks. Connie Smith hit "Once a Day" and "Bright Lights & Country Music" are old school C&W from the Bill Anderson song bag along with Dallas Frazier's "Beside Still Waters," a hit for Diana Trask and a decade later Emmylou Harris. The George Jones classic "When the Grass Grows Over Me" is another weeper and "Driving Nails (Over You)," an Ernest Tubb great, is a rousing, playfully fun finale Rhonda's singing is magnificent and the picking throughout id spot on. When names like guitarist Carl Jackson and fiddler Tim Crouch appear I expect no less.
Vincent produced both halves of Only Me, and the sound is sumptuous on both. If you like your music pure, whether bluegrass or C&W you will love Only Me.
— Michael Tearson