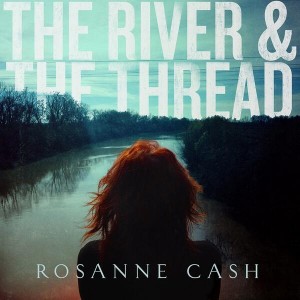 ROSANNE CASH
The River and The Thread
Blue Note
---
Ever since her 1990 album Interiors, which marked the move from Nashville to New York City after divorcing Rodney Crowell, Rosanne Cash's songs have become an odyssey for personal discovery. That these songs resonate so universally is testament to their worth as art.
2006's Black Cadillac was a song cycle that dealt with the grief from losing her father Johnny Cash, her mother Vivian Liberto, Johnny's first wife, and her step-mother June Carter Cash, all in a space of just two years. Then in 2009 came The List derived from a list of 100 Essential Country Songs her father had compiled for her as a concise education about Southern roots and American history. Following that project, Rosanne found herself on a personal quest to learn more about her Southern roots … after all, she'd been raised in California by her mother after her parent's split. Emblematic of this quest is the set's cover shot, taken by her husband and musical collaborator John Levanthal, that shows Rosanne gazing out from the new Tallahatchie Bridge built to replace the one Bobbie Gentry sang about in "Ode to Billie Joe," a song that has become a concert staple in Rosanne's show.
The River & The Thread speaking sonically is delicious and Levanthal's production is gorgeous. The arrangements he has crafted for the songs suit them perfectly, nothing extraneous there at all. "Night School" shimmers with guitar and string quartet. John unleashes electric sitar to sweet effect on the closer "Money Road." The choir in the stunning Civil War saga "When The Master Calls The Roll" includes Crowell who co-wrote with Rosanne and John, Amy Helm, John Prine, Kris Kristofferson and Tony Joe White. It is a standout as it spins the tale of lovers ripped apart by the conflict. "Etta's Song" is a tribute to the 65 year marriage of Johnny Cash's original bass man Marshall Grant and his wife Etta. The song's first and last words "What's the temperature, darling?" is how the two greeted every day. "50,000 Watts" is inspired by the Gospel radio so indigenous to the South. "World of Strange Design" particularly evokes the dark Southern strangeness Faulkner kept delving into in his writing. "Modern Blue" tells of traveling the world only to discover true roots in Memphis.
A deluxe edition adds three songs of which one, Jesse Winchester's "Biloxi" is a real standout. The other two are less essential. Rosanne Cash has shared some deep personal introspection of her quest to learn of her roots here. The River & The Thread feels like an album that has taken her entire lifetime to make, a rich work of stunning songs beautifully executed. The personal made universal. The stuff of art.
— Michael Tearson