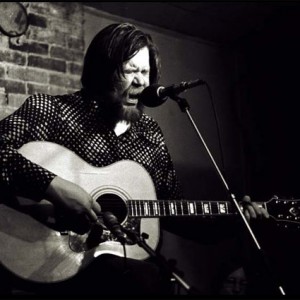 On the cusp of the 1960s, Dave Van Ronk was the king of the Greenwich Village folk scene and one of the central shapers of the aesthetic he later dubbed "neo-ethnic" – musicians who not only loved old folk songs, but wanted to sing them in authentic rural styles. But that was only one facet of Dave's work: he had started out as a New Orleans-style jazz singer, became the defining figure in the acoustic blues revival, invented modern ragtime guitar with his arrangement of "St. Louis Tickle," was a supreme interpreter of Bertolt Brecht and Joni Mitchell and a distinctive songwriter in his own right, and mentored several generations of New York artists, from Bob Dylan to Christine Lavin and the Speakeasy Collective of the 1980s.
Dave died in 2002, but he is getting a belated rediscovery thanks to Inside Llewyn Davis, the Coen Brothers' film loosely inspired by his memoir, The Mayor of MacDougal Street. The movie includes some songs from his repertoire and some anecdotes from his life, and one of its side effects is that all of his recordings from the 1960s and 1970s have been reissued, at least in digital formats. For people who don't know his work, this list of ten tracks is a good place to start, but only scrapes the surface of his oeuvre, with emphasis on his foundational blues arrangements and some original compositions. For a fuller sense of his work, there is a comprehensive guide to his recordings at my website.
1. Come Back Baby (Walter Davis, recorded 1962, from Folk Singer [Prestige]/Inside Dave Van Ronk [Fantasy])
This was one of Dave's most imitated guitar arrangements, adapted from his friend and sometime accompanist Dave Woods, and it perfectly showcases the way he transformed and personalized older material. His playing is spare, understated, and unlike any previous blues guitar chart, and his vocal phrasing is steeped in jazz and delivered in a gruff whisper that underlines the power of the lyric.
2. All Over You (Bob Dylan, recorded 1963, from In the Tradition [Prestige]/ Two Sides of Dave Van Ronk [Fantasy])
Backed by the Red Onion Jazz Band, this romping, shouting performance of obscure Dylaniana gives a sense of Dave's musical roots and proves that even in 1963 neither he nor Dylan was entirely devoted to folk music. According to Dave, Bob wrote this on a bet and he recorded it because he couldn't resist, and it remains one of his most exuberant recordings.
3. Wanderin' (traditional, recorded 1964, from Just Dave Van Ronk [Mercury])
This was always one of my personal favorites from Dave's repertoire. From Carl Sandburg's American Songbag, it shows Dave's astute sense of the guitar's possibilities: rather than his usual fingerpicking style, he strums a rhythmic accompaniment that provides a solid foundation for one of his most soulful vocal performances.
4. Cocaine Blues (Rev. Gary Davis, recorded 1967, from Live at Sir George Williams University [Just a Memory])
"Cocaine" was Dave's most famous song of the early 1960s, recorded on his groundbreaking Folk Singer LP. Though Gary Davis taught him the basic song and guitar arrangement, it was largely his own creation, assembled from various sources and extensively rewritten. Dave was forced to sing this at every show for many years, and his response was to have fun with it, undercutting the world-weary quality of the chorus and highlighting the wry humor of the verses. He was one of the few people in the revival who understood that blues can be funny as well as tragic, and that there are smart, respectful ways to refit old traditions for new times.
5. Urge for Going (Joni Mitchell, recorded 1971, from Dave Van Ronk [Polydor])
Dave thought Joni Mitchell was the finest songwriter to come out of the folk revival, and she thought he was the finest interpreter of her songs. He recorded a half-dozen of her compositions in various settings and all are well worth hearing, but this is probably his definitive Mitchell performance. Recorded during his brief flirtation with major record labels, it is also one of the most tasteful examples of how he could sound with a full studio orchestra framing his voice.
6. Sunday Street (Dave Van Ronk, recorded 1976, from Sunday Street [Philo])
Dave wrote occasional blues lyrics in the late 1950s and tried his hand at the modern singer-songwriter style in the 1960s when he was hanging out with Mitchell and Leonard Cohen, but he really came into his own as a songwriter in the 1970s – though he still devoted most of his attention to arrangements and interpretations rather than original compositions. "Sunday Street" may be his masterpiece, turning the basic twelve-bar blues into a frame for brilliant wordplay, raw humor and hard-won wisdom.
7. Swinging on a Star (Jimmy Van Heusen/Johnny Burke, recorded 1976, from Sunday Street [Philo])
Though he was most famous as a gruff shouter and soulful whisperer, Dave was also a supremely playful singer, and a great fan of classic American popular songwriting. He made only one children's record, a jug band version of Prokofiev's Peter and the Wolf, but he had a small and treasured repertoire of kids' songs he would routinely intersperse with his most serious adult material. "Swinging on a Star" was a particular favorite, and his version is definitive. (As is his version of "Teddy Bear's Picnic.")
8. Sportin' Life Blues (Brownie McGhee, recorded 1980, from Somebody Else, Not Me [Philo])
Dave said he wanted to sing this song ever since he was fifteen, but didn't think he had enough life experience, and when he finally decided he was mature enough to do it justice he played it for Brownie McGhee, the song's composer—who promptly informed Dave that he had written the song at age fifteen. Be that as it may, it is an excellent example of the mature guitar style Dave developed in the mid-1970s. His blues arrangements in particular became more intricate, influenced by his ragtime instrumentals, without ever overwhelming the vocals they were designed to frame.
9. Another Time and Place (Dave Van Ronk, recorded 1985, from Going Back to Brooklyn [Reckless/Hightone])
Dave's best songwriting was often in blues or ragtime styles, but this wistful recollection of a vanished romance is a notable exception. The guitar part is simple and pretty, the lyric a balance of direct storytelling and evocative imagery: "The miles flow on and I am gone to a wild and empty land/ Where time is like an empty room, and space an empty hand."
10. Last Call (Dave Van Ronk, recorded 1985, from Going Back to Brooklyn [Reckless/Hightone])
The inevitable last song on any Van Ronk song list (and the epigraph to his memoir), "Last Call" is an a cappella evocation of a "night of poetry and poses," which can be understood as a memory of innumerable, eternal nights with good companions in warm bars, or as a metaphor for his life, or for the ephemeral and compatible comforts of alcohol, illusion and art.
— Elijah Wald