INSIDE LLEWYN DAVIS
directed by Joel and Ethan Coen
CBS Films/Studio Canal
105 minutes, Rated R
---
We expect Joel and Ethan Coen brothers to deliver quirky films whose logic drifts toward the surreal. Had that been the case with Inside Llewyn Davis, it would have been a much better film. Alas, this film invokes adjectives we don't expect to attach to the Coen brothers: tepid, restrained, and ordinary.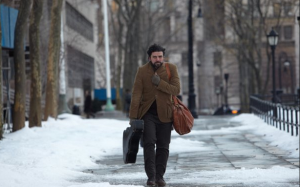 The film is set in 1961 and follows a single week in the life of a struggling folksinger, Llewyn Davis – played with hangdog torpor by Oscar Isaac. In 1961, folk music was hot and about to get hotter. The Folk Revival (roughly 1946 to 1965) was a rushing stream, though some felt it was running out of steam. In the late 1940s and early 1950s, The Weavers ruled the pop charts and, in 1958, The Kingston Trio had a #1 hit with "Hang Down Your Head, Tom Dooley," a catchy but sanitized remake of a 19th century southern murder ballad. Purists, like the character Llewyn Davis, felt that the commercialization of folk music would be its ruination, and faithfully churned out 'authentic' folk songs: spare ballads, songs of indefinite origin, and public domain material. They were right that antiseptic folk was passé. The future instead belonged to Joan Baez and a guy whose songs she introduced: Bob Dylan. The Coens wisely located their tale in 1961, because that was the year Dylan hit New York City and the rest, as they say, is history.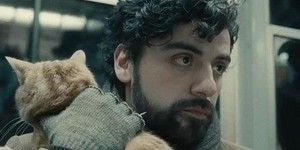 1961 was indeed a seminal time in American culture. The Beats had lost their hipness, but hippies were not yet present. The euphoria of Kennedy's election intoxicated idealists, and inchoate yearnings for change began to bubble. In their depiction of the period, however, the Coens deeked right when they should have veered left. How does one show cultural shifts? Does one highlight context, or focus on a single character? Either could work, but if the focus is personal, that character has to be interesting, if not lovable. Their film was inspired, loosely, by incidents pulled from Dave Van Ronk's autobiography The Mayor of MacDougal Street (co-written by Elijah Wald), but their invented hero, upon whom those pieces of tale were attached, Llewyn Davis, is anything but. The Coens likely understood that the real Van Ronk was too mercurial, stubborn, and unorthodox to have broad public appeal … but while Van Ronk was many things, but he was never boring. Alas, Llewyn Davis is worse than boring. Imagine a petulant, irresponsible, self-absorbed teenager with no impulse control trapped in the body of a 30s-something and you've got Davis.
This is a problem. We're supposed both to sympathize with Davis and see him as a prototype for all the poor schlemiels that didn't become Baez or Dylan. We follow Davis from one crash pad sofa to the next, follow him on a desperate road trip to Chicago (where he hopes to ingratiate himself to impresario Bud Grossman), witness his unraveling dreams, and see him alienate family and friends. It's hard to sympathize with Davis, though, because he's a world-class jerk who crafts his own misery. Nor does it feel like he views the music he so fiercely protects as anything more than a meal ticket.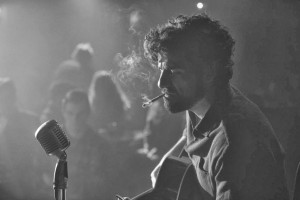 There are a few good things about the film. It looks really good. Thought shot in color, the use of cool filters, smoky ambience, and noir-like shadows give it the feel of being transported back in time. Sometimes, the club interiors are more interesting than the characters inhabiting them. John Goodman chews scenery and delivers a few juicy lines as Roland Turner, a heroin-addled jazz pianist whose ego is even bigger than Davis'. If you're a student of folk music history, it's also amusing to try to decode the film. Who, for example, was Turner, or the baby-faced, sweet-voiced folk singer on leave from the U.S Army?
Most of what is on the screen references real people, places, and events. I've provided a 'key' to the film below. It's filled with spoilers, so don't read these until after you've seen the movie. Should you? Llewyn Davis is a bit like the purists' critique of The Kingston Trio: neither great nor horrible. We do, however, expect more from the Coens than run-of-the-mill filmmaking. I could work myself into a snit over making such a fascinating period flat, but that would expend more passion than the Coens mustered.
Here's another trailer before we get into my "decoding" of the revival history incorporated into the film:

Key for Music History Junkies:
Upon whom are Jim and Jean based?
While Jean (portrayed by Carey Mulligan) and Jim (portrayed by Justin Timberlake) are named for the real Jim and Jean Glover, there's a lot of fast and loose playing with both the real singers lives and the timing of events. Jim Glover didn't arrive in the Village from Ohio until the following year (AFTER Dylan). Jim has had more solo success than the duo managed, but the duo did help out another struggling singer: Phil Ochs, who met Jim while they both were attending Ohio State University in 1960.
What parts of Llewyn Davis's story came from the real Dave Van Ronk?
Some. The Coens reportedly consulted Van Ronk's superb biography (co-written with Elijah Wald) The Mayor of MacDougal Street (2005). Van Ronk, like Davis, twice served in the Merchant Marines and would have gone a third time, except his papers were stolen (not tossed away). He was not, however, a street urchin. Van Ronk always had a place in Greenwich Village and people crashed on his sofa, not vice versa.
Van Ronk, like Davis, expressed his dislike for commercial "pop" folk. He did not, however, possess a dulcet-toned voice, and he preferred blues, ragtime, jazz and other genres that better complemented his gravely, raspy vocals than old ballads. Nor did he look anything at all like Guatemala-born actor Oscar Isaac. Van Ronk was 6'5" and generally weighed north of 250 pounds. He was also a far better guitar player.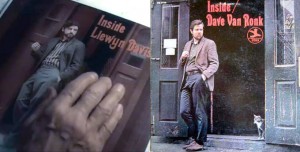 Inside Llewyn Davis is the name of the film character's album and was inspired by Inside Dave Van Ronk. Though it was released in 1963, not 1961, it was perhaps Van Ronk's 'folkiest' album. There's a cat on the album cover, and a feline figures prominently in the film.
And as far as their demeanors are concerned, it depends upon whom you talk to. Van Ronk inspired both love and loathing, and was known for adopting some of a blues man's more unsavory traits. I had a (very) minor role in two Van Ronk concerts in the 1980s and lobbied hard for there to be no third. I'll be charitable and say I found him "difficult." But others I know found him "sweet" and "kind." So maybe it depended on where and when you encountered him. For the most part, Van Ronk is viewed universally as an important Folk Revival figure (unlike the obscure Davis), no matter what anyone thought of him.
Did Van Ronk have a partner who killed himself?
Not exactly. Van Ronk was always a solo act. The character of the deceased Mike is modeled very loosely on the suicide of Paul Clayton, a good friend of Van Ronk's and an inspiration for Bob Dylan. Clayton's death occurred in 1967, however, not 1961, and he didn't jump off a bridge; he electrocuted himself. There is speculation he was despondent over his gay identity at a time in which gays were still closeted.
How much of the Greenwich Village club scene is accurate?
The Gaslight Café was a real club and photos reveal striking similarity to how the Coens depicted it's stage. But Gerde's Folk City was the only one in the Village that had a liquor license and active bar in 1961. The club portrayed in the film is a composite of the two venues, and the club owner portrayed in the film was at least somewhat inspired by Folk City's Mike Porco.
Was there a model for Davis' record company and agent?
Yes. Llewyn's agent, Mel Novikoff (Jerry Grayson) and his record company (Legacy), are based on Moe Asch and Folkways Records, Van Ronk's label in his early career. Asch was indeed famed for seldom paying royalties, but also for giving artists money from his own pocket … and the bones for the exchange in the movie over payment comes right from Van Ronk's memoir. It's worth noting, too, that Asch was more disorganized than dishonest; Folkways churned out an average of an album a week between 1948 and 1986.
What's the deal behind Davis' trip to Chicago?    
The Gate of Horn in Chicago and Albert "Bud" Grossman (portrayed by F. Murray Abraham in the film) were both quite real. It's not quite accurate to say that Van Ronk, like Davis, desperately hoped Grossman would make him a headliner. Van Ronk played the Horn on many occasions, though it's true Grossman wasn't bowled over by his music. Grossman hired a lot of black singers such as Sonny Terry and Odetta, and found Van Ronk's white blues inauthentic. Grossman, by the way, went on to become Bob Dylan's manager for a time.
Did Grossman tell Van Ronk he wasn't a front man?
There are conflicting stories about this, but Grossman did offer Van Ronk a place in a trio he was forming. Van Ronk turned down the offer, Noel Stookey took his slot, and Peter, Paul and Mary was formed!
Wasn't the on-screen novelty song "Please Mr. Kennedy" a bit over the top?
Not really! That was the name of a real song, though it was about being drafted, not being sent into outer space. The Coens also drew upon a popular comedy song by Larry Verne titled "Please Mr. Custer," which topped the pop charts in 1960. The early 60s was rife with comedy songs that seem pretty corny by today's standards. Alan Sherman was at the height of his career then.
Who was the model for Roland Turner?
Dr. John, with a splash of Doc Pomus. Dr. John's heroin addiction occurred when he was much younger, though. Pomus was a childhood polio victim. Like the character Turner, Pomus sometimes wielded his walking aids in a dramatic affected manner.
What about his volcanic traveling partner?
The silent Beat poetry loving Johnny Five (Garrett Hedlund) character is baffling. He's probably just a composite Beat.
Who was is Al Cody?
The character of urban cowboy Al Cody (Adam Driver) resembles Ramblin' Jack Elliott, but according to Elijah Wald (and as the co-writer of Van Ronk's memoir, which provided inspiration for the film, he would know), Cody was actually inspired by Mark Spoelstra, a songwriter and Kansas City transplant who was an important fixture around the Village of that era. [Note this section was updated from the original piece to reflect Elijah's information.]
What about Troy Nelson, the singing soldier?
Nelson (Stark Sands) was inspired by then-U.S. Army clerk typist Tom Paxton, who indeed played New York City folk clubs whilst stationed at Fort Dix. Nelson sings a Paxton song onstage in the film, and like Nelson, Paxton was raised Oklahoma. The similarities end there, though. (Paxton and Van Ronk were very close friends, and Van Ronk was "best man" at Paxton's wedding.)
The Arran-sweatered Irish singers are The Clancy Brothers, right?
Of course, though they were not as young as depicted in the film. At age 29, Tommy Makem would have been the "kid" of the group in 1961. Nor were they unknowns; The Clancys released their forth LP in 1961 and had been a sensation in Ireland since 1956. In 1961, though, The Clancys performed on The Ed Sullivan Show and this made them world famous.
What about the film's ending (and opening)?
I doubt the scrappy 6'5" Van Ronk lost too many fights! His harassment of an Autoharp player (based on Maybelle Carter) seems pretty unlikely as well, much less getting beat up in an alley by A.P.! In the film, by the way, Maybelle is played by Nancy Blake, Norman Blake's life and musical partner.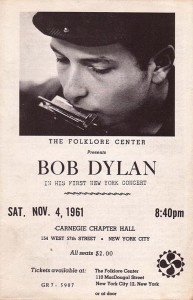 Toward the end, Dylan takes the stage. Is this accurate?
Mostly. Dylan arrived in the New York City in January, 1961, and made his debut in various basket houses around the Village. That very first appearance is credited to Cafe Wha?, another of the great basket houses of the day, where performers were paid by sharing a pot contributed by listeners. In the film, Dylan is heard singing "Farewell," a remake of "The Leaving of Liverpool." He probably didn't learn this song until 1962. By the way, Van Ronk and Dylan were friends, not rivals. Neither man shared Davis' concern for keeping folk music "pure." (Check out the poster for Dylan's first "concert" appearance, presented by Izzy Young's Folklore Center in the fall of that year.)
— Rob Weir
Thanks to Mark D. Moss for some help with the music history stuff at the end of the review.