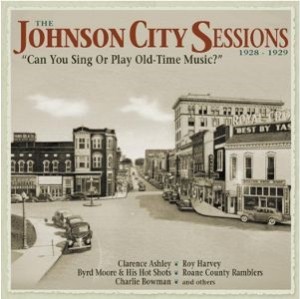 VARIOUS
The Johnson City Sessions: 1928-1929
"Can You Sing or Play Old-Time Music?"
Bear Family BCD16083
---
The Big Bang of American folk music is said to have been the 1927 Bristol Sessions – a talent search for Victor Records in the Tennessee/Virginia border-straddling town of Bristol that helped Jimmie Rodgers and the Carter Family rise to prominence. Other labels too conducted such searches with varying success, The Johnson City Sessions draws from material recorded by Columbia Records talent scout Frank Walker in Johnson City, Tenn., a thriving railroad hub that billed itself as the gateway to the Appalachians. Since there were no soundproofed recording studios back then, we even hear outside train whistles on the occasional track.
Like Victor scout Ralph Peer's Bristol Sessions, Walker's 1928 and 1929 recordings prove that these musicians weren't culturally isolated. Photos in the accompanying book would seem to show they weren't necessarily needy either.
We find maudlin parlor ballads, trad folk, gospel, yodeling and barbershop-style harmonizing. The songs tell of love, lust, salvation, inebriation and run-ins with Prohibition era cops. After all, thanks to its bootleggers, Johnson City was nicknamed Little Chicago.
Three of Walker's recordings here appeared in Harry Smith's Anthology of American Folk Music: Bill and Belle Reed's "Old Lady and the Devil," clawhammer banjoist Clarence Ashley's "The Coo-Coo Bird" and the Bentley Boys' "Down on Penny's Farm" (which was the inspiration for Bob Dylan's "Hard Times In New York Town").
Does an occasional act mimic Rodgers? Or are we simply hearing a regional country blues style whose classic artist was Rodgers? A yodeling bridge comes within one parlor ballad that's hardly country music.
Byrd Moore & His Hot Shots' comic "Three Men Went a Hunting" traces back to "Three Jolly Welshmen" published in 1668. North Carolina boys Ephraim Woodie & the Henpecked Husbands' "The Fatal Courtship" is "Butcher Boy"/"Railroad Boy" moved from London to New York.
Of course, there's murder balladry based on actual events (a staple of trad folk). Ashley's "Naomi Wise" (lyrically, a cousin to "Pretty Polly") tells of unwise Naomi's 1807 slaying. The box's book disputes the legend that Frankie Silvers herself sang "Frankie Silvers" (here done by Moore and crew) at her 1833 hanging for her husband's Christmas-season ax murder.
As for social commentary grounded in religion, Ira & Eugene Yates's "Powder and Paint" advises flapper-era modern women, "You'll never get to Heaven with your bobbed hair because they don't have any barbershops there. All my sins are taken away, taken away."
The box set includes four CDs, compiling 100 tracks, and is accompanied by a superbly researched 138-page hardbound book. Like most collections from the boutique German label, it deserves a hearty recommendation.
— Bruce Sylvester