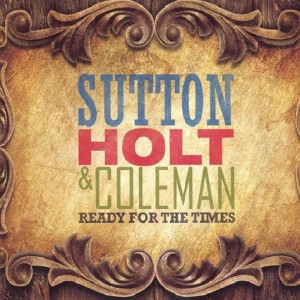 SUTTON, HOLT & COLEMAN
Ready For the Times
High Windy Audio 1264
---
Billed as a tribute to the late Doc Watson, this trio does indeed have a cumulative total of several decades of association, both on stage and off, with the North Carolina guitar legend. Though born in Texas, David Holt has for many years been a mainstay of the traditional music scene in the Tarheel state – singer, banjo player, storyteller, folklorist, writer and many other hats all wrapped up in his trademark Panama hat. His recorded work with the Watson family includes an album recorded with Doc and his late son Merle prior to Merle's tragic passing in 1985. In 2002 Holt produced and performed with Doc on a 3-CD set called Legacy which in addition to the music featured Doc at his storytelling best as he recounted his life and times. It was a format that the two of them would bring to stage for the final years of Doc's life.
To the thousands who saw Doc perform live from the 1970s into the 1990s, both with Merle and later with Jack Lawrence, T. Michael Coleman was the familiar shaggy-haired, mustachioed presence on bass and harmony vocals. In later years Coleman performed with the Seldom Scene and Chesapeake, but could always be counted on to join Doc in the studio.
Bryan Sutton, the youngest of the trio, was born and raised in the same western North Carolina mountains as Doc. His astonishing flatpicking talents manifested themselves at an early age, and by his mid-twenties he was turning heads as a featured player in Ricky Skaggs' band, Kentucky Thunder. Now among Nashville's most sought-after session players, Sutton is widely regarded as the finest Watson-style picker of our time.
Ready For The Times is an excursion through fourteen songs that were staples of the Watson repertoire during their times with him, plus an original song, "Hotel Wall" by Holt and Danny Ellis, that tells the story of years on the road with Doc. Perhaps the most exemplary track is "15 Cents". Sutton's guitar intro faithfully echoes Doc's original, but as is the case throughout the disc with the instrumentals and vocals of all three, it carries its own stamp. As Sutton states in the liner notes, "It's not bluegrass, it's not old time, it's mountain music." That's about as true a tribute to the Watson tradition as can be asked for.
— John Lupton