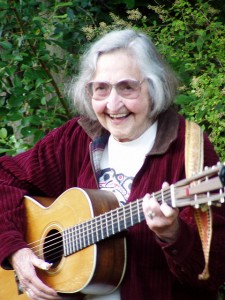 There are few singers who rise to the level of a true icon, and fewer still who wear that banner with equal parts honest pride and realistic humility. Our dear Faith Petric, the godmother of the San Francisco folk music scene, a true "Geritol gypsy" who traveled around the world singing folks songs for decades, and a long-time contributor and board member of Sing Out! was just such a person. She passed away around midnight on October 24th at Coming Home Hospice in San Francisco, with her daughter Carole at her side and her granddaughter on the phone. Faith was 98.
Faith Petric was an extraordinary woman. She was born in a log cabin in Idaho where her father was a Methodist minister. Her first experiences with music were through hymns, and even then she loved raising her voice to sing. She attended Whitman College in the wake of the Great Depression, graduating in 1937. She raised nearly all the money for tuition on her own, a real feat for a woman of that era. She worked at a bookstore in Seattle following college, lived (platonically) with the well known painter Morris Graves and danced to John Cage's compositions before heading south intending to travel the world … but instead fell in love with San Francisco. She moved east with a friend in the early '40s, becoming a shipfitter in New York, but soon returned to San Francisco "a little bit pregnant."
Through her life, Faith was many things: a mother, a wife, a shipfitter, a Wobbly and a peace striker. She worked in the San Joaquin Valley with with the Farm Security Administration helping migrant workers, marched with the Civil Rights movement in Selma, visited Russia as part of a peace delegation, floated down the Amazon, and solo-backpacked around the Europe. She performed throughout the U.S. at folk clubs and festivals, has been the life of British pub gatherings, and was godmother to several generations of musicians that passed through the San Francisco Folk Music Club.
Along with serving on the board at Sing Out! from the early 1980s until the mid-1990s, Faith wrote "The Folk Process" column for the magazine until 2011, the place for new, often political rewrites for classic folk and standard tunes. It was a perfect fit for an artist who understood how real music and songs can be in connecting life, politics, empowerment and justice. She was always sage and clear with her advice and counsel over the years, regularly finding and recommending songs for the magazine, and sending me ideas for articles and features. There are many, many folks who have contributed to Sing Out! over the years, but it's fair to say that Faith's impact and influence was strong, and Sing Out! would have been a very different magazine over the last 30+ years without her input and partnership.
Truly remarkable, too, is the fact that Faith kept singing and remained so active until quite recently … long after most mere mortals would have been ready to rest. She celebrated her most recent "rounded milestone" – her 95th birthday – at Berkeley's Freight and Salvage on Sept. 11, 2010 surrounded by friends and fans, singing with that real, strong and true voice that so exemplified how she saw the songs she sang. As Faith said to Amie Hill for a feature in Sing Out! that ran back in 1985 (v.32#4): "Trust the songs." And when Faith sang them, we always could.
Faith's daughter, Carole Craig, wrote a blog that chronicled Faith's last months. Well worth a read for all Faith's friends. Check it out HERE.
– Mark D. Moss (with assistance from Jackie Peterson)
[Note: Edits and corrections were made to the original posting with help from Faith's daughter Carole. Apologies for any confusion.]