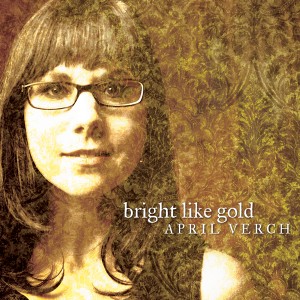 APRIL VERCH
Bright Like Gold
Slab Town 1301
---
Bright Like Gold is a powerful recording by one of my very favorite musicians. April Verch has been a traditional music star in her native Ottawa Valley and throughout Canada for close to twenty years. Bright Like Gold is just chock full of great music.
First off, April is a great fiddler. She has fully assimilated her Canadian roots with American Appalachian playing and this new CD showcases her distinctive style.
The April Verch Band is comprised of master clawhammer banjoist and bassist Cody Walters and guitarist Hayes Griffith.
The CD opens with "Broken" a beautiful song by April concerning re-evaluation of one's life. Rather heady stuff to open a CD but it is quickly followed by the American classic "Sandy River Belle" which in addition to April's sprightly fiddle also features her step dancing.
She performs two waltzes in tribute to her father. Ralph Verch was a country musician and played many dances. "No Other Song Would Do" is a waltz he often played with his band and "Morris and Boris" is a Canadian waltz named for a book her dad read to her at bedtime.
There is a great deal of variety among the twenty selections on the CD. A real surprise is Loretta Lynn's "Don't Come Home a Drinkin'." The band is augmented by Matthew Smith on pedal steel and Cody's slap bass. Mac Wiseman makes a guest appearance on two tunes. April wrote "The Only One" especially for Mac and while he was in the studio he also sang Charlie Moore's "My Home in the Sky."
I'm afraid I'm only hinting at all of the wonderful music that can be found on Bright Like Gold. This, I believe, might be Verch at her very best!
— Tom Druckenmiller