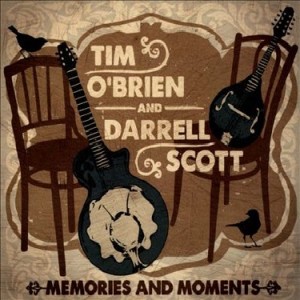 TIM O'BRIEN and DARRELL SCOTT
Memories and Moments
Full Skies
---
It's hard to believe more than a decade has past since O'Brien and Scott's last collection of new material, 2000's Grammy-nominated Real Time. Indeed, listening to Memories and Moments, it sounds like no time has past at all.
Recorded in three days with minimal overdubs, it's just O'Brien's mandolin and fiddle, Scott's guitar and piano, and the rough-hewn harmonies that sound as if the pair were born to sing together.
The opening "Time to Talk to Joseph," sets the tone, as the duo's Appalachian roots come to the fore – a sound they stay true to even as the infuse it with strains of country, blues, and pop.
From there, the album ranges gracefully from heart-on-sleeve sentimentality to wry humor. "It All Comes Down To Love," a longing piece of heartbreak, has enough pop sensibility to top the charts if given a slick, mainstream-country makeover. On the flip side, the bluesy "Keep Your Dirty Lights On" – the album's only co-write – connects the dots between the devastation of strip mining and our everyday energy consumption with deftly wielded black humor.
The album is not without its surprises. O'Brien and Scott take a country turn with covers of George Jones' broken-hearted drinking song "Just One More" and Hank Williams' classic "Alone and Forsaken." Reprising the album's strip mining lament, John Prine joins the duo for a take on his "Paradise," replete with beautiful three-part harmonies.
What lifts this album from good to great, though, is chemistry. As expected, O'Brien and Scott play deftly. The way their voices blend and the unselfish way they swap leads, though, strip away all pretense, leaving nothing but heart.
— Bill Snyder