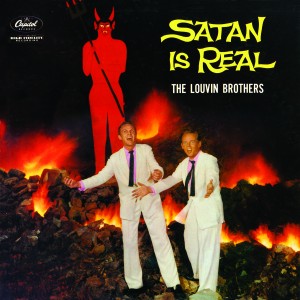 THE LOUVIN BROTHERS
Satan Is Real / Handpicked Songs 1955-1962
Light In the Attic 075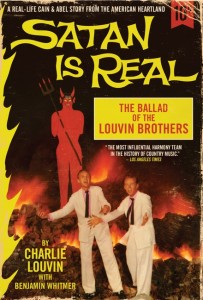 CHARLES LOUVIN with BENJAMIN WHITMER
Satan Is Real: The Ballad Of The Louvin Brothers
Igniter/ HarperCollins. ISBN 978-0-06-206903-0
308 pages, hbk, $22.99
---
The fear and fervor of their religion – plus the influence of sacred harp singing from their Alabama boyhoods – put the Louvin Brothers in the pantheon of brother duets within rural southern music. Their 1959 LP Satan Is Real's cover art – a huge red plywood Satan wielding a pitchfork behind the white-suited brothers – is legendary. That disc's title and art now also grace Charlie's posthumous autobiography, a revealing glimpse into 1950s country music and into the hearts of a troubled duo who realized that performing would be a darn sight better than lifetimes in the cotton fields.
Temperate Charlie (1927-2011) was devoted to one wife for six decades. Self-destructive older brother Ira (1924-65) struggled with alcoholism, guilt that he hadn't followed a calling to the pulpit and, no doubt, rage (and perhaps self-image problems) from the beatings that their father inflicted on him way more than on Charlie. His third wife once shot him six times after he tried to strangle her with a telephone cord. ("Shooting him didn't seem entirely unsensible to me," Charlie writes.)
Long before the Who, Ira smashed mandolins on stage – Charlie suspects because he felt betrayed when they went out of tune. Their country and gospel audiences loved it, not knowing that he'd sweep up the pieces and glue them back together. The photo of the wrecked car where Ira and wife number four died is as frightening as their songs such as "Knoxville Girl."
As for Louvin recordings, Light in the Attic Records has combined the original 12-song Satan album with the well-annotated 14-track Handpicked Songs 1955-1962 for this two-disc release. The second disc of mostly secular classics such as "When I Stop Dreaming" and "Cash on the Barrelhead" were handpicked by the likes of Lucinda Williams, Graham Nash and Devendra Banhart. In Beck's choice from the Cold War-era, the brothers sing the apocalyptic "Are you ready for that great atomic power?" Their ballad "Are You Afraid to Die" with Ira's astounding high tenor cuts even closer to the bone. As when the Monroe Brothers sang, "What would you give in exchange for your soul?" we're hearing the dread of southern Protestantism.
— Bruce Sylvester