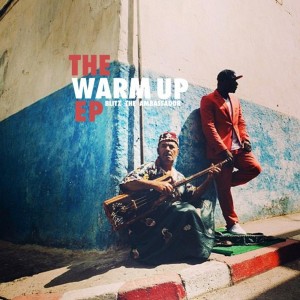 BLITZ THE AMBASSADOR
The Warm Up EP
Jakarta Records 062
---
If you're looking for a world music perspective in hip-hop, look no further than Ghana-born hip-hop artist Blitz the Ambassador. His third release on Jakarta records, The Warm Up EP (available for free through his bandcamp webpage) shows Blitz further embracing African roots. Songs typically concern the dichotomy of being both an Ghanian immigrant and a resident of New York City, and the end product is quite astounding.
With blaring horns and a slew of drums that hearkens to Ghanian Afrobeat, production on this 7-track EP is superb. Percussion is foremost, as it often is in hip-hop, but you won't find any Roland 808 bass kicks mixed with the breakbeats here, everything is organic: handclaps and drums are either played live or sampled authentic djembe or other traditional instruments. Jakarta Records, known for it's work with international hip-hop artists, always pays special attention to providing top-notch production. I'd recommend nearly all of the artists under their umbrella. Organ stabs and sampled guitar riffs sound like they're pulled directly from a Zambian WITCH Zamrock record, and retain all of the dusty goodness of the rare, sought-after recordings. If any criticism could be laid upon this album's production, it would be that the heavy reliance on vocal sampling diminishes some of the quality. Really, the repeated "Half a Mil For Bail Because I'm African," line sampled directly from Jay-Z's "99 Problems" gets to be annoying on "African in New York."
Compared to Blitz's previous efforts, Stereotype and Native Sun, The Warm Up EP is a much more "digestible" release, at least by hip-hop standards. There are far fewer featured guest artists from Africa on this release. This makes the album much more marketable in the hip-hop industry, but fans of Afrobeat or world music may want to seek out Native Sun before picking up this EP. Before listening to the album I assumed The Warm Up EP would be a far more focused release than either of his previous, mainly because of condensed size, and the lack of so many guest appearances (while appreciated, an abundance of guest artists can often become overwhelming, almost like a variety show). I was slightly disappointed by the lack of focus here, but it's easily explained.
Blitz is an emcee with something to say, and trying to fit his message into seven tracks … that's just not doable. While popular hip-hop artists often find themselves scrambling for something to talk about often resorting to cliche or braggadocio, Blitz can quickly hone his discussion to topics such as the kinship of all Africans in America (despite vitriolic tensions they may have within the African continent) on "African In New York." Blitz grazes topics such as travesties committed throughout Africa by the likes of Shell Oil and Monsanto, and the execution of Ken Saro-Wiwa, both found on the tremendously poignant track "Bisa" ("Why" in the Ghanian language) alongside Nigerian soul singer Nneka and fellow African emcee Ty. I feel like these topics deserved to be expanded upon, instead of being squeezed into a single 16-bar verse. On the lighthearted track "Dikembe" (devoted to basketball player Dikembe Mutombo) Blitz shows that he doesn't want to be the best rapper from Africa, but the best rapper period, which may seem like a trivial point, but hip-hop is wrought with barriers, disallowing artists with certain labels (being female, non-American, homosexual, etc.) from reaching certain levels within the genre. It's refreshing to see this kind of passion in an artist.
The Warm Up EP is a fantastic release, and easily climbs to being one of the best hip-hop efforts of 2013. Blitz the Ambassador is early in his career, and I expect that we'll be seeing a lot more material of this quality very soon.
— Matt Hengeveld