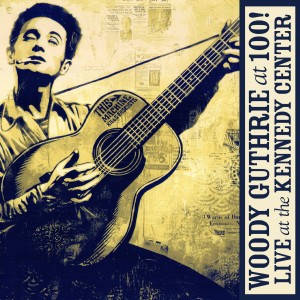 VARIOUS
Woody Guthrie @ 100! Live At the Kennedy Center
Legacy Recordings
---
Regardless of Eleanor Roosevelt's attention to leftist music, Woodrow Wilson Guthrie (1912-67) might have been surprised to find Washington, DC's Kennedy Center honoring the centennial of his birth last year. Here it is in full on DVD and in slightly abridged form on CD.
Old Crow Medicine Show starts the event with "Howdi Do" and "Union Made." Subsequent acts present Woody's various facets: populism, children's music, pure fun, erotica.
Jimmy LaFave cuts loose with "Hard Travelin'," while Judy Collins turns earth mother on "Pastures of Plenty." She and Woody's sidekick Ramblin' Jack Elliot are the evening's sole performers who also sang on the two A Tribute to Woody Guthrie LPs drawn from 1968 and 1970 celebration of life and fundraising shows for the Woody Guthrie Foundation and research into Huntington's Chorea, the hereditary disease that gradually killed him. (Jack encores "1913 Massacre" on this new set, too.)
Sweet Honey in the Rock turns 'I've Got to Know" into fluttery doo-wop in contrast to their 1985 studio version of the song on Feel Something Drawing Me On, where the group had much different personnel. There they gave it a much more somber rendition.
Among Woody's unrecorded writings he never set to music, jaggy-voiced Lucinda Williams stunningly takes on the persona of a nurturing prostitute in "House of Earth." Just like Woody adapted and updated earlier songs, Tom Morello adds his own references to brick throwing, Occupy and the Weathermen to "Ease My Revolutionary Mind." Woody would surely have dug the Occupy movement, but how might he have felt about the line "I want a Weather Underground woman"?
People who've been hearing Woody's songs for decades may note that At 100's deliveries aren't always the best available. Ani DiFranco's "Deportee" seems surprisingly passionless compared to, say, the studio recording on 1963's Judy Collins 3.
The show ends with the performers all getting together for his anthem "This Land Is Your Land" – including, of course, the "no trespassing sign" verse.
The DVD is vastly stronger than the CD since, for bonus material, it has rarely seen footage of Woody himself singing parts of three songs plus tracks from the concert that couldn't fit on the CD. Also, there's time for singers to introduce the songs (Lucinda calls Woody a "sexual libertarian") and we see closeups of their faces. Unlike many concert videos, this one is utterly free of gimmickry and glitz. Maybe that's how Woody would have wanted it.
— Bruce Sylvester