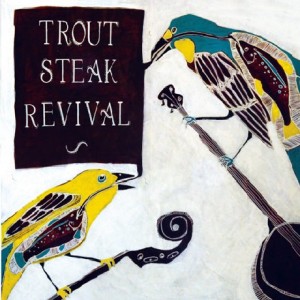 TROUT STEAK REVIVAL
Flight
Trout Steak Revival
---
It would be risking a charge of base and possibly unfair stereotyping to suggest that on hearing a name like "Trout Steak Revival", the temptation might be to respond along the lines of "young progressive bluegrass band from Colorado, right?" As it happens, the band is based in the Denver area, though only one of the five members (fiddler Bevin Foley) is actually a native. And, they're not quite as "progressive" as might be suspected. They have a strong footing in old time music that is one of their strongest and most appealing facets, as demonstrated on Flight (their second release) with "Greasy Coat," "Darling Corey" and "Old Tin Box." Rounding out the band, in addition to Foley, are Steven Foltz (guitar, mandolin), William Koster (guitar, Dobro), Travis McNamara (banjo, piano) and Casey Houlihan (bass). Each of the five contributes at least one song to the disc (the aforementioned "Greasy Coat" and Darling Corey are both traditional), and on close listening the songs turn out to be spirited and thoughtfully written, with McNamara'a "Ashes To Ashes" and Foley's "Good Riddance" being noteworthy examples. The liner notes do not specify vocal credits on each track, leaving the listener to assume that them what wrote it is also them what's singing it. If that is the case, each appears to be a capable enough lead singer, but again it is Foley who stands out as the most dynamic presence, both vocally and instrumentally, especially on "Greasy Coat" where the drive of her fiddle and the passion of her vocals match each other perfectly.
In addition to the skimpy liner notes, admittedly a minor issue that does not affect the music, there are a couple of other reservations to express. The album is self-engineered and produced by the band, and while there are many places where the sound is very good, the production strikes the ear as uneven across the disc as a whole. The vocals, in particular, sound a bit disconnected at times, as though they were recorded in a different space and overdubbed. A very subjective observation, of course, but that's how it sounds to me. An added comment on the vocals would be that, as good as they are individually, the harmonies sound a bit strained at times, as on the opening track "Blackjack Supper Club." At other times, such as on "Ashes To Ashes," the instrumental arrangements tend to overwhelm the vocals. These are undeniably excellent musicians making good music here, but it just seems they could have sought guidance from a good producer.
The music world is full of performers and bands who don't sound as good live as they do on record. Given that they have been finalists at the annual competition at Telluride, one suspects that Trout Steak Revival is an example of the exact reverse, and that their stage shows are a delight. It is well within their capability to do better in the studio, and the good news is that they're young and have lots of time to learn how.
— John Lupton