Tuareg musician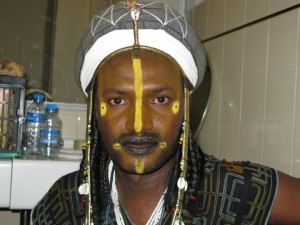 Bagui Bouga, calabash, odilirou (traditional flute) player and vocalist and co-founder of the Niger-based band Etran Finatawa, passed away on Friday, August 2nd, in Switzerland after suffering a severe asthma attack.
The group Etran Finatawa, meaning 'the stars of tradition,' play the traditional songs and music of the Wodaabe and Tuareg, two nomadic groups spanning from southern Niger through the northern regions of Nigeria and throughout many other southern Saharan and Central African nations, and frame these cultures' musical tradition within a modern context – a style known as "Nomad Blues," which incorporates electric instrumentation and polyphonic Wodaabe singing. The Wodaabe and Tuareg live side-by-side in the Sub-Saharan desert regions, but they are just two of eleven groups that live in the region. The Tuareg are famous camel breeders, the Wodaabe known for their herds of mahogany-colored cattle. They are two very different groups, with different languages and pasts, but they do share two things; the nomadic lifestyle and the same Sub-Saharan environment. Etran Finatawa was founded to symbolize a fusion and reconciliation between the two cultures, with six members being Tuareg and three Wodaabe. Their music has achieved worldwide recognition and profound respect in Niger, where their songs are sung by school children throughout the country.
Etran Finatawa's music discusses non-traditional subjects such as the loss of culture and identity, as the band found themselves severely at odds with their new lifestyle of living in cities and touring throughout the world, and preferring to return to their nomadic roots in Niger. "Etran Finatawa aims to communicate the message that living in one of the poorest countries in the world, economically, detracts nothing from the riches they have in their culture, traditions and family," says Sandra van Edig, the bands' manager.
Bouga was known for being a philosopher and a nomad. "He knew so well his culture and he enjoyed sharing his knowledge of his cultural heritage with many people," said Sandra van Edig. He was extremely interested in introducing people to instruments, such as the doudandou, an instrument similar to the Celtic pipes that was used to drive livestock across the savannahs in Niger. Bouga's powerful and blues-tinged voice can be heard on songs like "Iguefan," one of the first tracks where he performs lead vocals. He was 34 years old.
[youtube=http://www.youtube.com/watch?v=hc5jvJ6FtTk]
— Matt Hengeveld