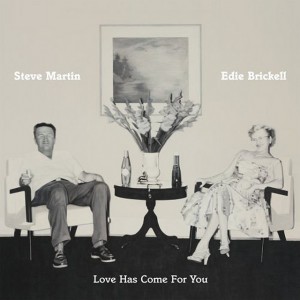 STEVE MARTIN and EDIE BRICKELL
Love Has Come For You
Rounder 11661-9150
---
This collaborative album by Steve Martin and Edie Brickell is as congenial and sunny as you could want, even when the songs get into dark places. Up front, it is illuminating to note how Steve and Edie wrote the songs. After meeting at a birthday party for Edie's husband Paul Simon Steve began e-mailing banjo melodies to Edie who then devised stories and lyrics. They collaborated on the final musical forms.
When it came time to record Peter Asher was tapped as producer. What resulted is a set of sparkling, effervescent performances end to end presented with really clean sound. Edie's voice and Steve's melodic banjo are way up front in the mixes, appropriate since his parts are the bases for the melodies. Steve plays mostly in frailing style even though he can play Scruggs style with the best of 'em. Not surprisingly all the members of the Steep Canyon Rangers, the bluegrass band Steve has adopted as partners in his two previous albums, appear in key roles. Guitarist Waddy Wachtel and pianist Matt Rollings are also key contributors.
Edie's lyrics are touched with sweetness and love. Two involve babies. "Love Has Come For You" tells how the birth of her illegitimate child redeemed the mother. "Sarah Jane and the Uiron Mountain Baby" is the tale of a baby flung from a train finds love and adoptive parents with those who found him. "When You Get to Asheville" opens the set with a post break-up post to the lover who has moved away to whom the singer offers the chance for reconciliation if he ever wants it. "Siamese Cat" is one of the happiest break-up songs ever, and funny, too. "Who You Gonna Take?" is a giddy attempt to catch a guy's attention. The closer "Remember Me This Way" is a request to a painter engaged to create a portrait to be as kind as possible.
The whole album is a warm loving experience both in songs and performances. Since I picked it up it has been in the CD player nearly constantly. As I keep listening to it I like it more and more, and that doesn't happen nearly often enough. Highly recommended.
— Michael Tearson