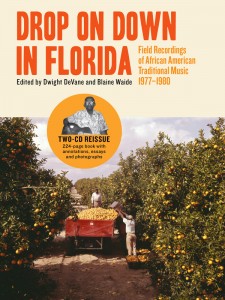 DWIGHT DEVANE and BLAINE WAIDE
Drop On Down In Florida
Dust-to-Digital 24
---
In 1981, the Florida Folklife Program released a double-disc, 27 track LP, highlighting African American music traditions, that was based on four years of fieldwork throughout the state and bears the same title as this greatly expanded reissue. Co-edited by former Sing Out! managing editor, Blaine Waide, and drawing from a contemporaneous cache of fieldwork materials (now housed in Florida's State Archives) and packaged as a hardback book (with two CDs tucked into the inside covers) the noteworthy project now includes nearly eighty minutes of  previously-unreleased music on 28 additional tracks along with a plethora of newly dusted-off images – that vividly document the various secular and sacred musicians and the off-the-grid communities that nurtured and perpetuated these traditions.
Most notable among the artists on the secular disc are the additional musical selections and biographical narratives by one-string guitar master and John Lee Hooker-styled singer Moses Williams – who was born in Itta Bena, Mississippi but traveled widely throughout the south (including three years as a "pickininny" with the prestigious Silas Green minstrel show) – as well as the half dozen selections by deep-grooved electric guitarist and soulful vocalist Emmett Murray. Favorites are covers of Ed Bell's swinging, easy rocking commentary "She's A Fool, She Ain't Got No Sense, a riff-driven updating of Arthur "Big Boy" Crudup's topical hit "I'm Gonna Dig Myself A Hole" and an extremely personalized version of fellow Floridian Tampa Red's "I'll Find My Way." Other blues musicians represented are Robert Dennis, Richard Williams, the father and daughter team of Ella Mae Wilson and Richard Williams and Willie Gillard.
The Wilson/Williams duo also appear on the sacred recordings disc. Joined by Williams' wife, Lillie B., the trio (with Richard on plangent guitar) prove particularly effective on titles like "Do, Lord, Remember  Me" ( an antebellum  black spiritual first published in the 1867 Slave Songs Of The Unired States), the rousing "I Knew It Was The Blood" (recorded by Leadbelly at a children's concert in 1945) and an optimistic "In The Morning," whose melody-line recalls "Will The Circle Be Unbroken." Six dynamic efforts by members of the Southeast Alabama And Florida Union Sacred Harp Singing Convention also impress, especially the fulsome, camp-meeting revival spiritual "Old Ship Of Zion" and the haunting "Florida Storm," that deals with a devastating hurricane that slammed Florida in the mid-1920s. Other recordings feature Johnny Brown, the Testerina Primitive Baptist Church, the Miccosukee Church Of God Of Prophecy and attendees at the Florida-Alabama Progressive Seven-Shape-Note Singing Convention. Very recommended.
— Gary von Tersch