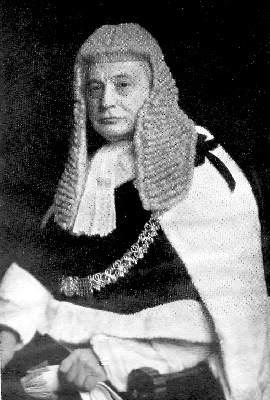 Lord Goddard, Lord Chief Justice of England 1946 – 1958
In the first part of this week's blog we followed two young teenage boys, Christopher Craig, aged 16, and Derek Bentley, aged 19, as they were surrounded by the police after being spotted breaking into a warehouse in Croydon, London. On that dark, cold, November night, with confusion being the only certainty, the outcome for everyone on that warehouse roof or on the ground below was potentially deadly. Christopher Craig, who had seen his brother sent to prison only two weeks before, was in no mood to surrender to the police quietly.
The first policemen on the scene were Detective Constable Fairfax and Police Constables Harrison, Pain, and Bugden. They had jumped into a police van as soon as the report of the break in reached the police station. Fairfax was the first policeman to reach the roof. As he shouted out " I'm a police officer, come out from behind that stack!" he had no idea what was about to happen. Almost from this moment on everything that was said or not said has been the source of consistent disagreement, with the police on one side and Craig and Bentley on the other.
According to Fairfax, Craig responded by shouting back "If you want us, fucking well come and get us!" Craig has always denied shouting out anything at this point. Regardless of what was said or not, one thing that definitely happened was that Derek Bentley surrendered to police almost immediately. Fairfax grabbed Bentley as he came over to him. According to Fairfax, it was at this point that Bentley is thought to have said to Craig "Let him have it, Chris." Again, according to Fairfax, after Bentley said these words Craig shot Fairfax. Fairfax fell down and used Bentley as a shield to prevent Craig firing at him again. Both Craig and Bentley consistently denied that Bentley said anything. Fairfax had been very lucky, the bullet that Craig fired at him only grazed his skin.
The other police officers who had come with Fairfax were scattered across the warehouse trying to reach the roof. PC Harrison had gone through various gardens and clambered onto the roof at the far end of the warehouse and was over sixty feet away. PC McDonald, who had arrived separately in a police car, had struggled to reach the top of the roof. Indeed, he was clinging on to a drainpipe near the roof.
Despite the fact that Craig and Bentley were right beside Fairfax and both denied that Bentley said those fateful, confusing words, both of Fairfax's police colleagues both claimed that they heard Bentley say it. Although to be fair to PC McDonald, he claimed that he could not identify the voice of the speaker.This is the defining moment for Derek Bentley.
Remember this moment. Keep it in your mind for what comes next. Indeed, keep it in your mind throughout this story. Those words – "Let him have it, Chris" – took Derek Bentley to the hangman. No one was dead at this point. Christopher Craig had shot at DC Fairfax, but he was not seriously injured. Remember, Derek Bentley had already surrendered at this point.
After the first shot had been fired, the entire demeanour of this night changed. The word was screamed from the warehouse roof "They have guns!' Craig fired again and completely missed. DC Fairfax was somewhat dazed and confused and yet Derek Bentley stayed right beside him. Bentley was free to flee or to rejoin Craig, but no, he stood right beside the policeman.
Below the roof policemen were running everywhere. A huge crowd of onlookers had also arrived, curious to discover what was happening on the roof. The warehouse owner had been found and the keys were passed to Police Constable Sidney Miles. He ran up the internal stairs to the roof. As PC Miles opened the door onto the roof, he was instantly shot in the head and dropped down dead.
After this Craig shouted out "is he dead?" and according to Craig, Bentley replied "yes he is, you rotten sod." The remaining police on the roof decided that they should get Bentley off the roof,  but not before the police asked Bentley to try and persuade Craig to surrender.In light of what happens at the trial, this is a remarkable moment. Bentley steps towards Craig and asks him to surrender. Craig refuses and threatens to shoot Bentley. The police then decide, for safety reasons, that Bentley should be removed. He is taken off the roof and into a waiting police car.By this time Christopher Craig was aware he was reaching the end of whatever it was he thought he could achieve. He was surrounded and was now completed out of ammunition. In one last, possibly suicidal attempt to escape, Craig throws himself off the roof crashing through a classhouse, fracturing his spine and his left wrist. The night's activities of trying to find somewhere to break into and to find something to steal had taken an utterly disastrous turn. Police Constable Sidney Miles was dead, Detective Constable Fairfax was injured, and Craig and Bentley were under arrest, facing murder charges and facing death.
The trial.
Any normal, professional attempt to discover the true nature of Derek Bentley would have found very quickly that he was not capable of understanding both what he had been accused of and what he was facing with a criminal trial for murder. Tragically, Derek Bentley did not receive the support and understanding that he was entitled to receive.
Time after time, moment after moment, person after person utterly failed Derek Bentley. Arguably the first person to fail Derek Bentley had been his 'friend' Christopher Craig. Bentley had told his lawyer that he knew Craig had a desire for guns, but had always refused to go out with Craig if he knew Craig had a gun. Christopher Craig has admitted this himself. Without Craig, Bentley would have never had been anywhere near that warehouse. Without Craig, Bentley would not be facing a trial. Without Craig, Sidney Miles would still be alive.
The first person of authority to fail Derek Bentley was the Principal Medical Officer of the English courts, Dr Matheson. Matheson referred Bentley to Dr Hill to discover if Bentley was actually fit to stand trial. Dr Hill was a psychiatrist at Maudsley Hospital. Dr Hill found that Bentley was illiterate and 'retarded.' He stated that Bentley had a reading age of 4 years old and a mental age of 11 years. In Dr Hill's opinion Bentley had no capacity of understanding what was being asked of him. Dr Hill also stated that Bentley continued to suffer from intense and very painful epileptic fits. Despite this view, Dr Matheson decided that Bentley could stand trial. Matheson agreed that Bentley was of 'low intelligence,' but stated that he had not suffered epilepsy since he turned eight and that he was not a "feeble-minded person." So despite the 'expert' view of Dr Hill, Bentley was declared fit and sane to stand trial.
The next three people of authority to fail Derek Bentley were all from the same social and economic position. The first was Lord Goddard, the Lord Chief Justice for England and Wales. The second was the Senior Counsel for Her Majesty's Treasury, the wonderfully named Christmas Humphreys, and the third was Derek Bentley's own Queen's Counsel (QC), Frank Cassels. These were men well versed in the language of justice, although you would be right to ask if they understood the meaning of it.
In the first part of this week's blog, I shared the view that the British establishment were increasingly uneasy at the huge rise in lawbreaking, violence, and attacks against the police. The Prime Minister, Winston Churchill, was so concerned with the Bentley case that he asked for reports. Not, it has to be quickly stated,    because he was concerned about a massive miscarriage of justice, but rather because he felt that the outcome of this case was so important in terms of sending a signal. There is no evidence that Churchill attempted to contact the officials involved in the case, however there were many more cases that were much more interesting to the Prime Minister than this one. It is clear that Lord Goddard, who, as well as being the judge in this case, was also the Lord Chief Justice, the highest ranking justice in England and Wales, also shared Churchill's view that this case needed to send a signal to wider society that violence against the police was not acceptable. Goddard believed that direct, physical punishment sent the 'right' kind of message as to what was acceptable and what would not be acceptable. It is clear from the transcript of the trial that he took every opportunity to influence the trial and the jury.
The prosecuting barrister, the unusually named Christmas Humphreys, also overstepped the line between facts and opinion, and repeatly sought to distort, twist, and influence the jury to find guilty a man who didn't hurt anyone and was also already in police custody.
Even Derek Bentley's own barrister, Frank Cassels, failed to argue and present key evidence that would have undoubtedly raised in the minds of the jury questions and huge doubts about the case his client. Cassels failed to bring to the attention of the jury that Bentley had a reading age of 4. He failed to bring to the attention of the jury that Bentley had a mental age of 11 and that he continued to suffer from intense and brutally painful epileptic fits. Cassels failed to mention that Bentley was angry with his friend Craig for what Craig had done on the roof, that he had tried to persuade Craig to surrender, that he did not try to flee.
The prosecution case against Bentley was that he was involved with Craig throughout the rooftop drama even when he was under arrest. The prosecution argued that Bentley knew Craig had a gun and that those words "let him have it, Chris" indicated Bentley's wilful desire to see police officers harmed.
In truth all the arguments that were raised against the prosecution's case were not given fair and impartial treatment by the very person whose job it was to ensure this happened. Lord Goddard, the chief judge, repeatly made factual mistakes in his summing up to the jury. The jury only took 75 minutes to reach a verdict. The guilty verdict on Christopher Craig was not in doubt. However, as we have said, he was under 19, and therefore could not be found guilty of murder. It is clear that even with the unfair influence that Lord Goddard sought to impose on the jury, they had doubts about the prosecution case against Derek Bentley, because they found him guilty with a special recommendation for mercy. This essentially meant that the jury had decided even after hearing the clearly biased views of the Judge, that Derek Bentley should not hang. For once Lord Goddard seemed to act in Derek Bentley's favour, because he agreed with the jury and concurred with their view that Bentley should be spared death.
Derek Bentley's family very quickly wanted to appeal the decision and the role of the Judge in influencing the jury. Derek Bentley's father was so convinced that his son would be cleared during the appeal that he bought what was for the family a very expensive bottle of Moet and Chandon champagne. Sadly, the champagne remained unopened, as yet again Derek Bentley was failed by people in authority. The three appeal judges dismissed the appeal and the criticism of the trial Judge, who was their boss. It took them 40 minutes to hear the appeal and to dismiss it.
Attention now swung to the Home Secretary Sir David Maxwell-Fyfe, who alone had the power to request clemency from the Queen. If the public at large had been horrified and shocked by the death of PC Miles, they were also dismayed by the fact that it was looking increasingly likely that Derek Bentley would hang. As we have seen, he didn't hurt anyone and was in police custody when Miles was shot. In an age of no computers, internet, social media, and only letter writing, telephones, and telegrams, Members of Parliament were flooded with pleas for mercy. A petition started by his family to plead to the Home Secretary for mercy, with the hope of gaining a thousand signatures, very quickly gained over a hundred thousand signatures.
MP's demanded that the merits of the case be heard in the Westminster parliament. The Speaker of the Commons consistently denied that they were able to hear the case while Bentley was still alive. Incredibly, it seemed that parliament could only debate the case after Derek Bentley had been hanged. Even Dr Hill, the psychiatrist, contacted the Home Office and pleaded for clemency. In the end, David Maxwell-Fyfe, the Home Secretary, didn't listen to anyone. He failed to listen to the medical advice, the petitions, the MP's, and Derek Bentley's family. He even failed to listen to the jury and to the judge, as he refused to accept the recommendation for mercy. The last person in authority that Derek Bentley needed to do his job joined the ever growing list of those who failed him.
Derek Bentley was hanged at 9am on a very cold 28th January 1953. The hangman, Albert Pierrepoint, wrote in moving terms about meeting Bentley on the morning of his death. He said:
"When you go to hang a boy of 19 years old, it does not matter that he is tall and broad-shouldered, for at nine o'clock on the morning he is to die, he still looks only a boy. And so did Derek Bentley, when the sickly green door of the condemned cell was abruptly whisked open for me on January 28, 1953. He sat at his prison table, watching the doorway.

When I walked in with my assistant and the group of silent prison officials crowding behind us, I believe that because we were all dressed so normally, in everyday lounge suits, young Derek Bentley thought then, at that moment, we had come with his reprieve.

His face glowed with an instant of eagerness. Then he saw the yellow leather strap in my right hand, and his eyes fixed upon it. The sight of this wiped all the hope from his expression. He stood up very slowly and clumsily. For all his youthfulness, he was the tallest person in that pale little room.

In some ways the wait in the Wandsworth death cell had been better for Bentley than for many murderers who went before him. Until the very last moment, a reprieve seemed possible." (1)
As Bentley was led towards the rope, he sobbed his last words, "I didn't say it. I didn't tell Chris to shoot the policeman."

As the announcement was placed outside Wandsworth Prison a riot broke out, and the notice was pulled out of the hands of the prison officer and ripped up.


David Yallop and To Encourage the Others

In 1971, journalist David Yallop started examining the case. He quickly found huge problems, and started to discover the massive failures that existed. He spoke to everyone involved. He spoke to all the police officers, the lawyers, the medical folk, Bentley's school teachers, his family, Christopher Craig, and the Judge. He wrote his book. To encourage the others, after the words of the Lord Chief Justice and what he said to the jury. He showed that the trial was used by the Judge and the British establishment to send a signal, regardless of what the evidence showed. The publication of the book was a huge sensation and was the first piece of good news the Bentley family received since that fateful night in November 1952. The hopes of the family were raised that Derek Bentley might be pardoned. However, what happened would be repeated for nearly the next thirty years. The Home Secretary refused to reopen the case, and the fight for justice went on. The BBC made a television play based on David Yallop's book, and a whole new generation heard about the miscarriage of justice.


Elvis Costello and "Let Him Dangle"

Elvis Costello first performed "Let Him Dangle" in 1987 on a stage in Augusta. He clearly captured the intense sense of injustice that surrounds the Derek Bentley case. In an interview on the BBC's The Late Show, he talked with great passion about Derek Bentley and the facts surrounding the case. He also gives an angry, fiery, passionate solo performance of the song. I include it here.




At last, pardon, justice, and finally, champagne.

Following the work of David Yallop, the songs of Elvis Costello and Ralph McTell, and a film called Let him have it, pressure was building for a reappraisal of the facts about this case.

Derek Bentley was finally granted a royal pardon in 1992, which meant his death sentence was removed. Clearly this came too late for Bentley. However, the granting of a royal pardon in English law did not mean the same as him being cleared. This took another 6 years. In declaring Bentley to be innocent and to state that he suffered a massive miscarriage of justice, the English Court of Appeal damned the former Lord Chief Justice and his misdirection of the trial jury. The full judgement can be read here.
Costello's song serves as a wonderful burst of anger directed at the folly of an establishment who had no idea what 'ordinary' people needed to stay lawful. The establishment believed that flogging, hitting, and capital punishment were wonderful ideas that would 'keep' people in their place. This rush to judgement led to an innocent man being hanged–an innocent man who should have been helped and not hanged.

It is fitting that that last image I leave you with is a BBC News report from 1998 showing Derek Bentley's family celebrating the declaration of his innocence. Bentley's niece celebrates by opening a bottle of champagne. A bottle that had sat waiting since 1952.