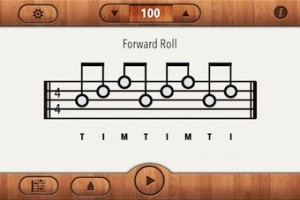 Czech banjo player Jiri Markalous wanted a better way to practice banjo. He was suffering from the monotony of the metronome; sitting in front of a metronome for hours was simply a pain. It's a common complaint among average musicians. However, Jiri is not an average musician, he's also a 3D designer and app developer for Apple iOS devices. To solve his problem he used his software developer ingenuity and his experience as a banjo player to create the iPhone/iPad app Banjo Rolls Trainer. Banjo Rolls Trainer allows banjo players to practice roll drills by playing the roll with you, with the opportunity to add a metronome and a rhythm section. The app comes built in with a library of 13 basic banjo rolls that will help hone in technique.
The app comes with the following features:
13 basic banjo rolls, Clawhammer Bum-Ditty and ¾ rolls included
background music in keys G major, C major, D major and the set of chords G-C-D-G
Speed up Function – automatically increases the speed after a set number of bars
volume setting of upright bass, guitar, banjo and metronome. It is also possible to set the pitch of the metronome.
statistics of your play's progress
support of Guitar Banjo – option to tune the sound of the fifth string two octaves down.
Here's a video of the app in action:
[youtube=http://youtu.be/pWCTvuM2_Mg]
But Jiri didn't stop there. In addition to the Banjo Rolls Trainer app, he's also produced apps for drummers (titled Drum Beats for Beginners), an app that contains a library of bluegrass songs (titled Bluegrass Songbook), and a beginners guide for learning to play the piano (titled Play Piano: Songs, Games and Notes HD). What's the best part about Banjo Rolls Trainer and Jiri's other apps? They're all free to download directly from the iOS App Store now!
— Matt Hengeveld